After 18 Busy Years, MFA Art Of The Americas Chair Will Leave To Lead Norton Museum In Florida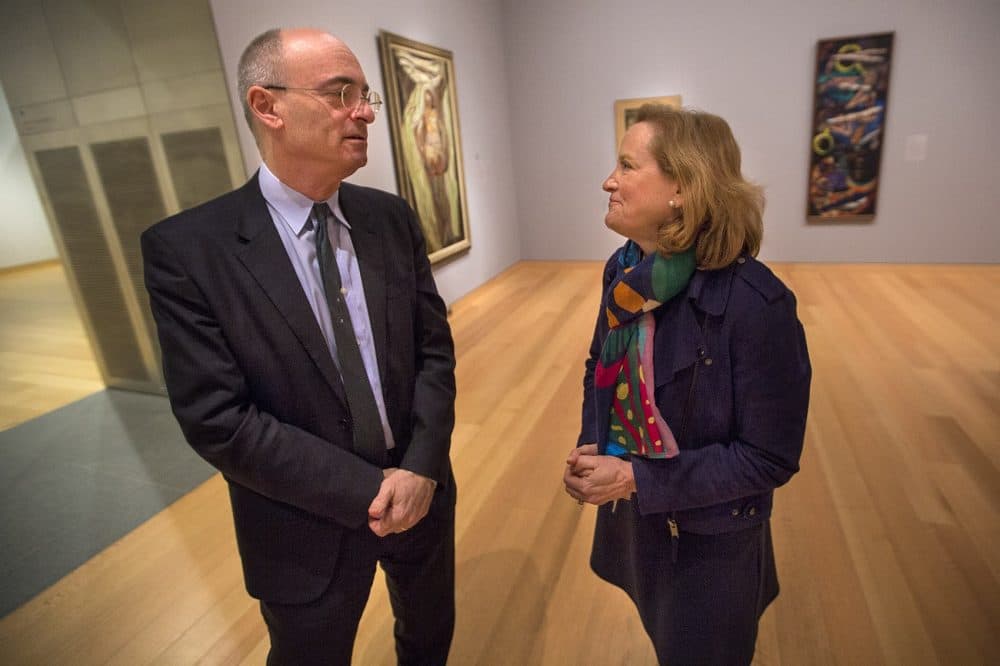 This article is more than 1 year old.
The Museum of Fine Arts is losing a seasoned, influential curatorial leader who's been with the institution for 18 years.
Elliot Bostwick Davis will be leaving her position as head of the Art of the Americas department to become director and CEO of the Norton Museum of Art in West Palm Beach.
"I think the timing is right," she said, "and I'm very excited about the possibilities that the Norton offers. I can say that this did come as a surprise — even to me. I didn't really see it coming, but [Norton Museum leaders] were extremely serious and speaking with them was just exhilarating."
The Florida museum is poised to debut a 59,000 square-foot expansion designed by Foster + Partners, a Pritzker Prize-winning group of architects, in February. It's the same firm behind the MFA's Art of the Americas wing that was unveiled in 2010.
In an announcement, the chairman of that institution's Board of Trustees Harry Howell said, "Elliot is ... an innovator in making the art of the Americas a more inclusive field and making museums more active and engaged in their communities. As our institution begins to grow into its new wing, we know that Elliot will create a vision for the Norton that meets our aspirations of being one of the nation's leading art museums."
That's Davis' hope, too. She added that it's always been a personal mission of hers to "to bring access to great works of art to as many people as possible."
The longtime curator is excited to help set the tone at the refreshed Norton Museum. She said the board there wants to focus on five art collections: European, American, works on paper (especially photography), contemporary and Asian. Addressing audience diversity, as well as the aging population in Florida and the rest of the United States, are also on her priority list.
"Those are all areas in audiences that we in the art museum need to be thinking about," Davis said. "These big questions that are facing art museums as to how we really become central to those communities."
As head of the Art of the America's department at the MFA, Davis has been responsible for a vast trove of works — 16,000 objects dating from 900 BCE. She's worked to expand perspectives and conversations surrounding the MFA's paintings, decorative arts and sculptures to address the ways they represent the cultural and creative histories of North, Central and South America.
Looking back, Davis is humbly proud of her accomplishments. She mentioned the 2016 acquisition of New England's only painting by Mexican artist Frida Kahlo, titled, "Dos Mujeres (Salvador y Herminia)." The creation of the $504 million Art of the Americas wing — with its 53 galleries — also tops the art historian's list.
"That was just an amazing experience to be part of, and I don't think many curators, chairs or others in the field have a chance to really think through something like that," she said. "It's been so exciting to watch our community and the people who come to our building from farther afield, say, 'Well I got lost — I spent two hours — and I had a great time.' It's just exciting to be part of that whole endeavor here in Boston."
MFA director Matthew Teitelbaum has been impressed with Davis' work since he came to Boston in 2015.
"Elliot's leadership of the team that realized the Art of the Americas Wing is an extremely high achievement, significant not just for the MFA, but also for our field," he said. "In addition to curating exhibitions of consequence and managing the effort to acquire new works for our collection, she has implemented new approaches to display in our galleries. In the past year alone, Elliot successfully led two new pilot programs that have animated our existing collection, and in parallel, engaged our museum colleagues in meaningful ways."
Teitelbaum called Davis an "inspiring leader and team player who never forgets the big picture. She's thought deeply about the role of the museum in contemporary life — now more important than ever — and the impact an institution can have on its community. It will be wonderful to see her guide the Norton into the future."
Even with the promise of a more sunny climate in Florida, Davis admitted she will miss the seasons in New England — winter included. She'll also miss the community in Boston and at the MFA.
Davis starts her new job at the Norton Museum of Art in March.