Jamaica Plain Open Studios, In Its 25th Year, Remains A Place For Chance Encounters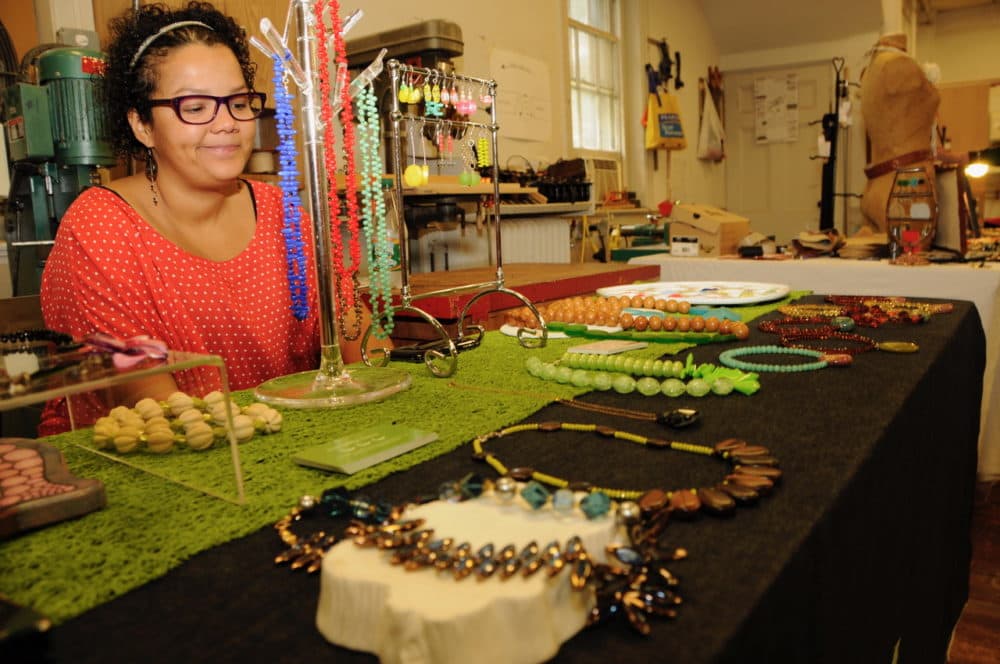 This article is more than 2 years old.
Joy Cochran, who helps organize the Jamaica Plain Open Studios, says the long-running community event that opens up her neighborhood to the rest of the city is filled with "moments of serendipity."
The Jamaica Plain Open Studios, celebrating 25 years of existence on Sept. 22 and 23, remains a completely analog experience in a virtual world: It's a place for new face-to-face friendships, to get to know neighboring businesses, to be welcomed into a stranger's intimate arts studio, to buy an artwork that you stumble on by chance rather than sleuth the internet for. In essence, it's still a place for chance encounters.
"One year we had a guy who made enormous bubbles visit one of our artists. He had his equipment in the trunk of his car, and [the artist] called me and asked if there was somewhere he could do set up — so, he did," said Cochran, president of the Jamaica Plain Arts Council, which organizes the event.
JP Open Studios started with a group of local artists who, during the planning stages for the Jamaica Plain Multicultural Arts Center (which shuttered in the mid-1990s) wished to invite the public into their studio spaces once a year to see their work. A few years later, in 1993, those artists coordinated with the Jamaica Plain Arts Council to turn Jamaica Plain Open Studios into the community-wide exhibit of photographers, painters, ceramicists and makers that is today.
Now, the neighborhood is not unlike an art exhibit for one weekend each fall.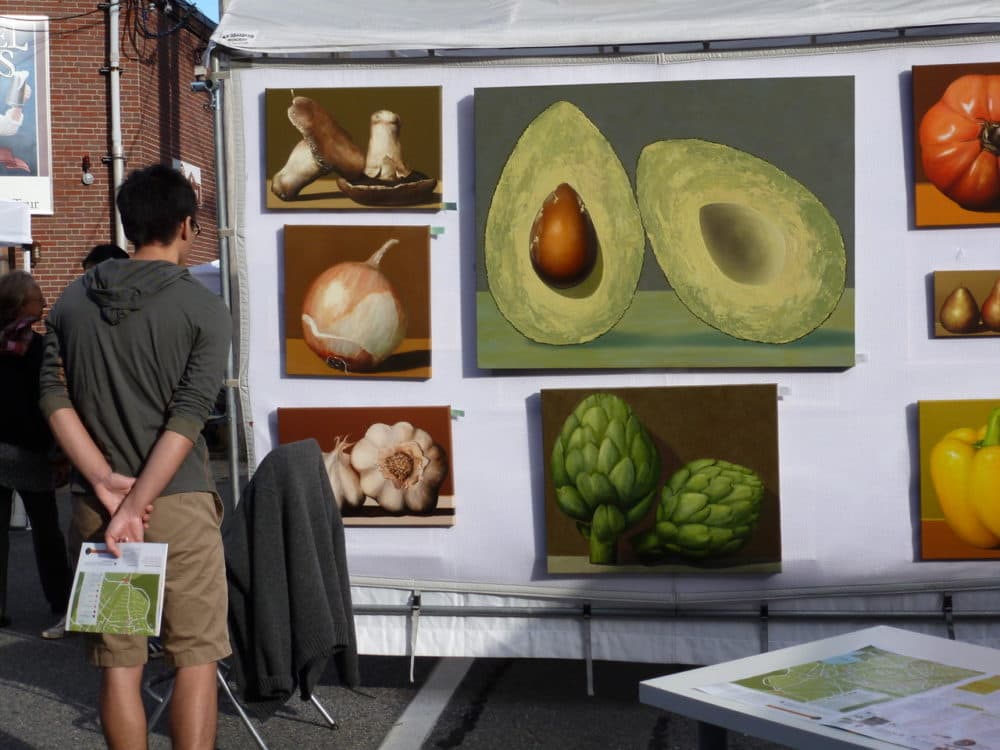 According to Cochran, Jamaica Plain is the fourth oldest open studio event in Boston, preceded by Fenway, Fort Point and the South End. She described the JP Open Studios as an all volunteer organization of boots on the ground. "We have a couple of positions that we stipend, but the organization and event literally couldn't afford to pay for the amount of work that goes into it. We receive so much support from local businesses, too, which I just think is such a message to the artists about how much they're valued in this community."
More than 200 artists will show their work across 47 spaces, which include group exhibitions at community spaces like churches, schools, a brewery and restaurants, as well as in individual artists' studios.
Lisa Goren, a renowned watercolor artist whose paintings depicting Arctic landscapes has been featured in The New York Times and in the Paula Estey Gallery in Newburyport, has been showing her work at JP Open Studios for 13 years.
"I've shown in Brookline, Dedham, Newton and the South End, and this is the one [Open Studios] I come home to," she said. Although Goren is based in Hyde Park, she calls the artists in Jamaica Plain — especially those who have been showing their work at The Footlight Club group site year after year — her true community. "This site has a a lot of people who were previously board members or who were active within the Jamaica Plains Arts Council, so there are a lot of people who have worked together in other ways. We know each other really well. It's the same gang, and so it's really convivial."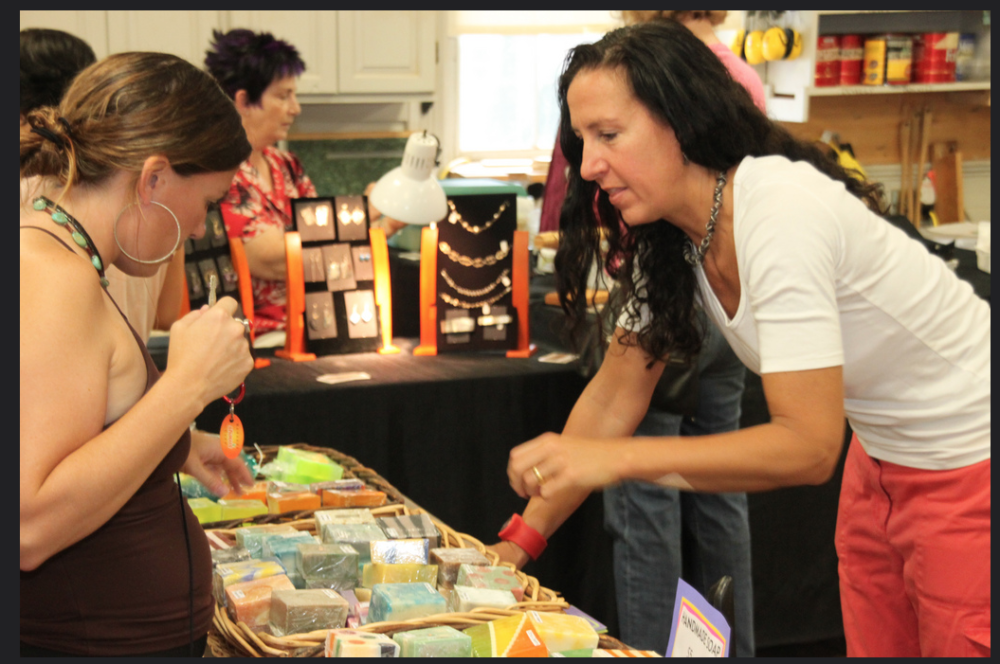 The opportunity to wow collectors, many of whom spend the weekend roaming the neighborhood, is another welcome aspect of showing work at JP Open Studios. For her fifth year as part of The Footlight Club group site (which Cochran curates), Goren said she decided to go big — literally. She plans to show several watercolor pieces, one of which is 36-inches high and 50-inches wide, inspired by public domain NASA photographs of ice in outer space.
In addition to the work they will contribute to the weekend, Cochran said the organizers are proud of the diversity in ages and experience among the artists represented. "I think our youngest ever registered artist was 11, and our oldest was 86. We have quite the range, and that part has been really cool," said Cochran. "This year, we have several kids doing their first open studios with their parents. We have established, well-known artists like Sally Moore and Barney Levitt as well as first-timers."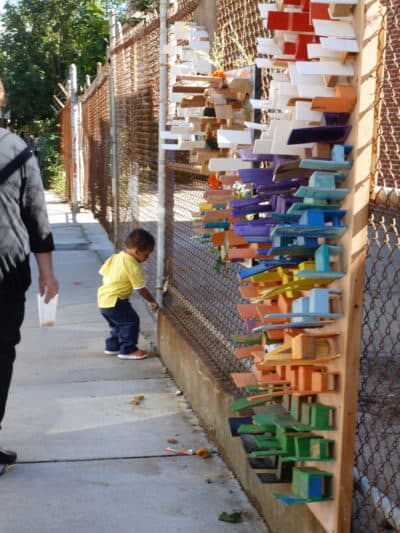 Other must-see group sites include the spacious outdoor courtyard of the Jamaica Plain Neighborhood Development Corporation's Brewery, the Eliot School of Fine & Applied Arts, which will show work exclusively done by its own faculty and students, as well as the historic Loring Greenough House, which will host ceramics by Kimberly Zane and collages by Marnie Jain, among others. Gail Bos, vice president of the Jamaica Plain Artists Association, is organizing a living installation for which 25 artists (for the event's 25th anniversary) will decorate garden chairs that will be installed all over the neighborhood, including at The Brewery and around Green Street.
While art of all forms — ceramics, jewelry, collages, photography and much more — is certainly the central focus of the weekend, Susan Duprey, coordinator for the event, said that it's also a unique opportunity to discover the neighborhood, local businesses and architecture.
"Jamaica Plain has these incredible hidden gardens you didn't know were there, and you see these studios that are just so unique and so cool, it another added little bonus on top of all of JP Open Studios. Even people who have lived here for a long time rediscover the neighborhood by following little arrows along a path to a magical fairy garden of art," Duprey said.
In 2018, when many people don't know their neighbors like they did in previous decades, Joy Cochran said that Jamaica Plain Open Studios gives residents a chance to feel like they live in a small, connected town again.
"A lot of relationships come out of this weekend — for artists, who are scattered all over, but for other visitors, too" she said.