Boston Philharmonic Youth Orchestra Adviser Arrested On Child Pornography Charges
This article is more than 1 year old.
The artistic adviser of the Boston Philharmonic Orchestra and the Boston Philharmonic Youth Orchestra has been arrested for receiving and possessing thousands of files of child pornography, the U.S. attorney's office said in a statement.
David St. George, 71, of Arlington, was charged in federal court in Boston on Tuesday with one count of receipt of child pornography and one count of possession of child pornography.
According to an affidavit, Homeland Security Investigations in May received a tip about a storage account suspected of containing child porn. The account contained 83 images and videos depicting the sexual abuse of children, including a 1-year-old girl. The IP address to the account was assigned to St. George's internet account, according to the affidavit prepared by a special agent of Homeland Security Investigations.
After obtaining a warrant, investigators searched St. George's home on Tuesday, where they found thousands of files of child pornography, including images or videos of the abuse of children between 6 and 8 years old.
The U.S. attorney's office said St. George had been concealing his identity and downloading child porn from the "dark web."
St. George told the agents he is an employee of both the Boston Philharmonic Orchestra and the Boston Philharmonic Youth Orchestra, which includes children between 12 and 21 years old.
WBUR requested an interview with the leadership of the Boston Philharmonic, but the institution has only released a statement. In an email, the Boston Philharmonic's managing director, Elisabeth Christensen said the organization had learned of St. George's arrest on Tuesday and had suspended him without pay pending further investigation. When asked what measures the Philharmonic has taken to ensure the safety of its youth orchestra members and if any of them were ever alone with St. George, Christensen said the Philharmonic would be issuing a second statement with answers to those questions. "We are as alarmed and surprised as everyone. The safety of our young musicians is our primary concern," Christensen added.
The affidavit also states that St. George is the former artistic director of the Discovery Ensemble, a Boston-based chamber orchestra that performed concerts in Cambridge and "held workshops and matinee concerts for children from local schools." The agent in charge who drafted the affidavit also noted that since 2015, St. George has occasionally posted articles to the Boston Philharmonic blog, "including reflections on time he spent observing the Boston Philharmonic Youth."
As recently as Sept. 5, a post on the Boston Philharmonic Youth Orchestra blog referred to St. George as someone who "has built a close personal relationship with the members of the BPYO through his attendance at … weekly rehearsals, where he frequently intercedes with his insights and coaching."
The affidavit states that when federal agents searched his home on Tuesday, St. George admitted to investigators that he had a large collection of child pornography that he had collected over a year and a half, often using the dark web and a Protonmail account with the username "Still_a_Boy."
St. George admitted to investigators that he had initially collected the porn in what he described as a "feverish and crazed" way, until he became disgusted with himself and stopped, only to pick it up again in the spring of this year.
A thumb drive found at St. George's home reveals he downloaded the child pornography as recently as Sept. 3. Investigators also found a three-ring binder with images from the downloaded videos. St. George told investigators he had not engaged in any sexual contact with children and "denied any sexual interest in children apart from looking at child pornography."
The U.S. attorney's office recommends that members of the public who have questions, concerns, or information regarding this case should call 617-748-3274.
This is the affidavit that details the investigation, arrest and charges against St. George.  Note: The document contains graphic details of child sex assault that may be upsetting to readers.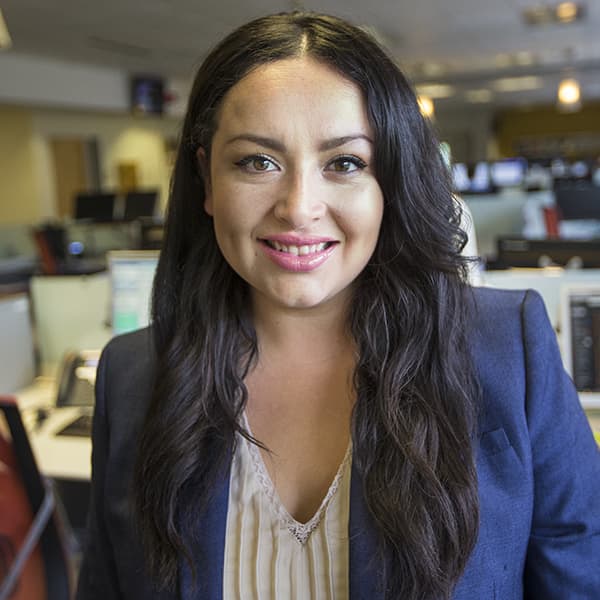 Maria Garcia Senior Editor, The ARTery
Maria Garcia is the senior editor of The ARTery, WBUR's Arts and Culture Team.