Listen To A 'Native American Poets Playlist' For Indigenous People's Day, At Harvard's Peabody Museum
06:42
Play
This article is more than 2 years old.
Monday is Columbus Day – but not for everyone. Some states and cities, including Cambridge, are choosing instead to highlight historic injustices by recognizing the counter-holiday, called Indigenous People's Day.
In solidarity, the Peabody Museum of Archaeology and Ethnology at Harvard University has created a special playlist, filled not with music, but with poetry. It's meant to celebrate contemporary native culture while challenging visitors to examine their understanding of what it's like to be indigenous now.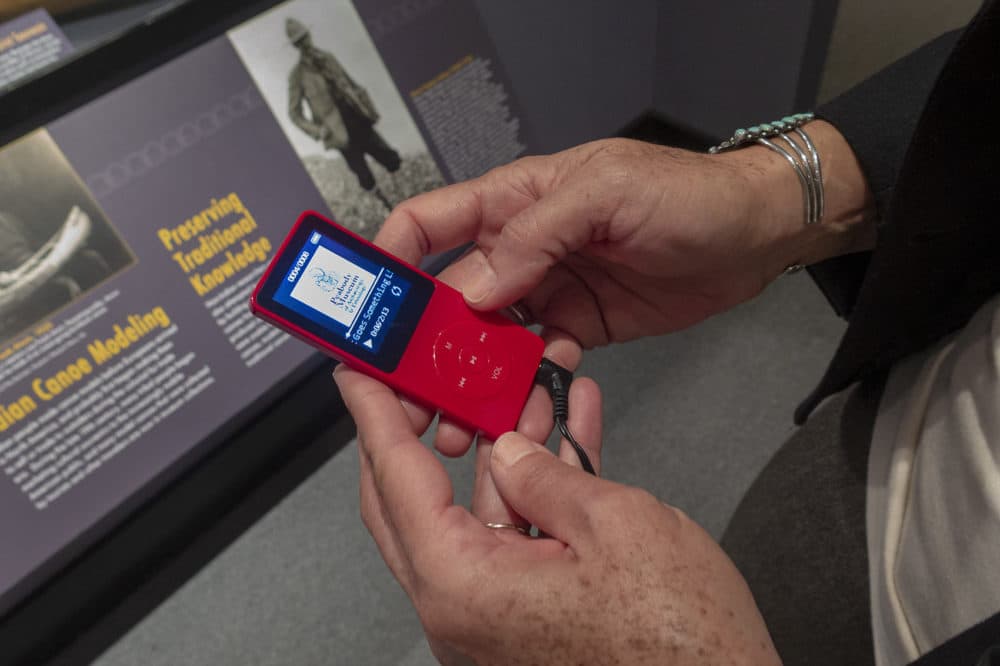 Enter the Hall of the North American Indian at the Peabody Museum and you're greeted by a recording of thunder and rain being piped into the gallery. You walk past historic drawings by Lakota Sioux warriors, a feather-filled headdress, what's believed to be Sitting Bull's tobacco bag, and a myriad of sharpened tools of war tucked safely inside protective display cases. For Shelly Lowe and many other Native Americans, the act of walking through spaces like this raises questions.
"It's a conversation that has been going on for decades, right?" she asks. "This idea of, what does it mean as a native person to walk into a museum and see artifacts behind glass?"
Lowe, a member of the Navajo Nation, is the executive director of the Native American Program at Harvard.
"Artifacts aren't supposed to just be looked at — they're supposed to be used on a daily basis," she says. "It's not why Native people create artifacts usually."
This is one of the tensions that drive the museum's new "Native American Poets Playlist." A team that includes Lowe has worked for months to compile a diverse, 20-minute listening experience that they believe will reframe and interrogate what it means to be Native American today.
"So to kind of talk about that – in a sense – let's put it into a poem, and then let's put it out there for people to listen to while they're actually standing there looking at the artifacts behind the glass that you can't touch, that can't be used," Lowe explained. "I think it's very powerful."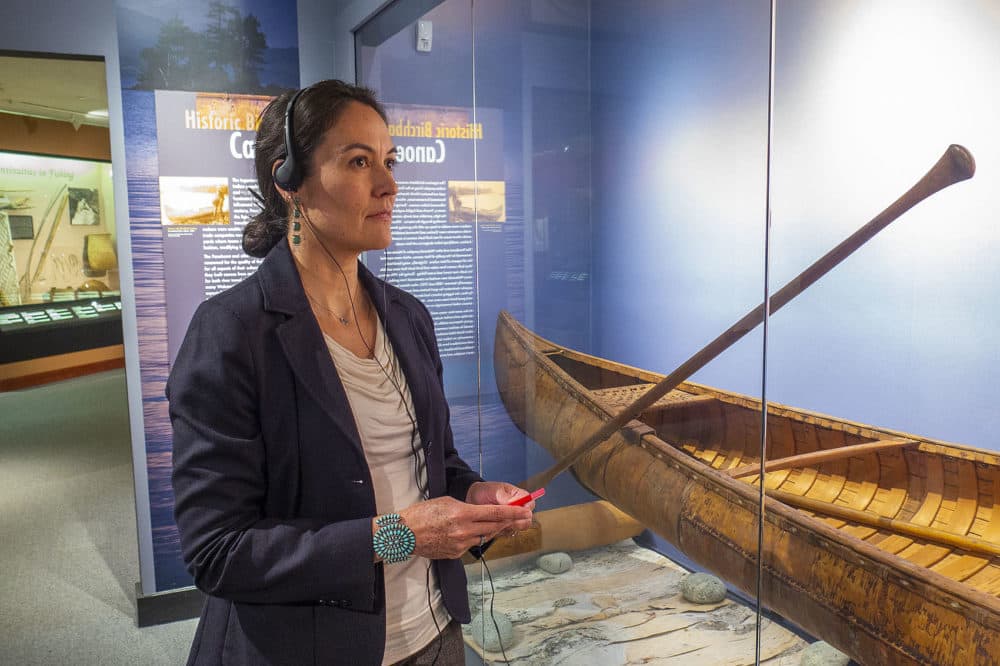 Visitors can listen to the playlist through headsets as they wander the galleries. The museum's director of education programs Polly Hubbard hopes the poems activate the Peabody's trove.
"Bringing in poetry and orality and speech and rhythm – and all those chewy words that you get in poetry – can really make these historical objects come to life," she says, "while at the same time recognizing the survival of all indigenous people around the globe."
It was Hubbard who dreamed up this playlist concept. She reached out to Lowe hoping to brainstorm on how to make it a reality.
Their timing was good because Lowe was familiar with an upcoming anthology titled, "New Poets of Native Nations." The book was published this past July and eight of its 21 poets were selected to be part of the playlist.
When visitors press play they hear each poet introduce themselves and their piece. The first track is from Dakota writer Gwen Nell Westerman:
My grandparents never talked
about theory, decolonization, or
post-colonial this or that.

They talked about
good times and bad times.
Trevino Brings Plenty, a Minneconjou Lakota person, reads, "Not Just Anybody Can Have One":
So, I'll use my tribal enrollment until it disappears. Until I'm kicked out of my tribe for questioning the movies of nepotism; until the US government makes policy change. Until there is enough rumor to make it true.
Mojave member Natalie Diaz, who just won a MacArthur "Genius" Grant, shares "American Arithmetic":
Native Americans make up less than
one percent of the population of America.
0.8 percent of 100 percent.
O, mine efficient country.
Then there's the excerpt from Tommy Pico's "Nature Poem." His fiery voice and words confront the conflict between cultural appropriation and museums head-on:
I can't write a nature poem bc that conversation happens in the Hall of
South American Peoples in the American Museum of Natural History
btwn two white ladies in buttery shawls as they pass a display case
of "traditional" garb from one tribe or another it doesn't really matter to
anyone
On the phone from Los Angeles Pico, a Kumeyaay writer and podcaster, shared what he wants to get across.
"Native American, indigenous, Indian — however you want to say it — we're here, we're alive, our voices matter, we aren't relics of the past, we're a part of a continuing, changing pop culture landscape," he said.
Pico's anger over the romanticization and preservation of historic objects – while living Native American people suffer from endemic rates of suicide and health issues – leaps through the visitors' headphones.
"I hope they come away with the idea of that American Indian culture is dynamic and can be appreciated without being co-opted or without being appropriated," Pico said.
But what if by not wearing a headdress in yr music
video or changing yr damn mascot and perhaps adding .05% of personal
annoyance to your life for the twenty minutes it lasts, the 103 young ppl
who tried to kill themselves on the Pine Ridge Indian reservation over
the past four months wanted to live like 50% more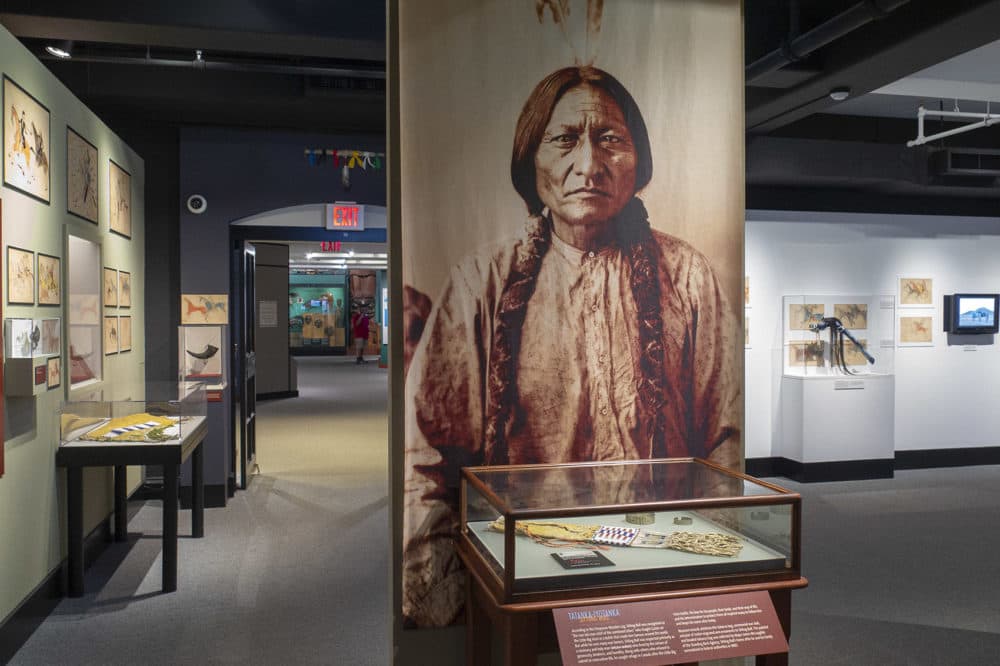 Like other museums, the Peabody has been addressing the emotionally charged subject of appropriation since the 1990 implementation of the Native American Graves Protection and Repatriation Act. NAGPRA, as it's known, provides a mechanism for federally-recognized tribes to request the return of human remains and sacred objects. Polly Hubbard acknowledges the ongoing emotional issue.
"It's not something we're proud of – where things that were 'other' were catalogued and displayed," she said. "Today, we hope the museum does much more." This playlist is part of that effort.
Hubbard and Lowe enlisted a group of six community reviewers to choose the poems for the playlist. Five are Native American. Larry Spotted Crow Mann, a Massachusetts writer, healer and storyteller, said it was fulfilling and challenging to create a balance.
"Some of the poems are edgy," he described, "some of them have you know a lot of pathos in there."
Mann is Nipmuc and lives in Webster, home of the lake with the longest name in the world. "Lake Chargoggagoggmanchauggagoggchaubunagungamaugg," he said easily and with a laugh.
The playlist poets represent tribes from the east, west, north and south of the "Turtle Island," the original indigenous name for North America. Their writings wrestle with issues including colonialism, the legacy of Indian boarding schools, climate change and cultural exploitation. For Mann, the image of artifacts and poets intermingling inside a museum is potent.
"I heard an elder once say that a museum is a 'crime scene,' and it's an active crime scene – you know – where these artifacts were kind of accumulated and put in one place, things that were taken," Mann recalled, "And so it kind of speaks to all that — those times and those difficulties and the vicissitudes of being an indigenous person, and how we are going to overcome and move forward as a people."
The group was concerned that some of the more pointed poems could traumatize non-native visitors, or wrack them with guilt. Taken as a whole, Mann hopes the playlist will encourage them to be a part of the solution by combating stereotypes and promoting a wider understanding of native identity.
"As an ally or as a supporter," he said, "or as somebody who really understands the pain of what happened here."
When asked to reflect on participating in the new playlist Trevino Brings Plenty of Oregon said he always feels strange to be part of a museum.
"That I become, on some level, objectified or a relic," he mused, "So hopefully for some folks – depending on where they are on their spectrum of understanding of native identity here in the United States — they can investigate further."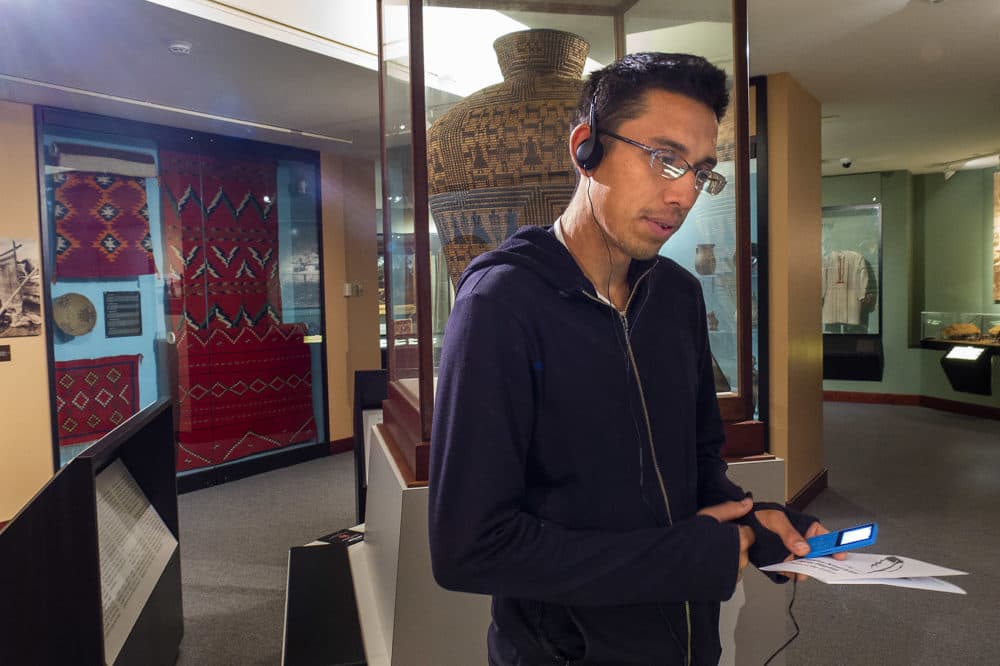 Keeping her ancestral language alive is one of the ways playlist poet Margaret Noodin engages with her past and present. She teaches indigenous literary studies at the University of Wisconsin-Milwaukee.
"I always write the poems in Anishinaabemowin first," she told me, "and then I try to do justice to them in English."
To hear Noodin's poem, "William Making Snowshoes," please listen to the audio version of this story by pressing play up above.
Ge-maajimamaangadepon
giizis ishpaagoozid, ishpaagonagaag
agwajing
mii dash inaaginang ezhi-inendang
naagadawendang debwemigag
gaye gaawiin debwesiinog
Skadi'an gaye Bakewizian
naagadawenimaad
ezhi-giibabaamaagimenid.

As frozen flakes fell in clusters
sun high in the sky, snow deep
outside
he began to bend his thoughts
considering what is true
and what is not
considering Skadi and Pukwiss
and the way they walked on the snow.
Noodin says these days, we all seem to have playlists running through our lives, but this is one you don't necessarily expect. She believes Harvard and the museum pulled the Native American Poets Playlist together thoughtfully and respectfully by involving the native community in the process.
"The poetry goes up – people enjoy it – the poetry comes down, but those relationships are still there as an experience. To see more of that happen in that city, and a connection with Harvard in particular, is just a really good thing," she said, then added with a little laugh, "Long overdue."
Especially considering Harvard and the Peabody Museum stand on the former homeland of indigenous people. The school was also home to the historic Harvard Indian College that was part of a network with a mission to Christianize Native Americans.
The poetry playlist is available at the museum through Nov. 30, but the hope is that the big, national holiday that month – Thanksgiving – and Indigenous People's Day aren't the only times of the year for conversations about Native American life and culture.
This segment aired on October 8, 2018.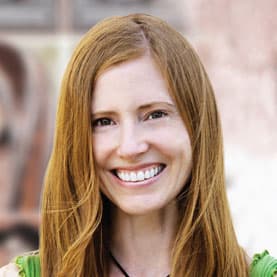 Andrea Shea Senior Arts Reporter
Andrea Shea is WBUR's arts reporter.