Medford Artist Raul The Third's 'Lowriders In Space' Series Centers On Latinx Narratives For Children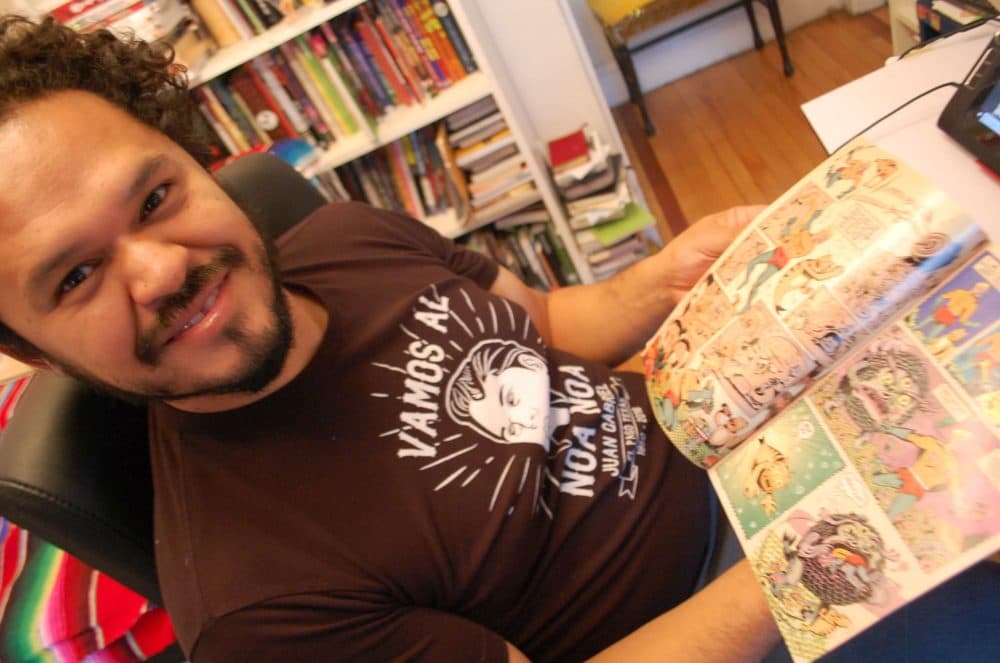 This article is more than 2 years old.
It's the little details in Raul Gonzalez III's art that immediately transport you into his fantastical worlds along the border. A toad burping fire outside of a "Sapo Bell" restaurant, a rabbit selling aguas frescas along the roadside and a space shuttle blasting off in the middle of the scorching Mexican desert are just a few of the images that draw you into his signature series, "Lowriders in Space."
Lowriders follows heroes Lupe Impala, Elirio Malaria and El Chavo Flapjack Octopus as they try to make their dreams of opening an auto shop come true. Gonzalez, who is known in Boston as Raul the Third, teamed up with Portland, Oregon, librarian and author Cathy Camper to create the series, which continued with this month's release of "Lowriders Blast from the Past." It will be followed in 2020 with a fourth volume.
Lowriders tells a tale that echoes Gonzalez III's real world experience as a first generation Mexican-American trying to find success from his humble beginnings in the border community of El Paso, Texas.
Growing up, Gonzalez split his time bouncing from school to school in El Paso and exploring at the Mercado Cuauhtémoc in Ciudad Juárez with his two brothers and a large cast of cousins, aunts and uncles who worked the booths at the Mexican market. With the market as his playground, Gonzalez reveled in the swirling chaos of busy merchants, piles of knickknacks, lines of food stands, boxing matches and roving bands of kids.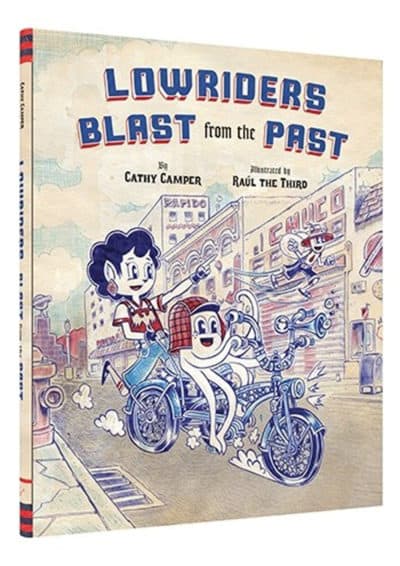 His work, across all mediums, is a direct reflection of that life. From Aeronaut beer cans and the walls of the Painted Burro restaurant to the galleries of Back Bay and Cambridge, Raul the Third's art looks at life along the border through a sun-bleached lens.
Raul's mother Olga Moreno was 20-years-old when she came over to America from Mexico, met and fell in love with his father, Raul II. The couple got married, had three sons — Raul, Danny and Ruben — and moved to a home in west El Paso in the mid 1970s. His father worked tirelessly as a traveling salesmen, often leaving his mother and the children at home.
"Like a lot of parents they wanted us to have more options than they had. So, my dad was always out of town, and as the oldest I was the translator for my mom if anyone came to the house," Gonzalez said. "My mom dropped out of school in the second grade to help raise her brothers and sisters and work at the Mercado with her mother, so she wasn't able to learn English. It wasn't easy on us being Mexican living in America. As a kid, I just felt out of place, like I had the baggage of an adult."
Home alone with three children, Olga Moreno often turned to her family a few miles across the border in Juarez for support. Soon it became a routine, Gonzalez and his brothers and mother would pile onto a bus, cross the border, then walk a few miles to the Mercado where his extended family worked.
"I was a perceptive kid and I can't remember seeing people like me represented in the books and movies I loved," Gonzalez said. "If we were in stories, it was as a gangster or a janitor and growing up you start to think those might be your only options."
On a steady diet of American comic books like X-Men and Spider-Man, Mexican pop culture like Cantiflas, El Chavo del Ocho, Luchadores and the music of Juan Gabriel, Gonzalez dove into his art, drawing quirky characters that would someday find a home in his books.
For a struggling student, drawing became both a way for Gonzalez to connect with others and retreat when necessary. Attending more than a half a dozen schools before graduating, he started to think of how to get out of El Paso. "The only way I saw out was to make something of myself through my drawings," he said. "If I became a famous artist, I could leave El Paso, I wouldn't have to go to school and everything would be OK. That meant becoming a comic book artist, because that was the only kind of art I knew at the time."
A stint working at a local comic shop in El Paso solidified Gonzalez' plan as he studied the work of artists like Jim Aparo, Rob Liefeld, Will Elder, Todd McFarlane, Rick Veitch, Chester Brown and Kevin Eastman.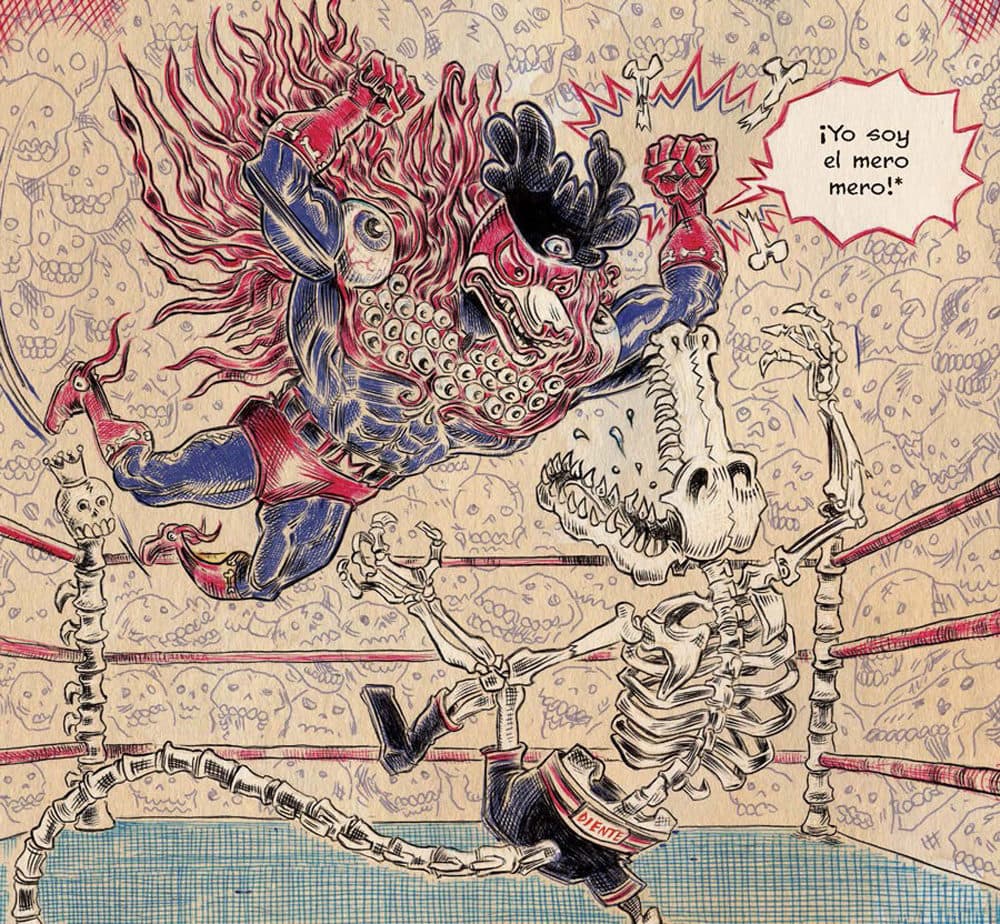 Gonzalez finally left El Paso in the late '90s and, after a short stint working at an animation studio in San Francisco, landed in Boston in 2001 with then-girlfriend and now-wife Elaine Bay.
Without a college degree, any formal art training or connections to the art world, Gonzalez took a page out of his father's book and started knocking on doors.
He visited indie comic publishing houses like the now defunct Highwater Books, pitched his art to the Weekly Dig, learned how to make zines, started drawing in public and even revamped menus for several Mexican restaurants in Somerville in exchange for food. Anything he could do to get his art out, Gonzalez tried.
"I was really lucky," he said. "My wife was going to the Museum of Fine Arts School at Tufts and I was able to meet all kinds of people from all around the art community in Boston. I think the fact that I always say yes to everything helped as well. In my time in Boston, I've taught at the Boston Architectural College, I taught for 12 years at the MFA and three years at the Museum School."
His entry into the world of fine art reveals the qualities that have propelled his success: persistence and a lack of intimidation about being self-made.
Although he had heard about them in passing, it wasn't until Gonzalez settled in Boston that he finally paid a visit to a gallery. "I had never been inside one, so I visited every single gallery in the South End and on Newbury Street, and learned who every artist was," he recalls. "I learned how to craft an artist statement and then I focused on bodies of work I thought were missing from the scene."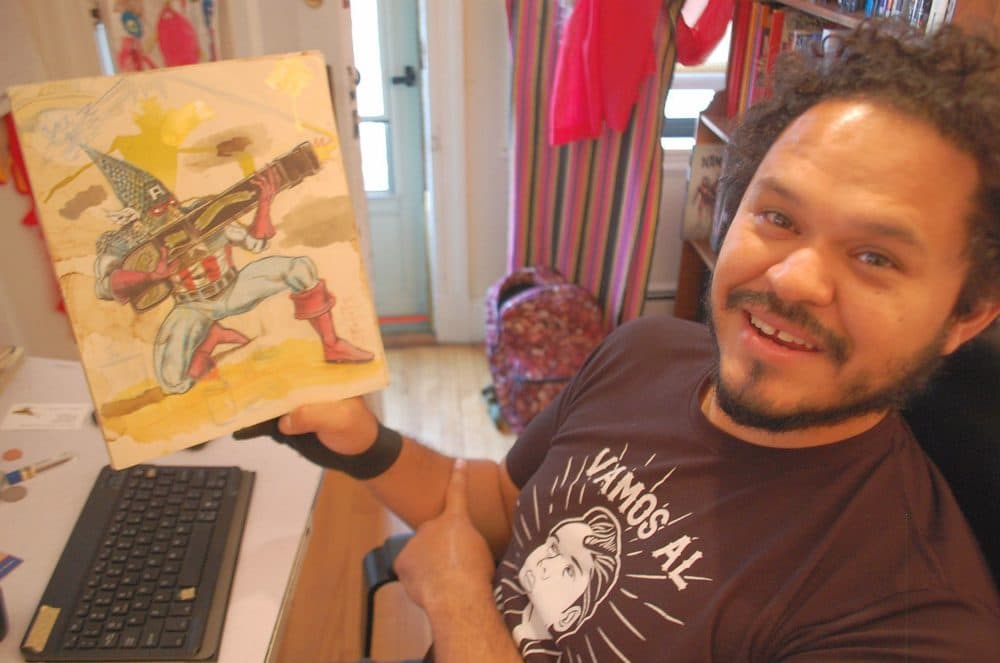 All the way across the country, in Portland, Cathy Camper was trying to do the same thing with books. Although the Latinx population in the U.S. hovers around 18 percent, several studies estimate only about 6 percent of books released last year featured Hispanic characters.
"Lowriders in Space" got its start when Camper noticed her students would constantly check out books about Lowrider cars.
Soon, names popped in her head, a mosquito named Elirio Malaria, Lupe Impala named after the famed Chevy lowrider and an octopus named Flapjack. With the names in hand, Camper emailed Gonzalez to pitch the idea.
"When I sent him the manuscript, he excitedly wrote back, 'This is the book I wanted to read as a kid,' and within days, he was sending me drawings of the characters, in ballpoint, the first versions of what you see now," Camper said.
Gonzalez said he used pens because it fit with the characters' ambitions.
"It's also a wonderful way to show kids that you don't need to be rich to be an artist," he said.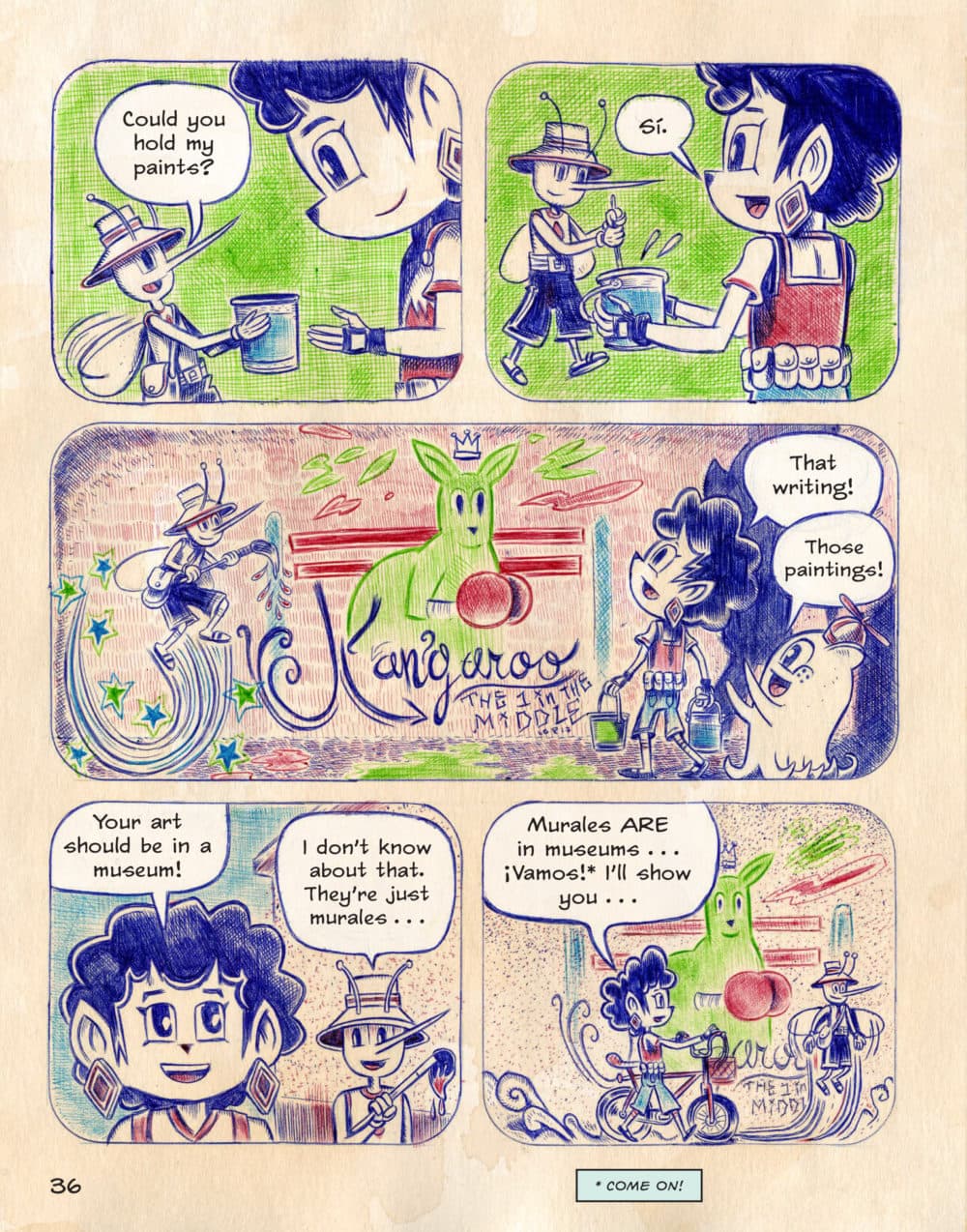 In his newest book, "Vamos! Let's go to the Market," Gonzalez has found a place for many of his characters, many of whom are decades old and products of hundreds of sketches. The book, set to be published by Houghton-Mifflin/Versify books in April, follows Little Lobo as he visits the Mercado to make deliveries. It marks the first time Gonzalez has tackled both writing and illustrating duties. His wife Elaine colored the book.
As Lobo travels deeper into the market, the chaos expands; a wrestler named Toro can be seen searching for his mask, children chase after each other and merchants peddle medicine mortars, Mexican prayer candles, piñatas and candy. Mal Burro and Peeky Pequeno, a pair of bumbling fix-it men who've been kicking around since Gonzalez' days in high school, struggle with a ladder.
Kooky Dooky, who appears later in the book, is a newer character but has roots in Gonzalez' early childhood. While visiting Juarez, he loved playing with the roosters in his abuela's backyard, squirting them with water and teasing them.
"I loved those roosters but I always wondered why there was a rotating cast of roosters. I didn't find out until way later that my Uncle Charlie was fighting them," he said. "So my heart was broken."
Naturally, Gonzalez created a character based on his experience. Kooky Dooky is an annoying rooster who takes his name from the feeding call his grandmother used to yell.
"These books are universal and I think everyone will like them but simultaneously there might be the one kid in a Michigan town and his parents only speak Spanish," he said. "Suddenly I show up, we read it and he can feel proud of who he or she is because they understand the Spanish words and maybe they get the little hidden messages and details. They're for everyone but they're also for the one or two kids who feel out of place."
Dana Forsythe Public Art Writer
Dana Forsythe writes about art, comic books and culture for The ARTery.