17th-Century Travel Journal Inspires Boston-Area Composer's New Piece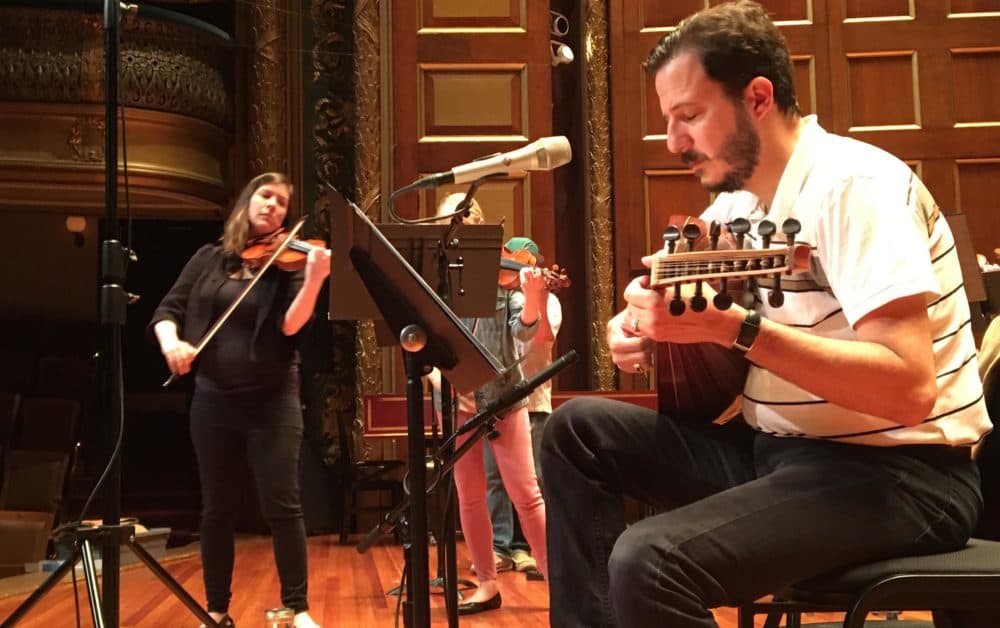 This article is more than 2 years old.
Watching Mehmet Ali Sanlıkol on stage is like taking a crash-course in multicultural performance. For his latest instrumental piece — inspired by an eclectic travel journal from 17th century Turkey — the multitasking Sanlıkol sings, chants and plays piano, the oud (an Arab lute) and a ney (a Middle-Eastern flute).
Besides the orchestra's strings, there are also drums, gongs, tubular bells and a glockenspiel among other percussions. "I wanted it to be very diverse in style," Sanlıkol said in a recent interview, with "a positive eccentricity" to reflect the character of his main inspiration.
"A Gentleman of Istanbul: Symphony for Strings, Percussion, Piano, Oud, Ney & Tenor" is based on excerpts from the voluminous travelogue "Seyahatnâme," written by Ottoman intellectual Evliya Çelebi. The symphony articulates with a wealth of musical styles the variety of the stories in the books.
The composition was commissioned by A Far Cry, the Grammy-nominated string orchestra based in Jamaica Plain. They will be playing an encore performance of "Gentleman" on Tuesday, Oct. 23 at Harvard University's Memorial Church.
Born in modern-day Istanbul in 1611, Evliya was educated in the Ottoman court and had an avant-garde taste for traveling to distant lands. He roamed the vast Ottoman Empire as well as parts of Europe, Russia, Africa and Iran, and wrote 10 volumes of epic tales — some real, some fantasy — about his discoveries. The historical and anecdotal work he left behind is an exceptional document of its time, both in details and in scope.
Sanlıkol says he relates to Evliya, a pioneering citizen of the world. Sanlıkol was born in Turkey of Turkish-Cypriot parents and came to Boston on a Berklee College of Music scholarship to study jazz piano and composition in 1993. He now teaches at New England Conservatory where he is co-director of the Intercultural Institute. He says, as a Muslim, he was glad to be able to create a piece honoring Evliya, a Muslim himself, and a worldly figure in Turkey's history.
Sanlıkol selected four scenes from Evliya's books that display the author's imaginative and open mind. They talk of Viennese clocks and bells, a dying princess, vegetarian dervishes and Alexander the Great. The piece's musical fabric is just as rich and eclectic as its settings. In "A Gentleman of Istanbul," Sanlıkol shows his skills as a classical and jazz pianist, and a scholar of traditional Turkish music.
"I am a multilingual composer-performer," he said, "and that is reflected in my music at all times. So, if I am scoring for A Far Cry, a string orchestra, then the classical context becomes the main platform."
Sanlıkol said that's why the work is built like a classical symphony in four movements. "However, that multilingual side of me," he added, "always comes forward, and then … every movement puts in front of you a different genre or style that I have internalized throughout my life."
"A Gentleman of Istanbul" is the centerpiece of A Far Cry's fall concert program "Edge of the World," on the theme of travel and exploration. The symphony was funded by a LAB grant from the Boston Foundation. Cellist Michael Unterman curated that program. He said he delighted in discovering the imaginative writings of Evliya converted into orchestral music. "I am a bit of a nerd for that kind of magic realism," he said, "for authors like [Argentine author Jorge Luis] Borges, who blend reality with fantasy, so that you don't really know where those dividing lines are."
Part one of "Gentleman," "The Clocks and Bells of Vienna," is based on Evliya's marveling at the ingeniousness of those mechanisms in the Austrian capital. "They make all kinds of clocks in the form of various creatures," Evliya wrote in his travel journal, "with moving eyes, hands and feet, so the viewer thinks those animals are alive." Tubular bells, glockenspiel and woodblocks play a big part in the score here, but Sanlıkol said he also drew inspiration from Eastern European composers such as Béla Bartók.
Part two focuses on the story of Kaya Sultan, an Ottoman princess who suffered a painful end after giving birth. Sanlıkol takes a drastic stylistic turn to depict this scene, introducing a lush jazz ballad. That may seem a curious choice to evoke such a tragic story, but Sanlıkol explains the jazz ballad simply echoes Evliya's tone in his writing. "The overall mood that dominates that movement is Evliya being super melancholic," he said, "and that is an Istanbul thing. The Turks, especially in and around Istanbul and in larger Ottoman cities, still carry that kind nostalgia and melancholy with them." As the scene itself takes place in Istanbul, the jazz music that so permeated Sanlıkol's musical upbringing comes naturally to evoke mourning.
But for cellist Michael Unterman, there is also a quirky, animated color and flavor throughout the piece. "I sort of started imagining 'Triplets of Belleville' or stylized animation [like it] through each of the movements," he said.
That image may be fitting for the story of the vegetarian dervishes, in part three, which Sanlıkol recreates with a mix of Turkish Sufi and African idioms, on the ney and drums. Here, Evliya's travelogue describes a fantastical encounter near southern Egypt with two dervishes, riding a rhinoceros and a horned mule. They tell Evliya the gruesome tale that made them swear off meat forever. It's this kind of unexpected turns in the travelogue that Sanlıkol finds fascinating. "For a couple of pages you're reading his observations in say, Mecca," he said, "and they're very detailed. And then suddenly, two pages later, he goes into this anecdotal fantasy and you're like, 'Whoa, where did this come from?' "
The last movement is based on the story of Alexander the Great. Sanlıkol said the full orchestral sound borrows classical Ottoman Turkish elements, which are exposed in the oud melodies. At one point, the instruments stop, and Sanlıkol chants a verse from the Quran, a revelation from god to Alexander. "When we reach that moment," Unterman said, "[it is] so transfixing, quite emotional, and just very arresting."
Sanlıkol said he wrote "A Gentleman of Istanbul" as a musical travelogue, one that could take listeners from the diverse styles heard around the Ottoman Empire, to the jazz shores of the United States. "It's what I was trying to capture musically," Sanlıkol said, "a journey of unexpected turns." In his program notes, the multilingual and multicultural Sanlıkol wrote: "Ultimately, through this piece, I am aiming to be a 21st century Evliya."
---
A Far Cry will be playing an encore performance of "A Gentleman of Istanbul: Symphony for Strings, Percussion, Piano, Oud, Ney & Tenor" on Tuesday, Oct. 23 at Harvard University's Memorial Church.