For 41 Years, The Vinyl Has Kept Spinning At This Record Show
04:49
Play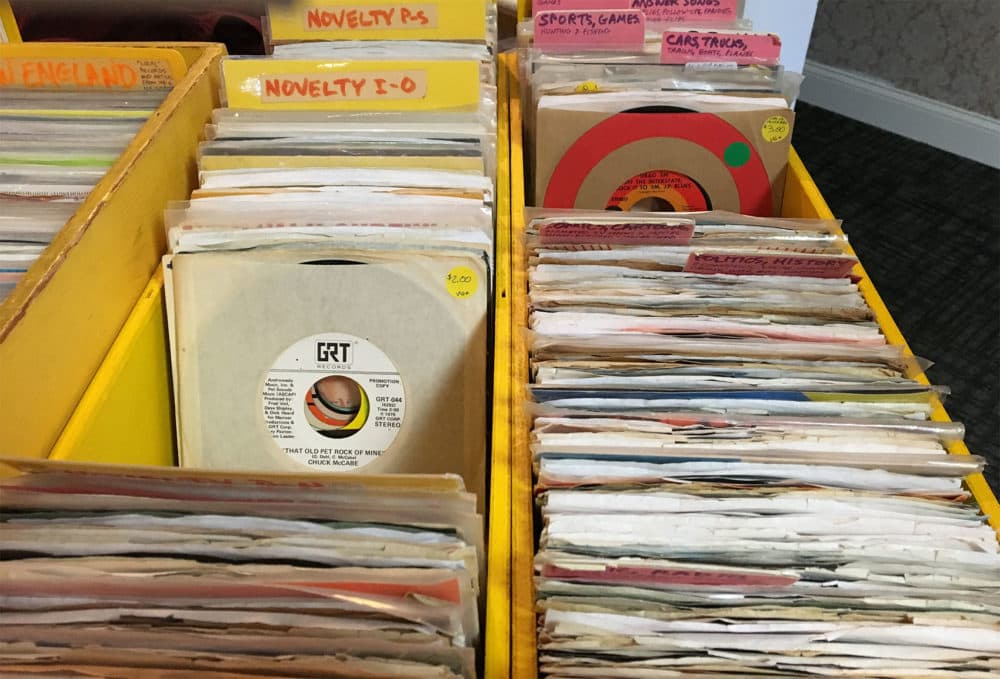 This article is more than 2 years old.
Come Sunday morning, music lovers and collectors from all over the region will gather in the cozy confines of American Legion Post 18 in Dedham.
They'll be there for a record show that happens several times a year, as it has for the past 41 years. It's a kind of pilgrimage.
We went, not too long ago, to be among the faithful at the New England Compact Disc and Record Expo, sponsored by the Randolph Music Center.
One of the people who keeps this record show spinning is Sheila Gold of the Randolph Music Center. She's right behind a big table of merch.
"Right now, we've got albums and DVDs, CDs. We have 'Cruisin' Classics,' " she says. She says there's a market for all this. "It's coming back very strong. Actually, we're selling more vinyl right now than we are CDs."
The people who come to Gold's show have strong opinions — not just about their taste in music — but about, for instance, whether vinyl beats out digital.
Dealer Don Dabreau of Mansfield is a vinyl man. "Oh, it definitely is better," he says. "I mean, the quality sounds better. Compact disc is a big lie. I mean, you can hear the hollowness of it. So yeah, vinyl has always been the best."
And some of the people who buy vinyl are diehards, like Bill Peverill of Watertown.
I'm 56 and I remember the days when people would know that there was a Led Zep album that was going to be released in three months, and they would wait and then we would bring it into the common room at my school, and we'd all sit around and silently listen to it three or four times, and because it's vinyl and you have to flip it over and physically be with it when it's playing ...  you'd interact with the music.

Because when you put CDs on, they just become background music. Like streaming listening services, it doesn't even matter what you're listening to. People don't even know what they're listening to.
Whatever you want to listen to, sometimes you can get it for a couple of bucks, sometimes more.
"My name is Gary Summers and I am the king of pop culture," he introduces himself. "My job is to find weird stuff and sell it to weird people."
He says "records can go for as low as $3, approximately, for a good condition record up to hundreds of dollars."
Dealer Dabreau scored big. "I just sold a Dale Hawkins 'Suzy Q' album for 600 bucks, the only one I've ever seen," he says. "As a matter of fact, I just saw one sold today, a Buddy Holly 'That'll Be the Day' with original black label that sold for 500 bucks this morning."
Dabreau says the cleaner the copy and better the condition, the more money it'll bring in. Right now, '80s music is big — Joy Division, and punk or metal. Also the Pretenders and David Bowie.
But you never know when someone's searching for something way different. When we went, someone was looking for "Nana Mouskouri in New York" on LP.
And then there are the old 45s, sold at the front of the hall, by David Marston of Manchester, New Hampshire.
"So I'm a dealer here," he says, "in fact I'm the dealer with the highest seniority at this show, I've been doing it almost as long as this show's been running, so that's why I have this front table space. And I just bought some records before the show started, so I'm auditioning them."
What he was auditioning this day: "This is the Villette Sisters, an MGM 12928, some girl group, 'I Gave Him Back His Ring' is the title here that I wanted to check out."
The man who started the New England Compact Disc and Record Expo died a couple of years ago. There are questions about how long it can keep going. But the Randolph Music Center says the show will last as long as there are dealers and people who love the music.
This segment aired on November 2, 2018.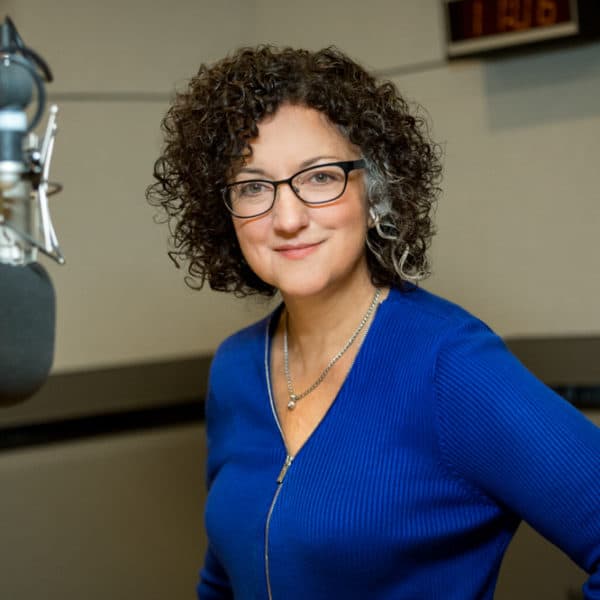 Lisa Mullins Host, All Things Considered
Lisa Mullins is the voice of WBUR's All Things Considered. She anchors the program, conducts interviews and reports from the field.