Shelley Nicole's blaKbüshe Just Wants You To Get Free At 'The Liberation Sessions'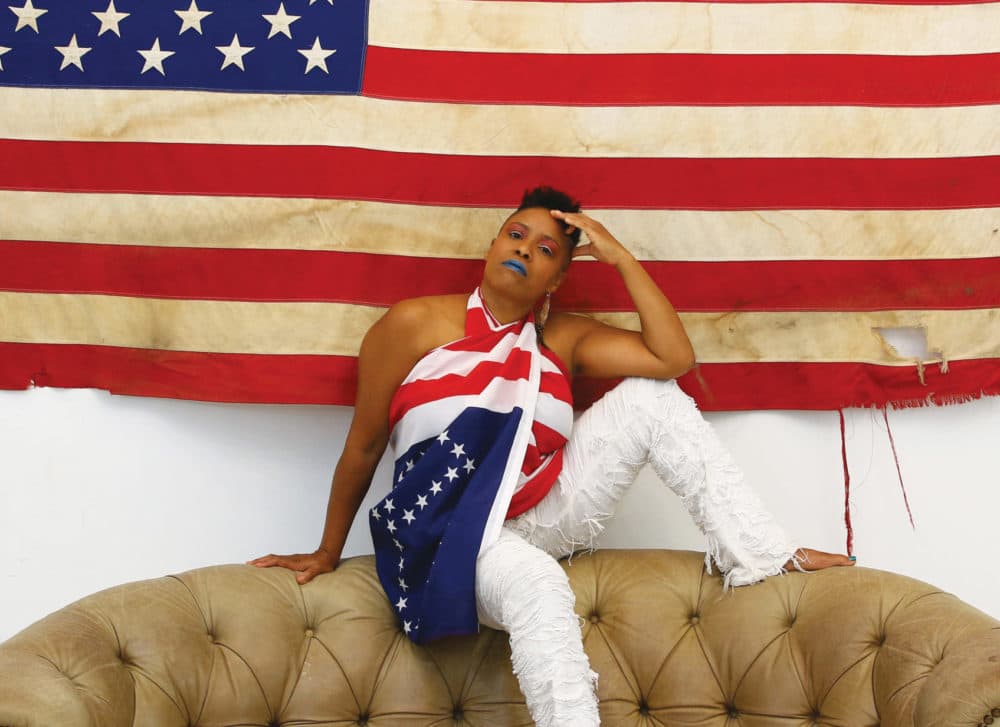 This article is more than 2 years old.
The meaning of liberation is amorphous and fluid, constantly changing with time and cultural context. For singer and performer Shelley Nicole, liberation sounds and looks like unbridled joy. "If you're someone who turns on your computer or television," Nicole elaborated. "There's always this barrage of bad news coming out of the government establishment right now."
To Nicole, bringing joy into shared communal spaces is an essential part of liberation — this ethos was one of the driving forces behind the "The Liberation Sessions" happening Sunday, Jan. 20 at ONCE in Somerville. This will be Shelley Nicole's first performance in Boston since she left the area as a young adult in the '90s. The Newton native and blaKbüshe teamed up with Cambridge-based band, The Nephrok! Allstars, to create and produce "The Liberation Sessions," an event meant to build bridges across divides using music.
"Music is a way to bring everybody together," Nicole said. "You can look at people and actually feel people and be present in the room with them." "The Liberation Sessions" aims to restore that tangible, interwoven nature of the human experience, that is sometimes lost in our technology-driven culture, through music that directly addresses disenfranchisement. Effortlessly melding funk, rock, punk and soul, Shelley Nicole and blaKbüshe infuse joy and wit into their music, bringing light to social justice issues in a tongue-in-cheek way.
Born to parents heavily involved in the Black Liberation movement, Nicole's life has always been intimately intertwined with social justice. Growing up in the predominantly black-owned portion of Newton called "the Village," Nicole recalls a childhood that exposed her to a wide range of people and cultures. "Being a suburban black girl you hear all the rock and and the metal," Nicole said. "It wasn't until I moved to New York that I was fully exposed to the world of Black Rock."
After moving to the Big Apple in the '90s, Nicole encountered the Black Rock Coalition, an organization founded by Vernon Reid, Greg Tate, D.K. Dyson and Konda Mason. Nicole formed a long lasting working relationship with Reid, who produced her most recent album "I Am American." "Meeting those black people in New York sort of made me feel like, 'Oh, I'm not weird OK,' " Nicole recalled with a laugh. Her exploration of black rock still plays a heavy hand in her music, chock full of gritty guitar riffs and drums that induce an uncontrollable urge to head bang.
The historically rebellious nature of rock and punk go hand in hand with Nicole and blaKbüshe's lyrical content. Brash and unapologetic and forward, their music tackles social justice by the midsection. But what sets Nicole and blaKbüshe's sound apart is how they talk about social justice and disenfranchisement. In their recent music video for the track "Punanny Politixxx," the band addresses reproductive justice but in a way that makes the topic relatable, fun and most importantly, sonically joyful. "Reproductive justice isn't a funny thing," Nicole said. "But how do we transform the traditional dialogue? How do we add lightness to it?"
Bringing levity to social justice spaces is a part of how "The Liberation Sessions" works. By utilizing humor and wit in music, the event seeks to liberate people from the daily deluge of bad news streaming in from the media. Transformation is catalyzed by communities but liberation all starts with the individual. "When I'm talking about liberation, it's not just about setting people free," said Nicole. "It's setting yourself free and then being an example of that for others." For Nicole and blaKbüshe and the Nephrok! Allstars, music and the unabashed release of control that happens in musical spaces, the dancing and the singing and the lowering of defenses, are all important factors in "getting free."
"The Liberation Sessions" aims to be a "balm in the midst of a storm," said Nicole. It's about music and sound but ultimately, it's about the individuals in the room who make the choice to share space with each other. Furthermore, it's about making the decision to move and to stand up, both literally and figuratively. "People are deciding that they can't sit down anymore," Nicole said. "That they can't be on the sidelines. And that means that they have to get up and do something."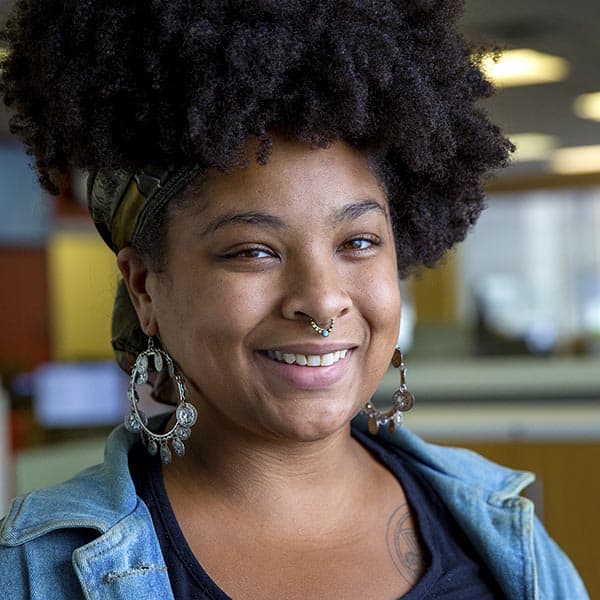 Arielle Gray Arts Engagement Producer
Arielle Gray is the Arts Engagement Producer for The ARTery. She manages its social media, events and curated content.