Wellesley Rep Majors In Meta-Theatrics For Lisa Kron's 'Well'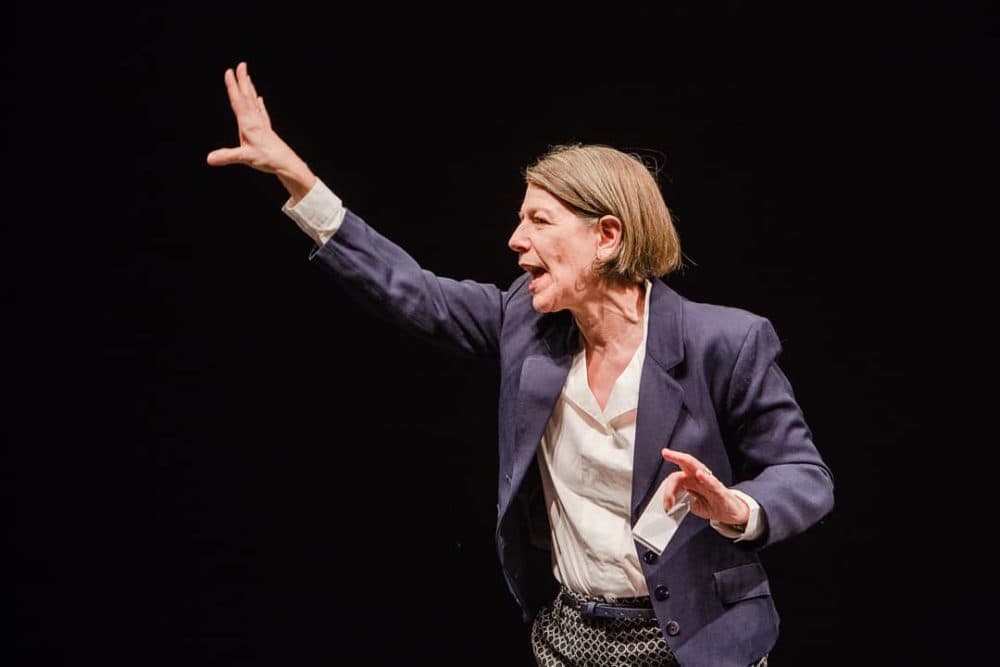 This article is more than 2 years old.
The well-made play and the "Well"-made play are pretty much opposites — as is flagrantly evinced by Lisa Kron's deliberately anarchic memoir of mothers and daughters in sickness and health. Seen here in a lively production by Wellesley Repertory Theatre (at Wellesley College's Ruth Nagel Jones Theatre through Feb. 10), "Well" proves itself a meta-theatrical beast that's decidedly cute but hard to keep on its leash.
The 2004 "Well," in which Kron originally played herself, reprising the autobiographical role two years later on Broadway, aims to lasso both actors and audience into a "theatrical exploration of universal issues" that is repeatedly shoved off its intended track by the onstage presence of Kron's elderly mother, Ann — ensconced in a cluttered corner of her Midwestern living room, set down like Dorothy's tornado-blown house at stage left. Four additional performers serves as role-playing hired hands, there to augment what Kron cagily describes to her mom as "a solo show with other people in it" that is absolutely not about the two of them. Of course, the playwright doth protest too much.
What Kron intends here is indeed to explore universal issues of illness and health — along with universal issues of familial, community and racial dynamics. Specifically, as the actor portraying Lisa explains early on, the play "asks the question: Why are some people sick and other people are well? Why are some people sick for years and years and other people are sick for a while but then they get better? Why is that? What is the difference between those people?"
Ann Kron, we learn, spent her entire life suffering from pain and exhaustion she attributed to "allergies" — this while using what energy she could muster as a community organizer, battling to keep the family's Lansing, Michigan neighborhood from going dispiritedly downhill as it was diversifying. Lisa, on the other hand, was ill enough at 19 to spend time in a Chicago allergy clinic. But somehow she got better enough to escape her provincial childhood (a Kmart-dotted terrain) to New York and a career that took her from stints with The Five Lesbian Brothers and the feminist collective WOW Café to two 2015 Tony Awards for the libretto and lyrics of the musical "Fun Home." (In between were several lauded solo shows and "Well.")
I have been a Kron fan since American Repertory Theater presented her in her solo piece "2.5 Minute Ride" — which ricochets between an annual family outing to an amusement part and a trip Kron took with her father to Auschwitz, where his parents had died — 20 years ago. And I think her stage translation of Alison Bechdel's graphic memoir "Fun Home" is masterful.
As for "Well," well… Some of the oft-mortified narrator's observations — among them that "when you get home, what you realize is that your parents live in an alternate universe where your therapy has no power" — are both funny and astute. And the tiptoed dance between self-conscious Lisa and her elderly, candid and exhausted mother is more tender than blameful. But the reliance of the theater piece on the repeated, audacious breaking of the fourth wall gets tiresome. And the scenes enacted by the ensemble — whether playing characters from Kron's past or their own confused actor selves — are as skeletal and exaggerated as cartoons. Especially when the actors hired to tell Kron's story cavort as children, the impression is of adults in a subpar production of "You're a Good Man, Charlie Brown" but with issues of racial equity, rather than what Snoopy gets for supper, at stake.
It may be possible to minimalize the cuteness and contrivance of "Well" coming apart at its seams as Ann and the actors, who clearly prefer the ailing housewife to their onstage Pirandello, commandeer the author's notecard-guided "theatrical exploration." But that is not the intent of incoming artistic director Marta Rainer's production for Wellesley Rep, which bristles more with energetic exaggeration than emotional truth.
This is not to say that the performances by Sebastian Ryder as Lisa Kron and Lisa Foley as Ann Kron are not accomplished. The nimble, likeable Ryder ping-pongs among artistic posturing, wincing self-consciousness and frustration at being challenged in both her mind's eye and her play in progress with an aplomb marred only by her flights into overplayed childishness. And Foley, groaning gently in her ratty recliner, tossing snacks to the audience as if we were houseguests, captures both Ann's near-slovenly weariness and the character's herculean if homespun efforts to cure social ills that exceeded her own.
Foley's Ann, whether dazed and confused or adamant, is a gently corrective presence. Whether shaking a reproving finger at her playwright daughter's skewed remembrance of things past, objecting to Lisa's diagnosis of medical woes with a poetic license or trying to make us intruders feel at home, Foley is credible rather than precious. I wished the ensemble had taken its cue from her and dialed the multi-layered acting down a notch.
---
Wellesley Repertory Theatre's production of "Well" runs through Feb. 10.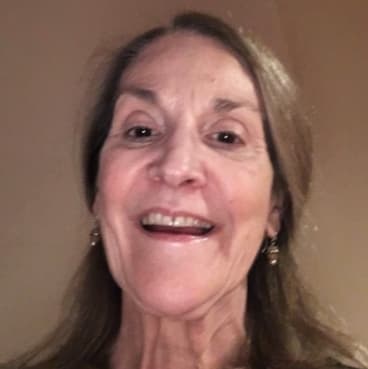 Carolyn Clay Theater Critic
Carolyn Clay, a theater critic for The ARTery, was for many years theater editor and chief drama critic for the Boston Phoenix.