Notre Dame, A Queen That Belongs To Us All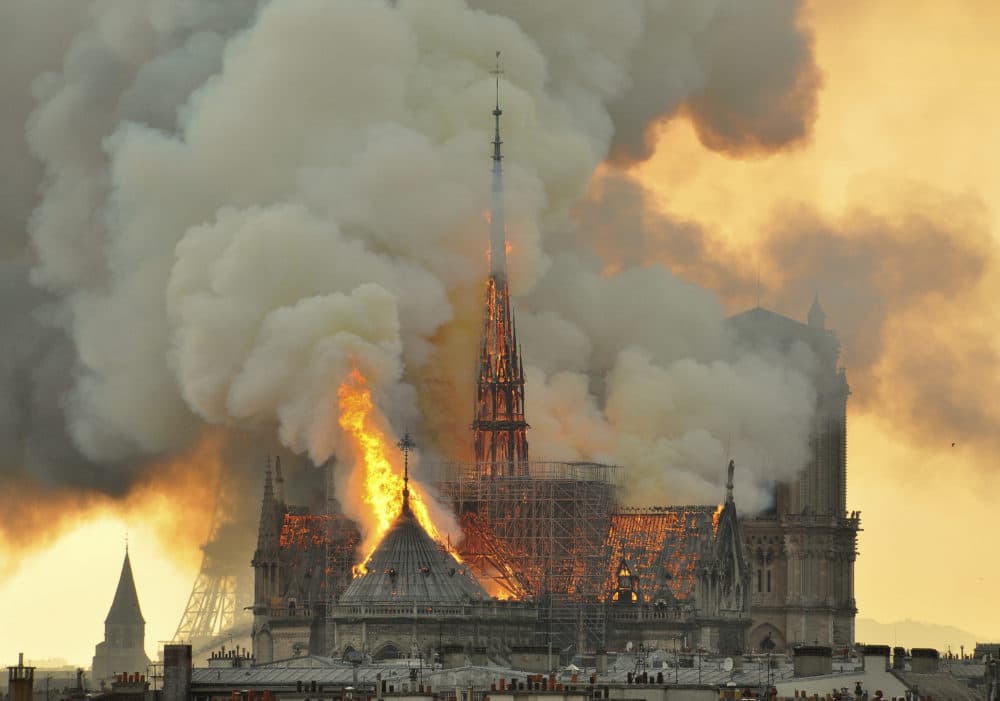 No matter who you are and what you believe, Notre Dame Cathedral is yours.
It may be a symbol of Catholicism and faith, but it's also a universal icon of art and culture, of human history and civilization.
I grew up in France, well aware that unlike the Eiffel Tower, Notre Dame was much more than a tourist attraction. With a presence spanning nine centuries, many see it as the heart and soul of the nation, and a living museum for all.
On Monday, when international news broadcasts took over local programming to show flames shooting out of the roof of Notre Dame, and people around the world grieved its destruction on social media, the cathedral's place as a global cultural icon was confirmed.
As President Emmanuel Macron said Monday night standing in front of Notre Dame, the cathedral belongs to everyone, even those who have never come to see it.
This sentiment was echoed in the drawing by celebrated cartoonist Plantu in the French daily Le Monde. In it, the central rose-window of Notre Dame — which luckily survived the fire — is replaced by an equally round image of the globe.
I watched on TV as the raging fire gained ground and eventually caused the collapse of the spire and I had a sense of irreparable loss.
I felt this way before — though in admittedly different circumstances. First in 2001, when the Taliban regime dynamited 6th-century stone Buddhas carved out of cliffs in Afghanistan's Bamiyan Valley, because they offended their version of Islam. And then in 2012, I was saddened by the destruction of the ancient market of Aleppo, Al-Madina Souq, which burned down as a casualty of fighting over the city. Ancient buildings have stories to keep, and to tell. When they disappear anywhere in the world, it's a loss for all.
Watching Notre Dame burn, I thought about the almost 200 years it took to build this magnificent gothic monument, and picturing the human beings who made it possible. The architects, the craftsmen and women, the carpenters who built its structure, the stonemasons who erected its walls and columns, the sculptors who carved its statues, capitals and gargoyles, the stained glass window artists, the blacksmiths, and all the other workers who contributed to a project most of them would never see completed.
I see medieval cathedrals as time-traveling vessels. Many have been around for almost a millennium and I'd suggest are meant to outlive us all, no burning allowed — especially not in the 21st century. Just walking through a cathedral can give you a humbling sense of the power of the human spirit, moved by faith perhaps, but also a desire to create and pass on a gift of beauty. I take that humbling walk whenever I find myself in my hometown of Auxerre, Burgundy, whose cathedral is only a little younger and little shorter than Notre Dame. Like Notre Dame, it has been a witness and active participant of our common history, and with its bells marking time, was the pulse of my childhood.
In Paris, the cathedral has always been at the center of religious and political life. It saw France through the plague, the revolution, the Commune and two world wars, ringing the end of the last one from its awesome bells towers. Royal weddings and state funerals were held there, and in 1804, Napoleon crowned himself emperor in its nave, as immortalized in Jacques-Louis David's outsized painting on display at the Louvre.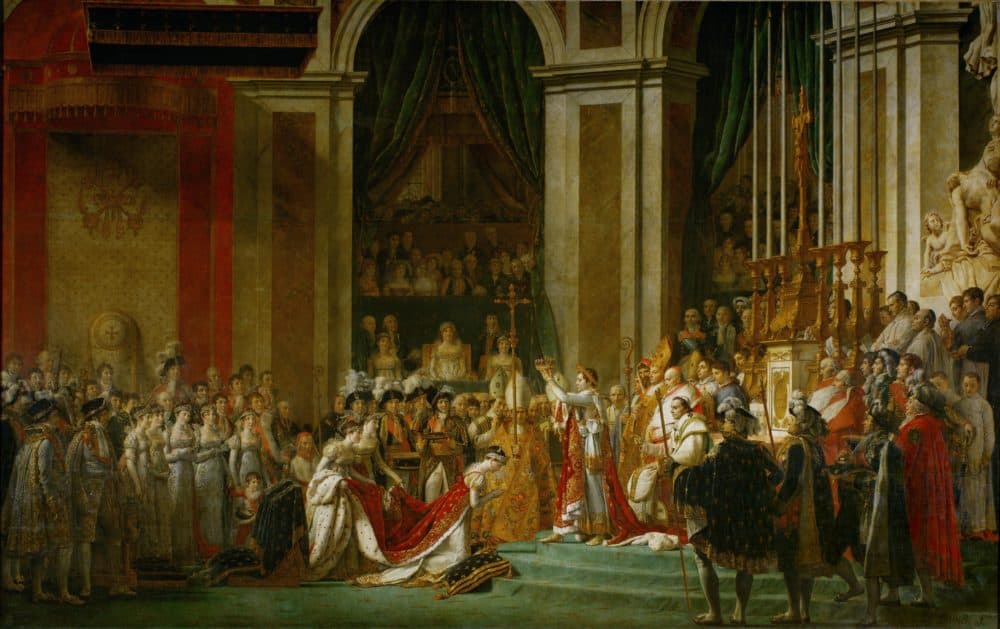 France's literary giant Victor Hugo memorialized the cathedral in "The Hunchback of Notre Dame" with awe-inspiring descriptions. He also deplored the recklessness of its flawed human guardians:
On the face of this aged queen of our cathedrals, by the side of a wrinkle, one always finds a scar. ~Tempus edax, homo edacior*~; which I should be glad to translate thus: time is blind, man is stupid.

* Time is a devourer; man, more so.
And so the aged queen burned this week, but its towers stand.
For many, Notre Dame may just be part of an enjoyable trip to the French capital, and that's OK too. Photos of the church create memorable traveling markers, as we have seen in the voluminous sharing of those pictures on social media since the fire.
For my two sons and me, the cathedral is a regular stop during summer evening strolls in the city, when the sun shines late and ice cream is a must. You can sit on the cathedral's esplanade and gaze at the aged queen, this keeper of thousands of stories looking down on you.
Today, even gutted by fire, Notre Dame still seems poised to maintain its place in our common cultural history for generations to come.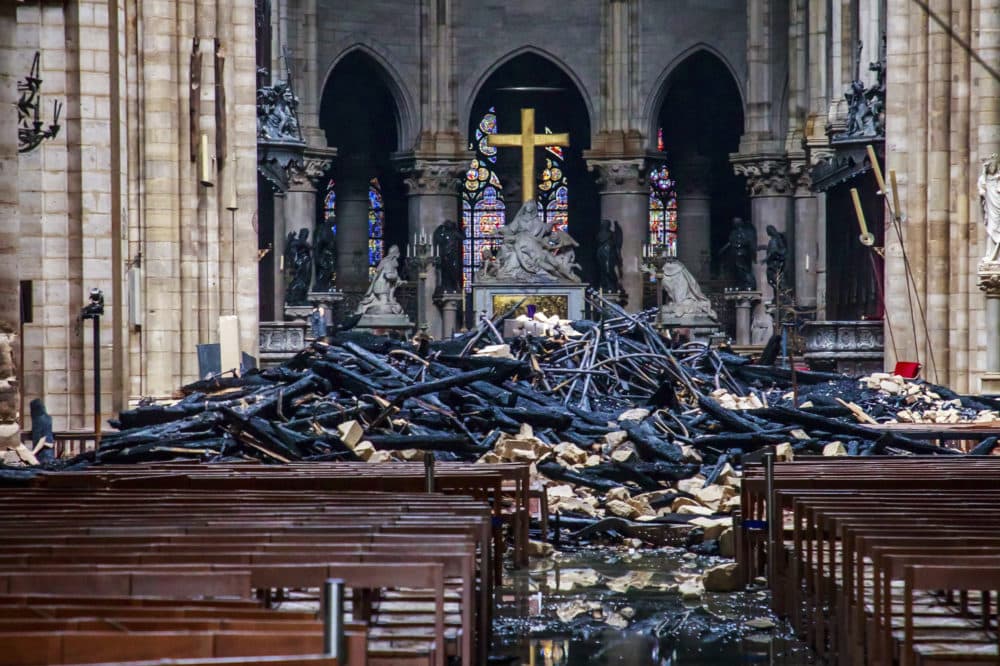 ---
Adeline Sire is a French-American reporter and audio producer currently based in the Boston area. She tweets at @AdelineSire.