Singer Patrice Williamson Celebrates American Jazz While Pushing The Genre Forward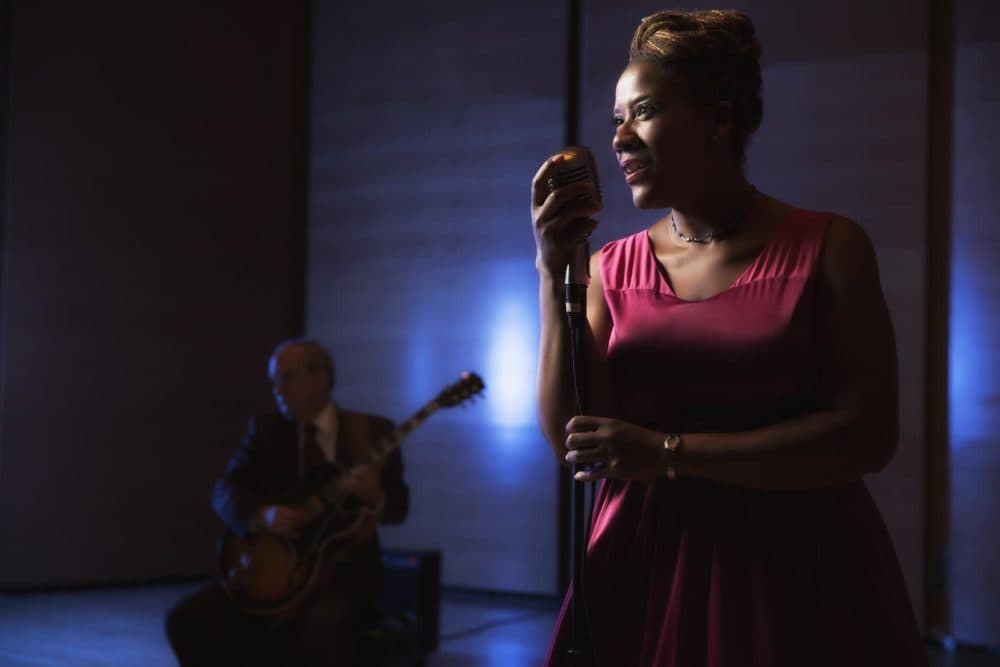 Patrice Williamson will credit her jazz career to icons of the genre like Ella Fitzgerald. But she says network news anchor Connie Chung had something to do with it too.
Growing up in Memphis in the 1970s, Williamson sang in church and played classical flute and violin. Her father immersed her in music on their home's enclosed porch, where they listened to records of all types — Dinah Washington, Lena Horne and, of course, Ella Fitzgerald. "Ella Fitzgerald may have been the first person that I truly heard improvise, but when you're 5, you just think it's funny sounds," she says, as she recalls jumping around the house trying to scat along with Fitzgerald's recordings.
As a teen, Williamson was in awe of Chung. "She was the first strong female broadcaster I'd ever seen," Williamson recalls. She went on to study communications in college — that is, until she found out she'd have to research and write her own stories. It occurred to her then that she was more interested in the performance aspect of broadcasting.
She began to sing after the director of her University of Tennessee orchestra asked her to do so in concert. She says he picked a corny song she can't even remember, but it confirmed her interest in "being out front." Williamson started taking voice lessons and switched her major to music.
She later ditched the flute and the violin to pursue a master's degree and a prestigious Artist Diploma in jazz vocal performance at New England Conservatory in Boston. The Southerner performed in jazz clubs from Boston to Singapore, and has recorded three jazz solo albums and a vocal trio CD with an R&B feel. Today, Williamson says she has established herself as something of a torch-bearer for traditional jazz — performing the canon while also innovating in the field.
On April 24, Williamson, who now lives in Somerville, will present a repertoire of Ella Fitzgerald's classic songs at Cambridge's Regattabar with a jazz band.
Williamson recently welcomed me in her music room at Berklee — where she's been teaching since 2011 — with two of her students, 26-year-old Nigerian Oluwatomisin Ade-kolawole, and 24-year-old Australian Kate Thorne. She seemed comfortable in her role as a supportive mother-hen while they practiced their songs.
"They were both established musicians before they came here, with lots of performance experience, and I'm just helping them getting from 'wow' to 'aaaaaah!'" she said, laughing.
Thorne is in awe of Williamson's improvisational skills. "I came here to build on my technique, my strength and my range," she said, "and I can see it's happening slowly, so it's exciting."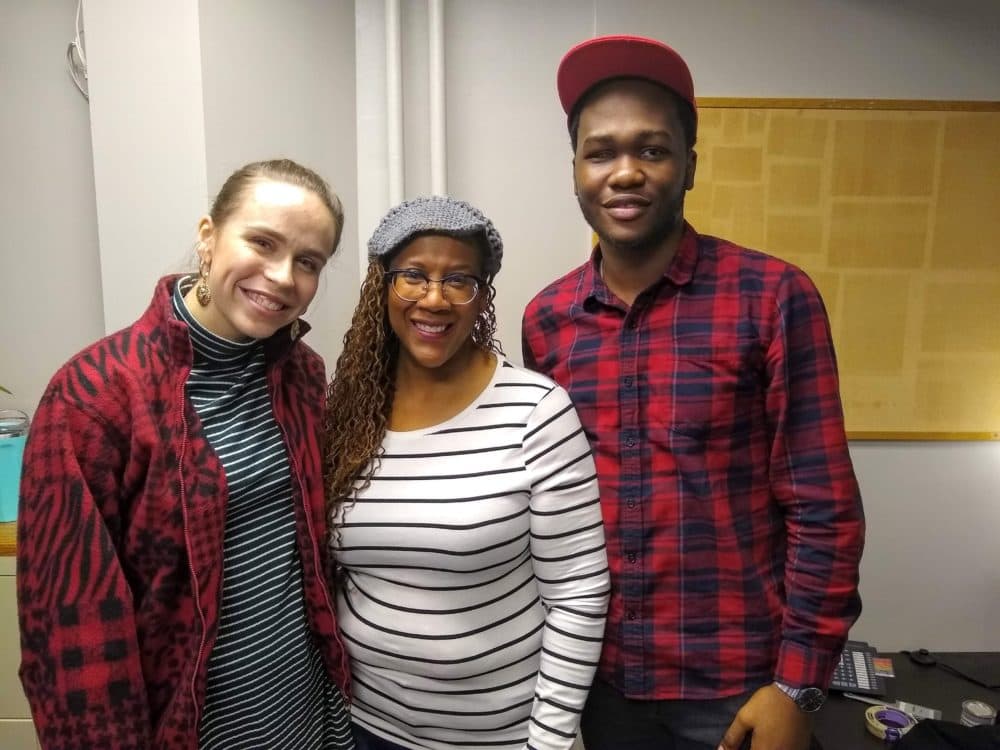 Williamson takes her responsibility to educate a new generation quite seriously. She sees herself as a champion of classical jazz, an evolving, living archive. "I'm definitely someone who is maintaining the traditional jazz, normal swing, a more bebop style, and maintaining the great American songbook," she says, "so I am definitely passing that on to my students."
But she adds that she also infuses that tradition with her own experience. "As I've continued to perform, I am now pulling from my entire life of music," she says "which ­is why I will bring an R&B song for example, but I'll change its groove, and I'll bring improvisation into it."
Williamson also has a distinctively deep voice, which has been described as warm, even husky, and likened to the sound of jazz great Sarah Vaughan. In 2002, music critic C. Michael Bailey wrote: "Ms. Williamson has a beautiful low alto voice that could be likened to a smooth single-malt scotch with the hint of a breathless backdraft."
You can hear that smooth alto's confidence in the song "Close Your Eyes," a 1930s standard and a favorite of Williamson's, which she recorded on her album "Free to Dream."
"I began to sing that in the '90s," she says, "and the more I do it, the more it becomes my own. I am able to play around with rhythms and how I deliver the lyric, so it's very comfortable. And I think I shine best there because I am no longer in my head, you know, it's now become the language that I speak."
The song displays Williamson's extensive range and her whimsical scat, the art of building rapid-fire musical phrases with nonsensical syllables, which she learned from its once reigning queen, Ella Fitzgerald. Yet, Williamson's longtime colleague and accompanist, jazz pianist Marc Shalansky --who produced the "Free to Dream" album--says Williamson doesn't imitate other people's inflections. "When she sings Ella Fitzgerald's songs," he says, "she sounds like herself."
Her 2017 album, "Comes Love," is a tribute to Fitzgerald and features a number of ballads once performed by the jazz icon. She is accompanied on the guitar by Jon Wheatley, and their duo evokes the legendary recordings by Fitzgerald and Joe Pass, exemplified in Williamson's tender rendering of the classic title "Bluesette," or in the scat-laced "You Turned the Tables on Me."
That intimate partnership won praise from jazz radio and Boston Symphony Orchestra broadcast host Ron Della Chiesa. "Today we're surrounded by sonic overkill," he says, "everything is loud, so in contrast these are beautifully sung ballads. Jazz doesn't have to be wild to be great, it can be subtle, like a chamber music quartet. In that way, ['Comes Love'] reminds me of the recordings of the past."
Next week, Williamson will bring her personal groove to Ella Fitzgerald's songs at Cambridge's Regattabar. That's a familiar setting for the singer, unlike the gig that will come next: her debut performance in the world's jazz hub, New York City's Blue Note.