The Improper Bostonian Announces It's Closing After 28 Years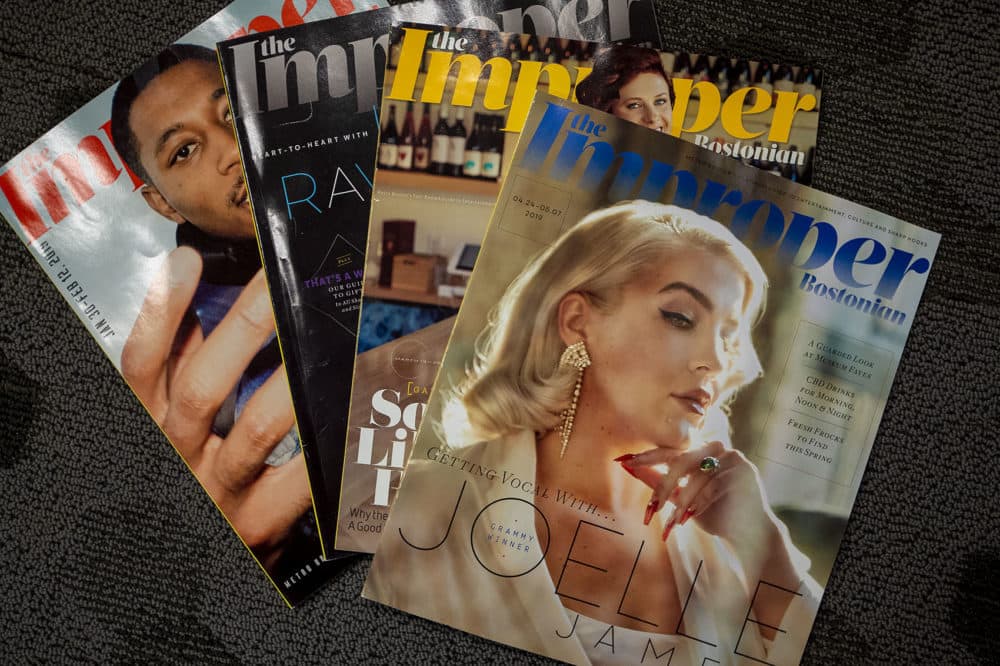 After nearly 28 years, The Improper Bostonian, a free, glossy local magazine, is closing effective Thursday, its longtime publisher writes.
In an online post headlined "An Improper Farewell," Wendy Semonian Eppich thanked her staff — past and present — her family, vendors, advertisers and readers.
She also left readers with a passing piece of advice.
"As you remember The Improper," Semonian Eppich wrote, "try to think of how you can enrich the lives of others while celebrating AND enjoying life in this wonderful city—something we are fond of doing ourselves."
At the Improper's Back Bay offices Thursday, the doors were locked and moving boxes were stacked inside. A man who answered the door when a WBUR reporter knocked said staff members were too emotional to give comment. The publisher wasn't in the office at the time, he said.
Semonian Eppich has not responded to emailed requests for comment.
Her brother, Mark Semonian, published the first issue of The Improper Bostonian in 1991 as a recent college graduate. Semonian Eppich took over as publisher in 2003.
Over three decades, The Improper celebrated creatives and unique experiences throughout Boston, a publication in which, at a glance, readers could know what was happening around the city for the next month. It brought businesses, chefs and artists to the forefront, and filled a gap in the local media landscape.
The Improper produces 24 issues a year, and says it reaches 426,000 readers.
In her post, Semonian Eppich said she expected this news to shock some, but that it was time.
"It has been a pleasure to entertain, inspire, inform and amuse you," she wrote. "Our staff was always delighted when you shared your love and passion for the brand. Your feedback gave us a lot of pride in what we did and motivated us to continue doing it."
"As always, Stay Improper," she wrote as a sign off.
You can find the final issue of the Improper on newsstands now. On the cover is Grammy Award-winning singer and Berklee College of Music graduate Joelle James.