At SpeakEasy Stage, 'Choir Boy' Is Grounded In Tenderness And Truth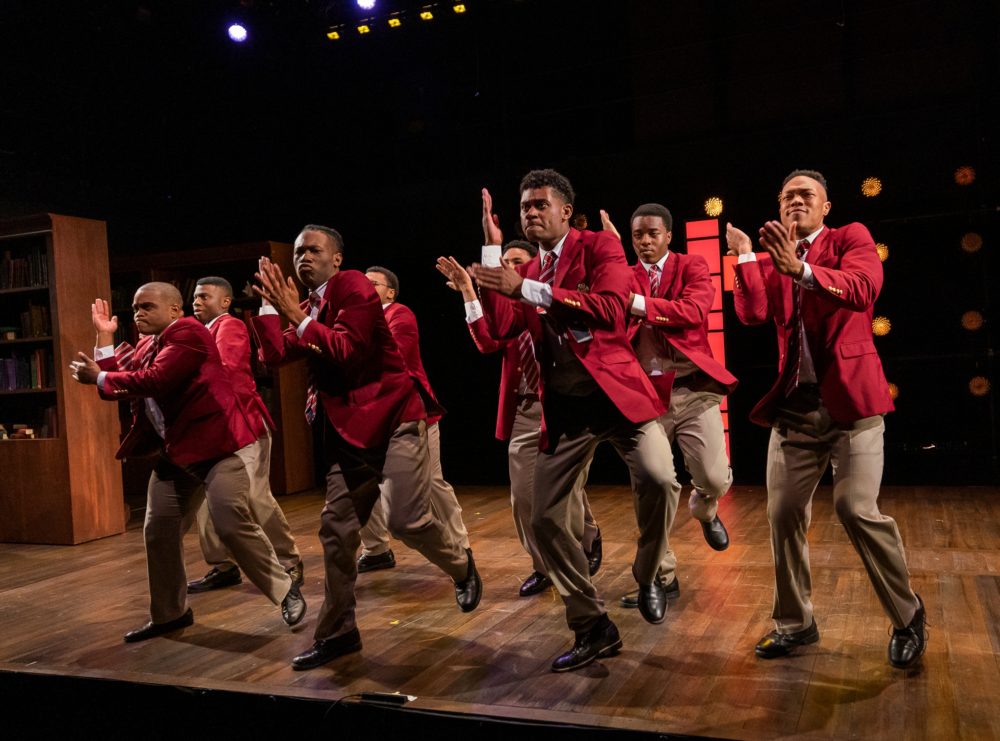 "Choir Boy," acclaimed writer Tarell Alvin McCraney's Broadway drama, begins with a song and a slur. Pharus Young, the choir leader of the prestigious all-black Charles R. Drew boys prep school, sings the school anthem, "Trust and Obey." Pharus, played by the charmingly cheeky Isaiah Reynolds, is openly gay in all but name. As he sings, his nemesis, Bobby Marrow (Malik Mitchell), hurls homophobic and racist epithets from the choir behind him.
The next scene reveals that Bobby has the leeway to be such a bully because he's the nephew of Headmaster Marrow (J. Jerome Rogers), his seat at the table guaranteed by dollars and pedigree. However, Pharus is no helpless victim. A talented singer and naturally charismatic, he is the headmaster's favorite, appointed leader of the school's renowned choir. Pharus plans to use his power and to oust Bobby, at least in this domain.
What begins as typical teenage drama opens the door to the sociological examinations at the heart of "Choir Boy." Pharus is the focal narrative as he negotiates his burgeoning sexuality within often suffocating, sometimes dangerous confines.
One by one, each of the other students, their coming of age, and their complex relationships with each other are explored: AJ (Jaimar Brown), Pharus' infinitely faithful friend and gentle jock roommate; Junior (Aaron Patterson), Bobby's good-natured sidekick still developing his reading comprehension and political consciousness; and David (Dwayne P. Mitchell), the scholarship student with no institutional safety nets, his future at Drew and beyond depend entirely on making no missteps
We witness Pharus go from voguing confidence to darkest insecurities, deepest desires fulfilled, to them crushed and dejected. We find out that Bobby is not without his personal demons either.
Charles R. Drew Prep School is an embodiment of the construct of the "good black man," an institution that is at once a microcosm of the systems of oppression that created it in the first place, and a bastion of freedom for the lucky few selected for entry. Students are completely separated from their families except for weekly 30-minute phone calls. School culture and curriculum are molded by the outside world's white supremacist expectations.
Yet at school, the boys are sheltered from the worst of a system of traps designed to destroy them. Here, the select few have the privilege to be boys becoming men, a rare haven in which to navigate sexuality and intimacy, class and power, loyalty and betrayal.
Still, each scene transition echoed with the voices of Martin Luther King Jr., James Baldwin and others, a constant reminder of what it took to get up here, and how easy it is to fall down again. And the white establishment, in the form of well-intentioned Mr. Pendleton (Richard Snee), still manages to encroach on this space with microaggressions and a telling scene in which Bobby and Pharus' conflict is violently superseded by Pendleton imposing his own judgment over who can say the N-word.
There's a lot going on in "Choir Boy," but McCraney's adroit script weaves it all together into a wondrous, textured whole that remains clear in intent and grounded in tenderness and truth. Director Maurice Emmanuel Parent's seamless, naturalistic guidance lets the young ensemble cast shine. "I love all the different slices of black masculinity in this play," says Parent.
I especially loved Parent's production because it displays more of a fullness of empathic range in what it means to be a "strong black man" than I've ever seen, even in "Moonlight," McCraney's Oscar-winning movie. The characters who portray homophobia and toxic hypermasculinity are called out but still treated compassionately. Parent and McCraney both know well that these "negative byproducts … developed as a response to systems of oppression."
For me, it was a welcome change from the standard (and very racist) narrative frame. Specifically, it was a much-needed respite from the infuriatingly hypocritical world in which Kevin Hart was forced to step down from hosting the Oscars for four careless tweets from a decade ago, but "Saturday Night Live" still hired a virulently racist white comedian who routinely uses racist and homophobic slurs both in comedy and conversation. (On Monday, the show announced the comedian was fired, before ever making an appearance on the show.) For a few hours, at least, the balm of Music Director David Freeman Coleman's choral arrangements, and choreographers Yewande Odetoyinbo and Ruka White's entrancing step-dance sequences, let me escape.
---
SpeakEasy's "Choir Boy" is on stage through Oct. 19. 
This article was originally published on September 17, 2019.