5 Things To Do This Weekend, From A Giant Queer Halloween Dance Party To Alexandria Smith At Wellesley
This week has been a maelstrom of typical New England weather. One moment, it's a relatively warm, beautiful fall morning and the next, it's pouring buckets. But don't let the uncertain weather keep you from enjoying the last weekend we have before Halloween hits next Thursday! Keep reading for some fun things to check out before the Monday morning blues hit you.
Saturday, Oct. 26
Want to break out of the heteronormative spaces Halloween celebrations can so often take place in? This Halloween dance party is the perfect place for you! This all-gender, all-ages bash opens up with a costume swap where attendees can bring a costume to trade for another. If you don't have a costume, you can use this time to craft one for yourself. Included in the programming are drag performances, a costume contest, a DJ set and a performance by rapper and performer Medino Green.
---
Friday, Oct. 25
The words museum and hip-hop haven't traditionally been used in the same sentence but more and more hip-hop acts have been taking the stage at the Museum of Fine Arts in the past few years. Local digital media production company, HipStory, is taking over the MFA and programming a night filled with performances from Boston-based artists. Featuring sets by lyrical juggernauts CakeSwag, Rayel and Capella and DJ sets from the likes of DJ Why Sham and DJ Troy Frost, this is a night you're not going to want to miss. The event is part of the Late Night series at the museum, which encourages visitors to interact with the encyclopedic institution in ways that go beyond observing art on the walls.
---
Friday, Oct. 25 - Sunday, Oct. 27
If you love visual art, the annual Boston International Fine Art Show is something you definitely need to check out. Each year, the BCA's Cyclorama is transformed into a space showcasing the work of 40 fine art galleries from across the nation and the globe. This year, there's a section of the show called "Emerge," which is dedicated to showcasing the work of emerging artists and artists who are in the mid-career stage. Galleries are open all day so you can take your time to browse. And with price tags ranging from a few hundred dollars to $1 million, there's (hopefully) art that everyone can take home with them.
---
Through August 2020
If you're not hip to the work of Alexandria Smith, you definitely need to put her on your radar (and we're not just saying that because she was in our 2019 ARTery 25 cohort.) The Windows Invitational series welcomes artists to utilize the huge, floor-to-ceiling windows in the lobby and courtyard of the Rafael Moneo building as a space for artistic expression. Calling on the history of Wellesley's first black college graduates, Smith created larger than life portraits of these graduates to memorialize their legacy by combining old photographs with her own singular (and signature) artistic style. Recognize the name "Seed to Harvest"? It's a reference to the "Patternist" series of novels by Octavia Butler, which, like these portraits, melds together the past, present and future.
---
Friday, Oct. 25 to Tuesday, Oct. 29
The Salem Horror Fest went through some turbulence this fall when the festival had to find a new venue. The festival was asked by its original venue to delete anti-Trump sentiments from their social media. Luckily, the festival's organizers secured a new spot, much to the joy of horror fans in Salem and beyond. This year features a lineup of Stephen King classics like "IT," "Pet Sematary" and "Cujo." And if there's any weekend to visit Salem, it's the weekend leading up to Halloween. You can grab some great food and scares in the city after the movie ... if you dare.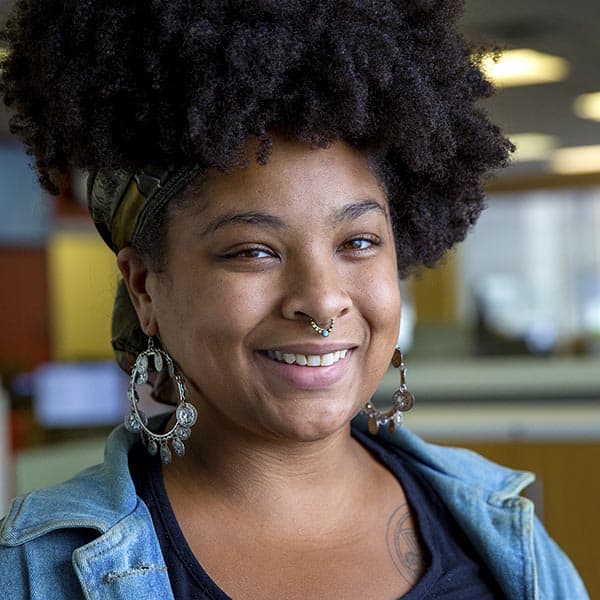 Arielle Gray Arts Engagement Producer
Arielle Gray is the Arts Engagement Producer for The ARTery. She manages its social media, events and curated content.