5 Things To Do This Weekend, From An Art Book Fair To Women Of Color In Hip-Hop Event
Fall is in full swing with winter right on its heels. Resist the urge to stay inside by getting out to visit these artsy events going down this weekend.
Emerson College
Nov. 9
From Rapsody to Megan Thee Stallion, femcees of color are dominating the world of hip-hop. We have our own lyrical juggernauts in Boston and you can catch them speaking on their experiences at Emerson College. What's it like being a woman in a male-dominated industry? Why does the industry pit female rappers against each other? Artists Brandie Blaze, Dutch Rebelle and Red Shaydez will discuss these issues of "tokenism" and much more.
---
Cyclorama
Nov. 8 through Nov. 10
Books are so much more than words. The third annual Boston Art Book Fair examines literature beyond page and cover and explores how books influence art and serve as sources of inspiration for artists. This three day fair highlights local publishers and presses while providing time for plenty of dialogue, with panels on the importance of independent publishing, access to literature and more. A set up of vendors will give visitors a chance to directly interact with local and national taste makers in the literary and art communities.
---
Through Nov. 17
Now in its 30th year of operation, the Boston Jewish Film Festival brings work by Jewish directors and artists to the forefront. This year, there's a focus on Israeli television and how it sets a precedent for American shows, like HBO's new series "Euphoria" and Showtime's "Homeland." BJFF is hosting 308 minutes of a "TLV TV Binge" which includes shows "Autonomies" and "Muna." Neither one of these titles are available outside the film festival circuit with English subtitles. If you can't make the "TLV TV Binge," there are plenty of other titles from the festival for you to check out. (Read Erin Trahan's "Here Are 2 Reasons To Indulge On Israeli TV At The Boston Jewish Film Fest")
---
Boston Sculptors Gallery
Through Dec. 8
What does functionality look like? What makes an item functional (or not)? Artist Mags Harries is challenging predominant ideas of functionalism with her sculpture, "One-Legged Table." Comprised of pieces from thirteen different tables, Harries' sculpture speaks to the idea of disparate parts coming together to form something that's not only functional but also a space for gathering. "One-Legged Table" will be the site of a series of brunches Harries will host. She'll be joined by visitors to talk about how individuals can come up with actions, small or large, that positively impact their communities.
---
Calderwood Pavilion
Through November 30
College admission has been the center of some controversy this year. News broke of a college admissions bribery scandal. Harvard University was at the center of a high-profile admissions case concerning affirmative action. Now, college admissions is a central part of SpeakEasy's new production, "Admissions." The play turns a satirical eye on the admissions process, directly addressing affirmative action and the "performative wokeness" of white admissions staff, who seek to increase diversity solely for the optics. "Still, the play makes its point that it's far easier to invite new voices to the table of privilege if you don't have to give up your own seat there," writes theater critic Carolyn Clay.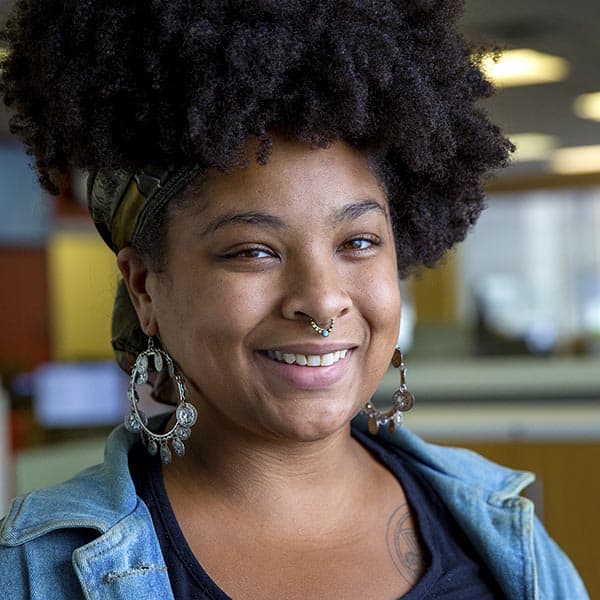 Arielle Gray Arts Engagement Producer
Arielle Gray is the Arts Engagement Producer for The ARTery. She manages its social media, events and curated content.