This Gallery Show Plays With Your Memory Using The Colors And Patterns Of Childhood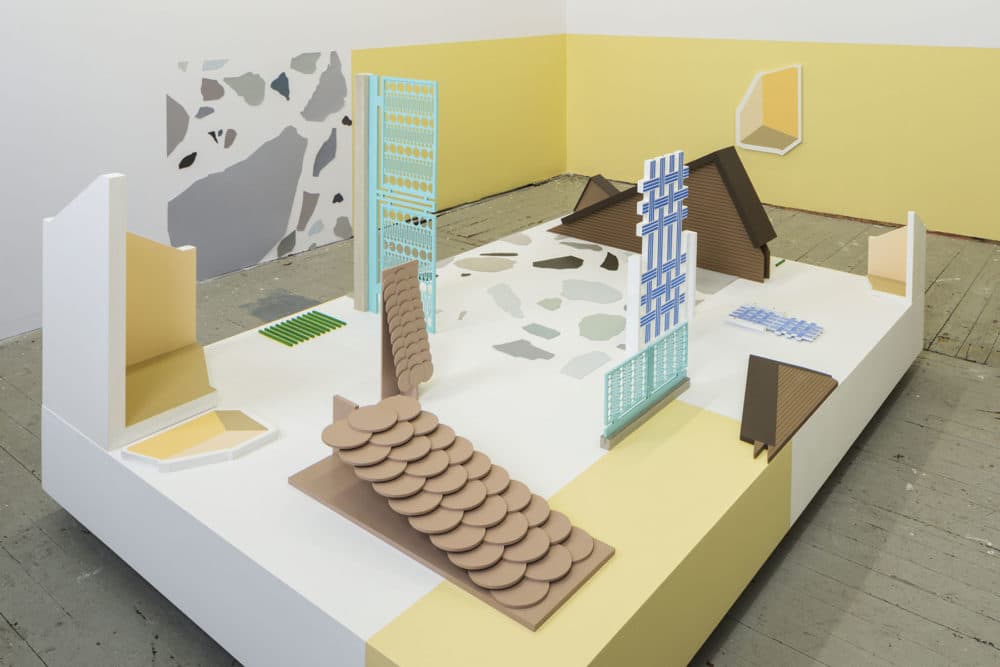 "A low story between two others" is the architectural definition of a mezzanine, that low-ceilinged level typically sitting between the first and second floors of a hotel, an office building, or maybe an industrial space.
In the show "a low storey between two others," now on view at Anthony Greaney in Somerville, artists Farhad Mirza and Katarina Burin adopt the half-and-half nature of the mezzanine as a metaphor for elusive childhood memories that grow more distant even as one strains to recreate them. Architecture provides the conceptual framework for the installation, as, it turns out, much of what Mirza and Burin recall from their childhoods — his lived in Karachi, Pakistan, hers in Bratislava, Slovakia — is precisely those small building details — a color, a pattern, a material — that stick in one's memory, even despite the passage of time.
On a platform in the middle of the gallery, sits a selection of what appears to be random building fragments, including the slope of a brown roof, a patterned aqua gate, rounded overlapping stairs, a woven blue grid, a series of green bars, flattened shapes that read as chips of stone in a terrazzo floor and yellow walls, both on bits of wall on the plinth and painted on a section of the gallery wall. Each building shard is a re-creation of some architectural detail that Mirza and Burin remember of their childhood homes. Back in Pakistan, Mirza slept in a bedroom painted "magnolia yellow." Burin's grandparents' home featured an aqua patterned gate. When Burin camped as a child, her parents pulled out folding lawn chairs with the blue woven pattern familiar to campers around the world. The green bars reference strips of grass poking through concrete pavement that both Mirza and Burin saw a lot of growing up. The rounded stairway is what Mirza recalls of one of his toys and the sloped roofs what Burin remembers of houses in Slovakia.
Both Burin and Mirza have backgrounds in architecture, design and space, and so it is entirely natural that their childhood memories are wrapped around roofs, gates and floors. Mirza teaches 3D modeling and fabrication at Bennington College in Vermont while Burin lectures on visual and environmental studies at Harvard. (Burin is also the winner of the Institute of Contemporary Art's 2013 James and Audrey Foster Prize.) They met in 2016 when Burin asked Mirza to assist her with fabrication and technical drawings in her Cambridge studio.
"I quickly realized we had a lot of similar interests," says Burin. "Specifically, in relationship to how we relate to space and architecture and materials."
"We hit it off and had lots to talk about and became good friends," says Mirza. "We really enjoyed the conversations we were having about both architecture and buildings, but also drawings and specific materials."
One thing that Mirza and Burin discovered is that although both had specific memories of materials and objects growing up, neither could easily return home to confirm what they remembered.
"We both had experiences of living in a country that we had to leave when we were young and then didn't have any access to later," says Burin. "So, we've been distanced from that time. We would start talking about things, and every time he said something about a material or space that he inhabited when he was younger, I would understand it and relate to it. We realized we've had these overlapping relationships to architecture and physical spaces that we inhabited in a way that felt like they were very similar."
Although Burin had grown up in a communist country, far from Mirza growing up on a completely different continent in a country that had been colonized, both had similar recollections of their built environment — institutional settings with two-tone walls, terrazzo floors, patterned metal gates, blue woven lawn chairs.
"Materials that are historically probably extremely specific, but because of the way markets move things around, have become ubiquitous" says Mirza. "Certain colors, certain textures, a certain kind of floor, a certain kind of wall. And usually, they're fairly economical and cheap materials. They're not very special or expensive. But there was still a beauty to us in that economy and that impulse to make something beautiful out of a kind of cheap thing, an economical thing."
They set about trying to physically reconstruct their memories, creating scaled-down "composites" of certain striking details. But because neither had been home recently, they admit their reconstructions are likely faulty. In the act of trying to remember and recreate, they created instead, Burin says, something altogether different, "a kind of third space, something that's very much in between."
The objects are repeated on the plinth at various scales and some are squashed into a bird's eye view. The entire exhibit is less than a meter in height, child-size, to emphasize that these are childhood recollections. When we look down on them, we see them from an adult vantage point. Just the act of looking adroitly mimics what it is like to return to a home of one's youth, only to discover that the gigantic castle of age 6 is just a diminutive little shed at age 40.
The ubiquity of the materials and fragments on display prevents any specificity that might suggest sentimental nostalgia on Burin and Mirza's part. There is only one element in the room that veers toward the more personal. It is a composite photograph of Burin and Mirza as children, sliced into columns, which was another defining architectural component from Burin's youth. If the photograph were intact, we would see Mirza and Burin enjoying a sunny day as children at the beach. Sliced up and jumbled as it is, the photograph remains just a pleasant interplay of shapes and color.
As for the other objects on display, they are just familiar enough and generic enough to jog a viewer's distant memory of some forgotten time and place before the memory slips away, back into that in between space.
---
"a low storey between two others" is at Anthony Greaney through Dec. 7 at 438 Somerville Ave. Open Saturdays and Sundays, noon to 7 p.m.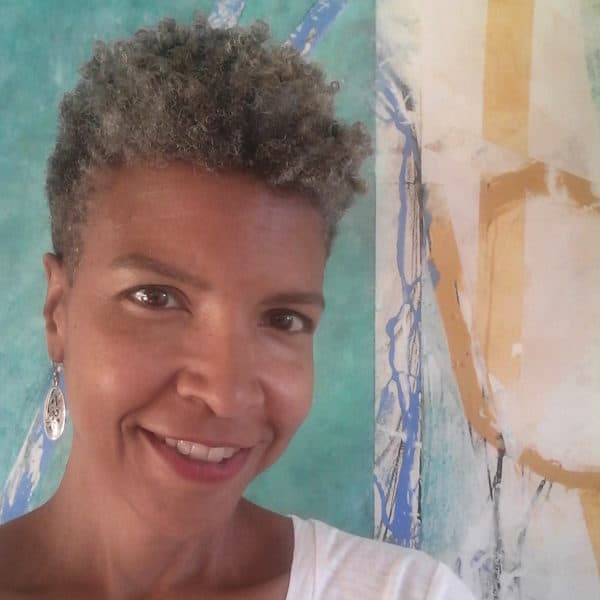 Pamela Reynolds Visual Arts Writer
Pamela Reynolds is a writer and a visual artist. She was a feature writer and editor at The Boston Globe for more than a decade.