Boston Symphony Orchestra President And CEO Mark Volpe To Step Down
After guiding the Boston Symphony Orchestra for more than two decades, BSO President and CEO Mark Volpe is preparing to step down next year at the end of February 2021.
He leaves behind a legacy of unprecedented expansion at the storied institution. Volpe was the driving force that led the BSO to open Tanglewood's four-building Linde Center for Music and Learning last year, and the introduction of the Tanglewood Learning Institute.
Under his tenure, the BSO worked to broaden the organization's reach through social media, offered discounted ticket programs for students and young professionals, and community programming in Boston as well as in the Berkshires.
The renowned orchestra manager said he's ready for a change after 23 years. Yet, Volpe admits, looking around his office full of BOS programs going back to 1881, that he has enjoyed every moment, and every 18-hour day.
"I've outlasted four Harvard presidents, three M.I.T. presidents. I've lost count of BU presidents," Volpe said. "I have more tenure right now than, you take the people, men and women running San Francisco, L.A., Chicago, Cleveland, Philadelphia, New York and you multiply it by two and you get my tenure. I mean, all these folks, they turn over...so that's one of the reasons it's time. I mean, it's time to turn over the mantle and get someone fresh, you know? But it's been a kick."
Volpe laughed and said he didn't intend to be glib, but he hasn't had a dull moment and he's looking forward to a dull moment after retirement. Nevertheless, for the next year, he said he will work to make sure the orchestra is in a healthy place for the next person who steps into his role.
"I get up every morning, first and foremost, thinking about culture and relationships," Volpe said. "And, you know, obviously, our core competency is performing concerts on the stage here, in New York, of course Tanglewood. But it all starts with relationships, artists relationships, musician relationships, board relationships, press relationships, political relationships."
Volpe has been responsible for all activities of the Boston Symphony Orchestra, Boston Pops Orchestra, and Tanglewood, as well as the institution's real estate holdings in Boston and the Berkshires, overseeing an annual budget of $107 million.
Through Volpe's leadership the BSO founded its own label, BSO Classics. Volpe also spearheaded the effort to appoint Andris Nelsons as the BSO's 15th music director, after James Levine resigned the post in 2011 beleaguered by health issues, but years before the allegations of sexual impropriety against Levine came to light.
Volpe also dealt with the challenges of equity after the BSO's principal flutist, Elizabeth Rowe, sued for equal pay. The groundbreaking case was settled last year.
There has been a roster of prolific artistic partners during his time at the BSO including Keith Lockhart, Thomas Adès, James Burton, Thomas Wilkins, Seiji Ozawa, Bernard Haitink, and John Williams. Volpe said he'll never forget the moment 23 years ago when the first people to call him about his eventual job at the BSO were Yo-Yo Ma and Isaac Stern.
In his mind, the next BSO president and CEO has to take tackle the issue of space.
"Sorting out what we can do with this property that can serve the mission. Right now, the only real appropriate room in this building is the auditorium," Volpe said. "It's a big, big project. You know what to do with the space and probably a seven to 10 year [effort,] which is another answer to your reason why now. My judgment is that is the next big initiative, you know, beyond having concerts and doing what we do on a regular basis. And, you know, I don't have 10 years in me at the intensity that that would require."
But he walks away with nearly 40 years under his belt working with orchestras across the nation. He takes with him his favorite memories such as saying good-bye to Seiji Ozawa during his last concert at Tanglewood. He said even his small children had tears in their eyes during that performance. He remembers when Andris Nelsons stepped in for James Levine on stage at Carnegie Hall and lead the orchestra in Mahler's Ninth Symphony. And he said he'll hold onto the moment when the BSO performed during a memorial service in front of Boston's City Hall for the flight crews who died on September 11, just days after the tragedy.
Over the next year, the focus is clear: to give his successor the best chance at success.
"And I'm looking forward not to working 80 hours a week, you know, and having some time to explore," Volpe said. "As great as the Boston Symphony is, I'm told there are other things in life, so I'm looking forward to experiencing some of them."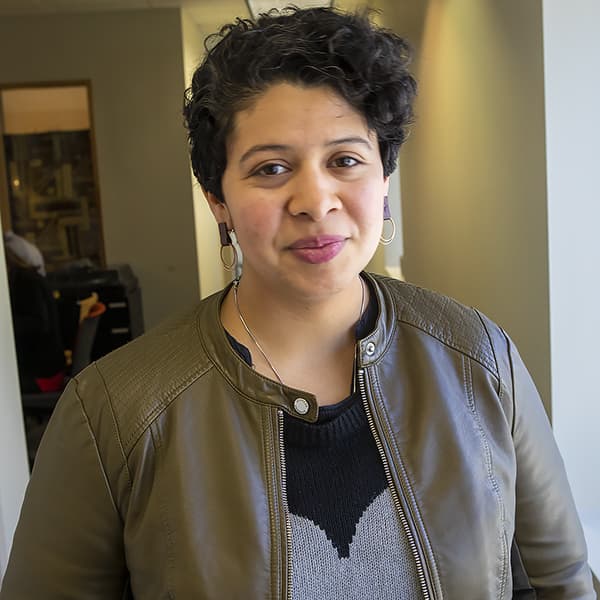 Cristela Guerra Reporter
Cristela Guerra is an arts and culture reporter for The ARTery.