Creating Home In The Time Of A Pandemic
My friend in Rome is reorganizing her drawers. Another, in Washington, D.C., bought a rug for his living room. And in Roslindale, my friend Jane, who usually spends only nanoseconds at home, just sanded, primed and repainted her back porch.
"My wings are a bit clipped," she reports, but the project turned out well. "Now, I'd love to have people over and have porch dinners in the warm weather!" (Bad news for Jane — that won't be happening anytime soon.)
There's nothing like a pandemic and its accompanying "stay-at-home" orders, now in place in countries around the world, to spark desire among many of us to do something, anything, to our collective spaces that had been, although admittedly imperfect, also entirely acceptable, just a few short weeks ago. Before, did it bother the collective consciousness that our closets were a heap of tennis rackets, dirty laundry and crumpled tax receipts? Did we care one whit that the grout in the shower had turned mossy and that our bedroom walls were missing… well, cat decals?
The answer is no. Pre-pandemic, it didn't matter. But now, suddenly, it does.
My cousin Lury lives in the countryside outside San Luis Obispo and has been complying with California Gov. Gavin Newsom's order to "stay at home except for essential needs," issued on March 19. With all this time at home, she was seized by the precipitant urge to paint a large cat mural on the doors of her bedroom closet. She also applied vinyl cat decals, found on Amazon, to her walls.
"The space is brighter. It's more inviting and cheerier. It feels more like my own," she says.
I asked her why it took a pandemic to convince her to take her bedroom into full feline mode.
"Um…well, I didn't have much time before," she texted me. "I had been wanting to."
Our homes are not just places to sleep, although some of us may be new to this line of thinking. Rather, a home is perhaps our most profound opportunity to order and imprint our world. It is our chance to create, dream, aspire and inspire, to manipulate objects and colors and patterns in 3D, in such a way that we can nurture ourselves and others on a mystically-satisfying soul level. It's kind of like art. It is art.
When I moved to Italy years ago, I bought a country house and renovated it (recounted in "Revamp: A Memoir of Travel and Obsessive Renovation"). It was my first exposure to this way of thinking. I was surrounded by Italians who had successfully fused art with life and I suddenly understood that home was the best chance (maybe the only chance) I had to inject art into my own life in both a palpable and practical way. Home was a canvas that we all get to fill as we please. Now that the world has spun out of control, with fear of fomites and unmasked strangers, home represents not only a safe retreat where I can exert a measure of control but also a place where I and others can give ourselves over to flights of fancy, projects we had only dreamed about but were conveniently too busy to do. Dilly-dallying around the house, we venture into unexpected physical and mental spaces where we confront what we had neglected, ignored or even what once intimidated us.
"I care deeply about aesthetic and having a space I feel comfortable in," my friend Paarth, who lives in D.C., told me. The District has had "stay at home" orders in place since March 30. "But for various reasons, this is my first time getting the chance to really explore what that means, and I feel bad at it. I think I was putting a fair bit of pressure on myself to figure it out."
After reading about my own domestic adventures, Paarth said he finally understood that "the feeling of wanting to reinvent and look at things through a new lens will never go away and that makes me feel more comfortable with the choices I make now."
Hence, his recent decision to spring for the large abstract rug that now chicly adorns the floor of his D.C. rental. Home, art, life — it's all a work in progress.
Cousin Lury is an artist and Paarth was raised in an artistic home (his mother paints). Jane, of the painted porch, is a ceramicist. (She's also become a seamstress, sewing up homemade face masks for Boston healthcare workers.) Valentina, the Italian re-organizer, is a fashion designer, now with newly-tidy drawers in her Rome atelier. (Italy has been under a strict national quarantine since March 9 and Valentina says she is now going stir-crazy. Another month at home is probable.)
But must one be artistically-inclined to embrace artful living in this age of pandemic? A less-than-exhaustive survey says no. Another Italian friend, a French teacher, is repainting his apartment. A software guy has pulled himself away from the computer in order to mend a garden fence. Another friend in PR whose days are usually given over to putting her company in good light has finally committed to the more transparent pursuit of putting her vegetable garden in good light. We are all discovering the joys of home, paying more attention, indulging aesthetic whims. As British textile designer William Morris once said, "happiness lies in the details of daily life." It becomes much richer, more beautiful for all that attention. (Morris is also the guy who laid down the golden rule: "Have nothing in your house that you do not know to be useful or believe to be beautiful.")
Maybe it took a pandemic, but now we have the opportunity to realize something pretty deep: we don't need to visit a museum to find art — we can discover it right at home.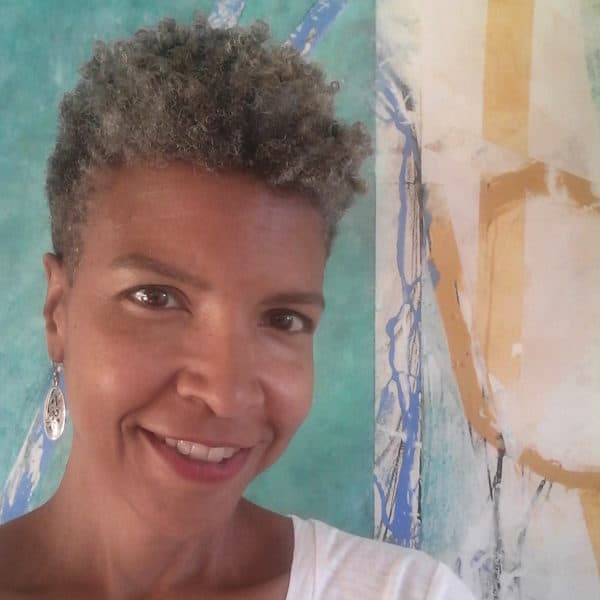 Pamela Reynolds Visual Arts Writer
Pamela Reynolds is a writer and a visual artist. She was a feature writer and editor at The Boston Globe for more than a decade.