The Ghost Of Krill, A Beloved Boston Band, Returns In The Form Of Knot
Scroll through the annals of Boston music Twitter and you'll see one phrase crop up again and again: "Krill forever." It's a line from "Theme From Krill," off the 2013 album "Lucky Leaves" by the band — you guessed it — Krill. Krill has been defunct since 2015, which is when its fans took up "Krill forever" as an ironic-sad tribute that is still invoked to this day, usually when someone is feeling nostalgic about Boston rock, which is often.
Now, the ghost of Krill returns, reincarnated in the form of a band called Knot. Jonah Furman still fronts the group and writes its songs. But he plays guitar instead of bass, having swapped with Krill guitarist — now Knot bassist — Aaron Ratoff. Ian Becker returns to the drums and Joe DeManuelle-Hall plays guitar.
The intricacies of the lineup are perhaps less important than the distinction between the two projects. On Knot's self-titled debut, fans of Krill will recognize Furman's strangled vocals and Krill's taste for bombastic musical complexity. But the singer insists the bands are different. "Krill was urgent, gasping, squealing," Furman says. "But I think this music, Knot's music, it's less tight, it's less aggressive, in a way."
Krill, he says, was "very intentionally in conversation with a certain canon of art and literature" — jagged-cerebral Boston bands from the 2010s like Speedy Ortiz and Pile, and "big fat books about complicated emotional experiences" by authors like Dostoyevsky and David Foster Wallace. But Knot isn't trying to write an opus. "It's less a novel and more of a journal," Furman says.
He's concerned with different things, now, too. Krill was trying to capture "what can make walking down the street a huge emotional experience for young people," Furman says. These feelings were captured in self-consciously melodramatic songs like "Turd," in which Furman compares himself to — well, a turd, "going down" the drain. "'Cause if I could go somewhere/ At least it'd be a sort of conviction," he sings, yearningly. "If I could just keep a commitment/ Maybe I'd be happier."
In Knot, this self-flagellating existential despair is replaced by political awareness. "Krill was trying to interrogate what it means to be an emotionally and morally and ethically reflective individual," Furman says. "And this music, Knot, is a lot more about what it means to be a politically reflective and serious person."
After Krill disbanded, Furman worked as a union organizer and for the Democratic Socialists of America. He points to the 2014 Market Basket strike as a turning point in his thinking. "Seeing non-union workers walking out, and boycotting and striking, and seeing that as an avenue for people to change their lives," he explains, changed things for him.
Furman lays these ideas out in Knot's song "Justice." "The arc of that song is: 'I used to think these political ideas — power and justice — are abstract, are personal, are scary,'" he says. "And it's saying, 'Now I've found that these are good things, or useful things, that I have to engage with and take seriously.'"
On "Justice," a bouncy riff punctuates Furman's lyrics: "I used to think/ That power/ Was something to fear/ With blood on its mouth/ And hate in its heart," he intones. Then, a thrumming, chugging crescendo. The music swells. "Power," Furman sings, "is you in my arms."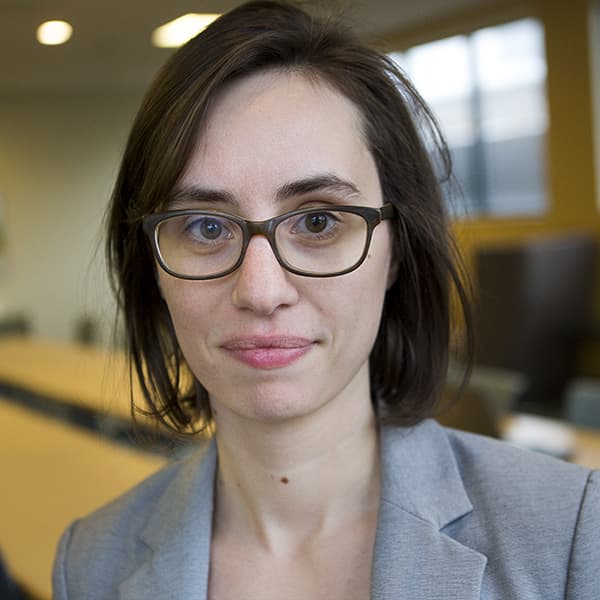 Amelia Mason Arts And Culture Reporter
Amelia Mason is an arts and culture reporter and critic for The ARTery, WBUR's arts and culture team. She covers everything from fine art to television to the inner workings of the Boston music scene.