A Concert From The Car — Dinosaur Jr.'s Drive-In Show Offers Pandemic Reprieve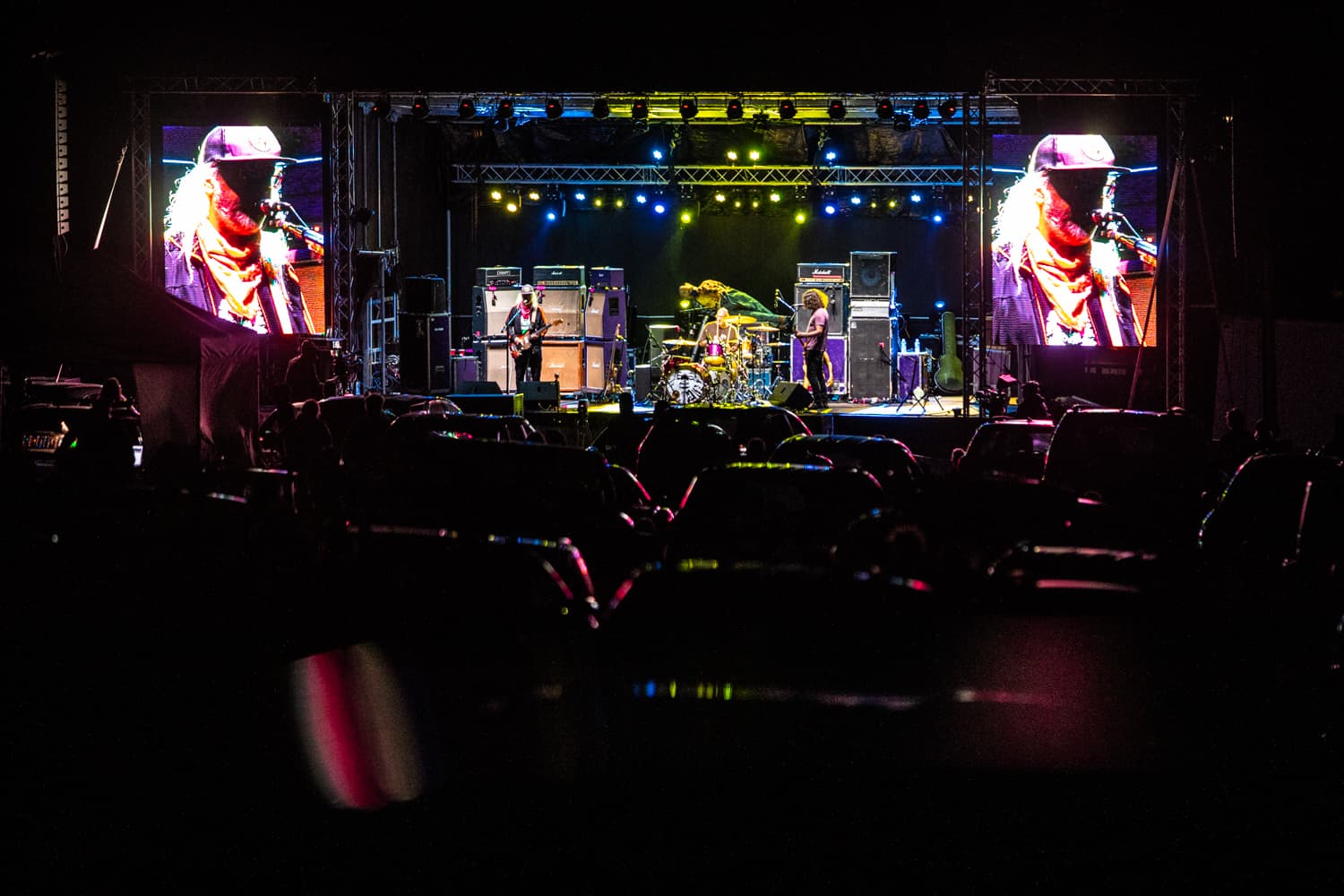 I've only been practicing social distancing for the past six months, but Dinosaur Jr. has been churning out crunchy guitar-rock odes to isolation since 1984. It's hard to picture a more fitting soundtrack for an uneasy return to live music than J Mascis' world-weary lyricism and blazing solos. Last Saturday night, as I arrived in Swanzey, New Hampshire for the band's drive-in concert, I hoped to feel a fraction of the rush that I used to get from live music.
It's been a quiet blur of a summer. The details of my socially distanced lifestyle aren't special. On March 12, I quit my in-person social life cold turkey, as one does amid an emerging pandemic. By early April, I'd given up on seeing any more live music this year and accepted that next year wasn't sounding too promising either. Aside from the occasional distanced picnic or backyard beers, not much has changed for me since then. My soul implodes a little bit more with every Zoom happy hour. It's fine. Not really, but it's "fine" in a normal-pandemic-life way. If that's the worst of it for me, I'll count myself lucky.
But what I struggle with are the half-measures. This limbo-world, the "new normal," freaks me out. I've been living inside the bleaker sections of the internet since March, indulging useless new hobbies like trying to understand the physics of aerosol droplets. The idea of grabbing the occasional drink at a restaurant is so tempting that I can't allow myself to do it at all, because I can already hear the excuses I'd make while slipping back into my old life so comfortably. Everything starts to feel like a false choice between hermit life and hedonism. I've never felt less rock-and-roll.
So when I first heard about Dinosaur Jr.'s plans for a distanced drive-in set in a "COVID-safe environment" I was caught off guard by my own excitement. A drive-in concert sounded like it wouldn't be more dangerous than sitting in a parked car anywhere else, though I couldn't help but wonder if I was being a bit naive.
As a pale pink sunset disappeared behind the trees at Cheshire Fairgrounds last Saturday night, I realized that I'd kept my expectations low. The setup was much more organized than I'd expected. It's tough to tell exactly what a sold-out crowd looks like in a field full of parked cars, but whatever the show's turnout was, we were parked at the back of it — row C2, the drive-in version of the nosebleeds. From the top of the gradual slope, I could see a festival-style stage at least a football field away in the distance. It was flanked by two glowing screens, and from my vantage point, the entire setup appeared to be about as wide as a postage stamp. Caution tape marked off 10-foot-wide squares beside each car, a designated spot for folding chairs. As the sky darkened, people popped out of the neighboring cars, spreading picnic blankets on the grass and sprawling in the flatbeds of pickup trucks.
Just after 9 p.m., a voice over the speakers announced an FM radio station that attendees could tune into for in-car sound. It wouldn't be necessary. Dinosaur Jr. performances have a reputation for being particularly loud, and seconds later, the opening chords of "The Lung" blasted out into the night at a teeth-rattling volume. The audio technician had their work cut out for them: Mascis' usual battery of guitar pedals all operated at different levels, and the volume wavered wildly in an effort to compensate.
If it wasn't for the sound itself, I might not have realized that the band had stepped onstage. Squinting, I could just make out three fuzzy pinpricks against the stage lights: presumably Mascis, bassist Lou Barlow, and drummer Murph, though at such a distance they could've been anyone. Opera glasses would've come in handy. Minutes later, an immense pickup truck snuck into the aisle ahead and parked at an angle that managed to block the entire view of the stage.
It would've been a rough concert experience by ordinary standards, but the novelty of the event made a difference. Overall, it felt less like a show and more like a festival — that moment at a festival when you decide to grab a slice of pizza and can no longer see the stage, but can still hear everything in the background. Despite the ongoing sound issues, the band itself played a tight set, drawing heavily from the earlier material that established their sound back in the '80s: a combination of fuzzy alt-rock, poppy hooks, and occasional lashings of punk.
As the band worked its way through faithful renditions of crowd favorites like "Little Fury Things," "The Wagon," "Start Choppin'," and "Freak Scene," carloads of people earnestly grooved in their designated patches of grass. Surrendering to the strangeness of it all made the night better. I hadn't expected much stage banter, but the band made a valiant effort to engage the audience with occasional shouts of "Let me hear those horns!" or "Flash your hazards!" between songs, provoking a smattering of honks and blinking lights. They sounded as sharp as ever across tracks, from 1987's "You're Living All Over Me" to their post-reunion material, including "Goin Down" and "Knocked Around" off their most recent album, 2016's "Give A Glimpse of What Yer Not." The band also debuted two tracks from their upcoming album, "Long Time" (which sounds like some classic Dinosaur Jr.) and "Garden," a slower, bass-driven number sung by Barlow. The trio closed out the main set with a cover of "Training Ground," from Mascis and Barlow's earlier days in hardcore punk band Deep Wound, and "Gargoyle," from their first studio album.
After the briefest pause, another chorus of car horns called out for an encore, sounding every part the rush-hour traffic jam. The band reemerged for three more songs from "You're Living All Over Me" — "Kracked," "Sludgefeast," and their cover of The Cure's "Just Like Heaven." On the last track, Mascis hit the chorus ("You!/ Soft and only/ You!/ Lost and lonely/ You!") with a ragged roar, hanging on the word "YOU!" with everything he had left, a noise somewhere between a bellow and a wheeze. It sounded exactly the way these past six months have felt: Exhausting, but still pushing forward, because what else is there to do?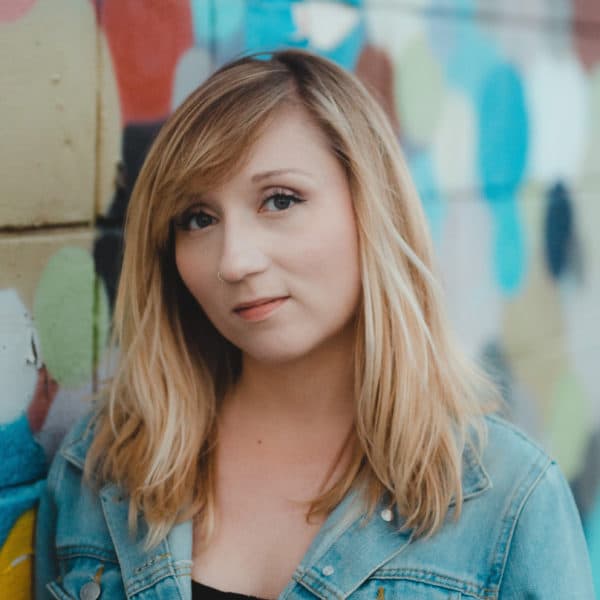 Karen Muller Music Writer
Karen Muller writes about music and culture for The ARTery.