Cheerful Takes From Behind The Scenes Of New England's Holiday Movies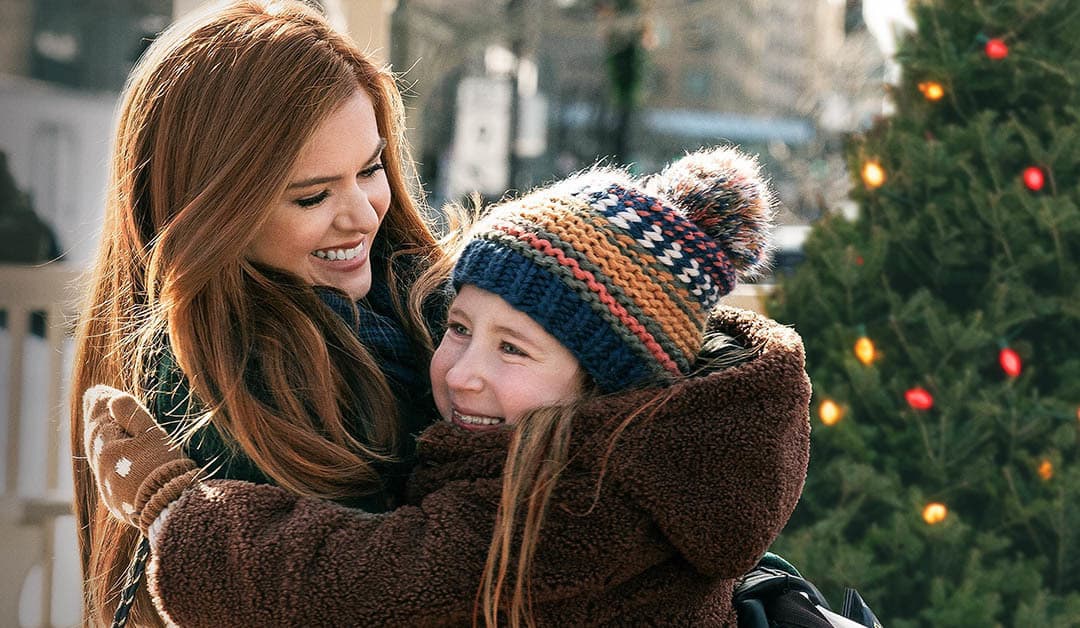 John Stimpson has found a sweet spot making holiday movies from his Worcester home base. About half of the 15 or so of the movies he's made since 2004 include a holiday theme. "These little movies are inexpensive to make but they sell well," he says.
Though he never imagined it, he jokes, "I'm becoming the king of Christmas movies." In fact, he's in the middle of editing one shot on Cape Cod right now.
Stimpson's movies have aired on Lifetime, Hallmark and ION, the cable networks that created what's now the nonstop holiday movie genre. In recent years, nearly every other major network and streaming platform has upped their holiday movie game, too. (Between Lifetime and Hallmark's two channels, there are 70 new 2020 titles alone.) That demand has translated into more holiday-themed work for the region's film crews and more familiar locations to spot while watching them.
Stimpson's latest, "Christmas On Ice," is shot and set in Worcester. It kicked off Lifetime's 30 new movies in 30 days lineup, "It's A Wonderful Lifetime," and can be found on-demand or streamed online through your cable provider.
While the happy-ending holiday movie formula may not be for everyone, Stimpson says his investors "love getting involved in projects that are not downers with blood and guts." Crew members also feel a difference. "Knowing that it's going to be touching people's hearts definitely filters to people on set," he says. Below, crew members who worked on productions shot around Boston get in the spirit by sharing favorite anecdotes and reflections on the growing popularity of holiday movies.
Chasing Ice and Warding Off Wind
Stimpson writes, directs and edits most of his movies. The idea for "Christmas On Ice," about a former professional figure skater and hockey player, came to him as he was gazing out his window over Worcester Common Oval's outdoor ice rink. It eventually became the film's visual centerpiece. While Worcester residents and business owners welcomed the production with open arms, the weather was less cooperative. Just as crew members were getting their last shots in February, the outdoor rink began to melt. Stimpson says they scrambled to keep the ice from looking like a pond and to keep the skaters out of puddles. He found himself yelling, "Shoot them from the knees up!"
Weather also threw "Christmas On Ice" production designer Missy DiPiero for an unexpected loop. When trying to decorate a Christmas tree lot as Santa's village, she says, "None of the trees were standing up and our tent flew across the parking lot." She had the last-minute idea to shoot the scene on a covered loading dock, which she says added "beautiful depth." Plus, she recalls the actors tearing up a lot. Granted it was a sentimental scene but DiPiero says, "They couldn't help themselves because it was so windy."
Inspiring Moms on Both Sides of the Camera
Unit stills photographer Robert Clark says he's shot publicity images for a lot of Christmas movies that he hasn't seen. He doesn't get the cable channels. Plus, he's outside the target demographic. (Indeed women drive holiday movie programming and advertisements, according to the New York Times.) However, his mom loves them, which works out well since about half of his annual slate of projects has a holiday connection (this year's "Christmas On Ice" and "One Royal Holiday" — shot in Connecticut — for example). Unlike theatrical features that may take years to be seen, holiday movies have a lightning fast turnaround. "I can work on a movie in July and my mom can be watching it in October," he says. He likes that she can call family members and say, 'The Christmas movie Bobby worked on is on Friday night,' and they can watch it and talk about it a few days later.
Moms also inspire behind-the-scenes holiday spirit. Like Stimpson, DiPiero kind of stumbled into the holiday genre. Crunched for time on one of her first jobs, she asked herself, "How does my mom decorate?" The answer was to cover every square inch of the frame with "as much glitter and lights and poinsettias as the eye can see." Two things surprised DePiero. First, that the camera just eats it up. "You put on a whole big display, it doesn't look as tacky as you think. You can always go bigger." And second, that she enjoyed the work. "Not only was it fun, it looked magical," she says. Now she loves showing up on set and saying, "Ok, I'm here to make Christmas!"
Kids Change Everything
Holiday movie storylines often include disillusioned parents who rediscover the holiday spirit through their kids. That can play out behind the scenes as well, according to Sarah Rummel, who typically works as an assistant director. On "Godmothered," she supervised base camp (where actors wait while sets are dressed, lit and readied for production). Set and shot around Boston and released on Disney+ earlier this month, the movie tells the story of a godmother-in-training (Jillian Bell) who tries to prove her worth and save the "motherland" by bringing joy to a grieving mom (Isla Fisher) and her two daughters.
Having just come off the dark and suspenseful second season of "Castle Rock," Rummel says, "I've never worked on something so magical and fantasy based." She got a kick out of the wand-waving and talking animals. And she noticed how the child actors, especially 10-year-old Willa Skye, "changed the way the set felt when she was around. She was so excited and happy and enthusiastic about Christmas and its magic." The presence of kids helped remind Rummel she was making a holiday movie.
Foot-High Hairdos
In addition to gorgeous and unwieldy fairy godmother frocks, the experienced godmothers in "Godmothered" have outrageously tall, Marie Antoinette-style hairdos. Rummel says she had arranged for a car to pick up head godmother, Jane Curtin, at base camp and transport her to set when she suddenly realized, "Holy moly she's not going to fit in the front seat." More accurately, her foot-high wig would not fit. Rummel says Curtin "was just a total dream" while they figured out a temporary solution. But from then on, the godmothers dressed on set instead of base camp to streamline production.
An Unexpected Upgrade
When actor Naheem Garcia auditioned for a Verizon ad, the director said, 'No. I want you to play Hap.' Turns out that meant Happy from the Seven Dwarfs in "A Snow White Christmas," shot in Shirley, Mass. in 2018. Delighted, Garcia says, "it was the most amount of work I've had" in terms of lines. That's saying a lot for someone who also turns up this year as the bank manager in "Christmas On Ice" and in the Christmas-engagement countdown movie shot in Newburyport called "A Ring For Christmas." Garcia explains it's not uncommon to have to pretend to be freezing cold in the hottest summer heat. "Snow White Christmas" was a very hot shoot. "I'm wearing the sweater I wore in that movie right now," he says.
Put a Wreath on It
A frequent designer for holiday movies, DiPiero says she's tasked with building "two movies in one." First, she has to turn an empty space into a living room or cookie shop, for example, and then turn that into Christmas. With the pressure to work quickly and often with small budgets, that means twice the potential for catastrophe. So she has a few tricks up her sleeve. She seeks out shatter-proof bulbs because "if something falls and shatters, you're going to halt production." She learned the hard way to be mindful of liquids. One time when filming a Christmas festival scene in -5 degrees, she decided to include apple cider. "It froze on the spot and became a big brick," she says. If she ever encounters a crack in a wall or any other visible "mistake," she takes a cue from "Portlandia" and simply, literally, "puts a wreath on it." She says things are easy to forgive when you can just throw a little Christmas on it. "It's like a metaphor for life right now."
All I Want For Christmas Is Zombies
For some people, especially this year, zombies may be a more fitting remedy than wreaths. And for others, they want both. Right now, Clark is working on a movie called "Black Friday," where Black Friday shoppers "get infected with some parasite and turn into creepy weird creatures." He also worked on the AMC series "NOS4A2," in which a bad guy vampire kidnaps kids by promising them they can go to Christmasland and live forever. Principally shot in Rhode Island, Clark calls the Christmasland sets "amazing." "Christmasland is a big part of the show. That's [the villain's] prison," says Clark, who hadn't even thought of it as a Christmas project until that moment. "I didn't realize my life centers around Christmas," he says with a laugh.
Escape from the Madness
When Garcia looks back on what he calls the "madness of 2020," he says, "It wasn't just COVID, or the presidential election, or any of the crazy things happening in other parts of the world." He also sees the positive things, like learning the new technology of Zoom to teach aspiring actors, or how people are "a little more tender with each other and more likely to throw up their sleeves" to help one another. He says he's glad these holiday films bring some warmth into people's lives. "It's pleasant to be a part of something that helps people escape. I'm so humbled to have these opportunities."
DiPiero likewise expresses gratitude to be part of so many Christmas movies. The pandemic has temporarily displaced her from New York to Michigan. She says she's thinking about moving to Massachusetts because of the prospect of so much work. Yet she has one concern about the holiday movie boom. "I don't want to fatigue people. They're starting to show them in July," she says. "You put up a tree and decorate it and stare at it. Two weeks later you're not staring. You stop seeing it. I would hate for us to stop seeing Christmas."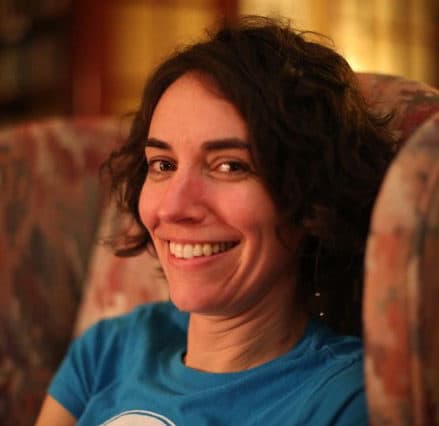 Erin Trahan Film Writer
Erin Trahan writes about film for The ARTery.