5 Things To Do This Weekend, Including A Jazz Festival And Poetry In The Garden
As a child, I went on a lot of walks with my mom. My favorite was walking around places in Chestnut Hill, waiting for my grandmother to get out of work, and going out for a much-deserved lunch later. These adventures also laid the foundation for my current affinity for nature. And this weekend is an especially good one to celebrate the environment — Thursday is Earth Day! The events I have selected for this weekend include ways to get out in nature and explore the arts, from live music to poetry in the garden, to a story walk. I hope you have a chance to unplug and take in all that's blooming around you.
Thursday, April 22-Saturday, April 24
This festival is the first of its kind and a chance to support creators and artists of color. The stories here are written by, illustrated by, and created for POC. On Thursday and Friday, there will be virtual workshops and panels, specifically on comic art and writing. On Saturday, there will be an in-person marketplace held in the Roxbury Community College parking lot where creators can share and sell their work with a live DJ playing music. Cosplayers welcome!
---
Friday, April 23-Sunday, April 25
The 10th annual jazz festival will take place virtually this year. It'll start off with the Witness Matlou Trio, led by pianist and Berklee alum Witness Matlou, who draws inspiration from the folk music of South Africa, his home country. On Saturday, MIXCLA will perform, a trio of Afro-Cuban jazz players that have headlined at festivals internationally. For the final night of the festival, the Dan Fox Group will take the virtual stage. Helmed by trombonist Dan Fox, the quintet will play a set of Brazilian and jazz standards with some original songs as well.  The bands play at 8 p.m. each night.
---
Saturday, April 24
Poets in the Garden was created as a result of a Cambridge gardening community being unable to do what they initially set out to do — grow food and donate it during the pandemic. What hindered this process initially was a complaint that was filed with the police alleging that the gardeners were destroying the neglected plots in the community garden they had intended to use. (The complaint hit a dead end and the gardeners were able to continue their work.) This is more than just listening to poetry, this is an event that shows the resilience of the community and a reclaiming of this space that was meant for the community to gather. The headliners for this virtual event are Porsha Olayiwola and Mary Buchinger.
---
Saturday, April 24
As April vacation comes to a close, I wanted to include one last event that was made to be experienced by kids. (Check out some other events I recommended for vacation week here.) As you walk along this trail at Chestnut Hill Farm, you will come across pages to a story book. This innovative idea is a great way for children to take a walk in nature and stay engaged throughout the visit. Sounds enticing to me! And if you're lucky, you might see some of the farm's lambs and goat kids grazing in a pasture.
---
Saturday, April 24
If you're strolling through Somerville's Assembly Square on Saturday, you're likely to stumble upon live music along the Sylvester Baxter Riverfront Park as part of the Creative Music Series. For this outdoor performance, Matt Crane will be on drums and percussion, Stephen Haynes on cornets and alto horn, Forbes Graham on Trumpet and Ben Stapp will play tuba. It's not every day that you hear a quartet while walking — a personal soundtrack for your day. You can get a preview of what to expect by watching the video from last weekend's concert below.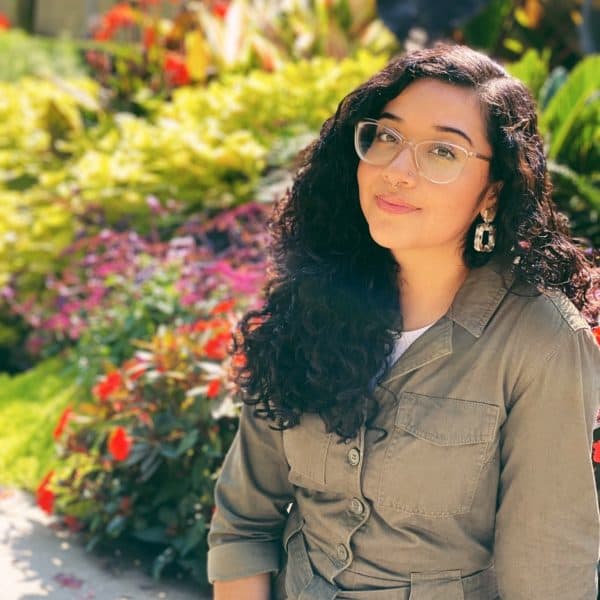 Magdiela Matta Arts Fellow
Magdiela Matta is the reporting fellow for The ARTery, WBUR's arts and culture team.