A Personal Perspective On Knee Replacement Surgery, As Demand For Procedure Surges
10:20
Play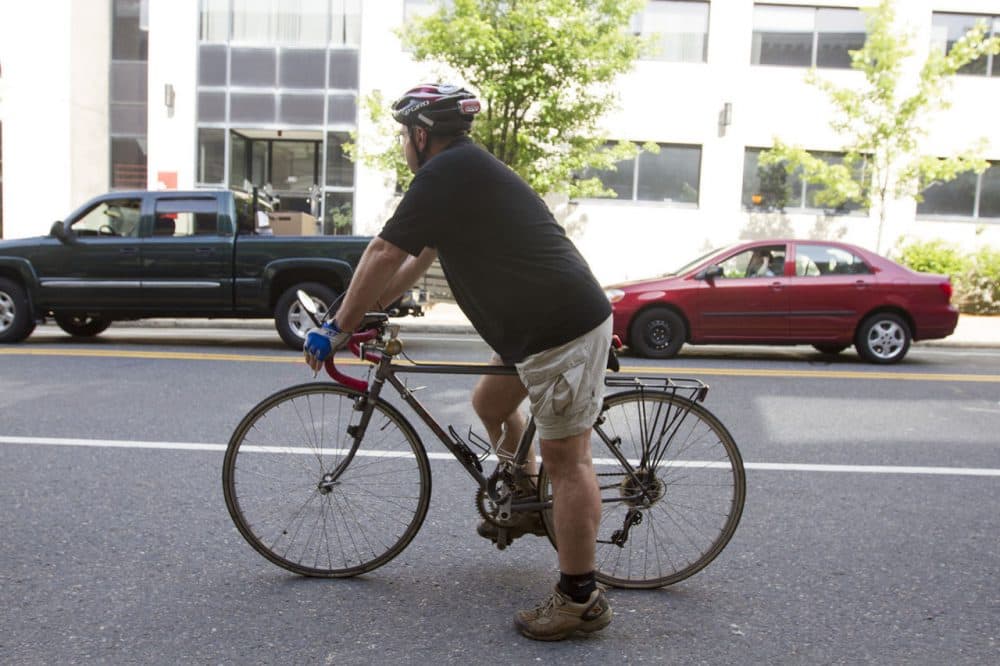 This article is more than 4 years old.
The knee is one of the largest and most complex joints in the human body. Your knees enable you to walk, run and play. They allow you to stand in place and bend deeply. But the knee is also our most vulnerable joint. It must bear enormous weight and stress, making it susceptible to wear and injury. And people are increasingly getting their knees replaced.
"The incidence of knees replacements is going up exponentially," says Dr. David Ayers, the chief of orthopedics at UMass Medical School and Memorial Healthcare System. "We are close to doing a million knee replacements a year in the U.S., and it's projected to continue to go up exponentially for next 15 years. So it is anticipated that over those 15 years we may reach three million a year."
"We are close to doing a million knee replacements a year in the U.S. and it's projected to continue to go up exponentially for next 15 years."

David Ayers, the chief of orthopedics at UMass Medical School
Total knee replacement surgery is already one of the most common operations performed in the U.S. For aging baby boomers, it's number one.
Ayers is running a federally funded study to determine who is a good candidate for total knee replacement and which hospitals do the best job.
"This is a very, very successful operation. Many believe it's the most successful operation done in medicine today," Ayers says.
A Routine Medical Miracle
Mount Auburn Hospital in Cambridge is one of a dozen places in the Boston area where you can get a total knee replacement. Orthopedic surgeon Robert Miegel specializes in the surgery. He does about 250 knees a year.
On a busy day, Miegel might do two or three operations. Today, to meet his first patient — me — Miegel shows up wearing blue scrubs.
"We're in the pre-operative area of the hospital getting ready to do a right knee replacement on a patient who has previously had a left knee replacement and decided he wanted to come back for more," Miegel says, explaining my situation.
Anna Jandreau, who's been a nurse for 41 years, takes my vital signs and checks my hospital ID bracelet again — reconfirming my name, birth date, age and procedure.
These days, a growing number of total knee replacements are done on people under 65, as obesity increasingly takes a toll on youthful joints. But the majority of the surgeries are done on seniors. Two-thirds suffer from osteoarthritis — a degenerative joint disease where cartilage that protects the ends of bones breaks down, causing bones to grind together and make walking, climbing stairs or riding a bike painful and debilitating.
The first total knee replacement operation was performed in the 1890s using a hinge made of whale bone kept in place with plaster of Paris. It was painful and many failed. Today, advances in metallurgy, antibiotics, anesthesia, pain medications and strict protocols make total knee replacement a routine medical miracle.
I fit the typical age and ailment profile, except for two things.
First, I was extremely bow-legged. Arthritis made it worse and made the surgery more difficult. I had suffered a lifetime of crooked-leg "Ride 'em cowboy! Where did you leave your horse?" jokes.
And secondly, atypically, I'm a man. Two-thirds of those getting new knees in the U.S. are women. Researchers don't know why, but the surgical procedure is the same for both sexes.
Dr. Miegel isn't only an orthopedic surgeon specializing in knee replacement surgery, he's a candidate for the operation himself. His knees are suffering the wear and tear of old sports injuries.
"I had surgery when I was 16 or 17 and another one when I was 22, in graduate school. Another one about 20 years ago," he says. "And I'm looking forward to a total knee when I can find some body who I want to do it."
Finding a knee replacement surgeon can be tough — demand is high. Baby boomers are turning 65 at the rate of 10,000 a day.
Experts say if you think you need a new knee, look for an orthopedist who specializes in the joint, find someone you're comfortable with and confident in, and interview two or more before deciding.
Show Time
Nurse anesthetist Erin Herrmann offers me an option: local or general anesthesia.
"Everything is ready to go," Herrmann says. "If you want to be semi-awake that's fine too, but if you want to take a little snooze you just let me know."
I chose to snooze through the surgery.
When we get to the OR it's predictably cold — it helps keep infections down and keeps the surgical team comfortable under the intense lights. I'm wrapped in a blanket, and I choose classical music to soothe my stress in the operating room. Then I see a table filled with titanium parts and I tense up.
"It's the pieces to put together your new knee," says operating room nurse David Kenly. "But your new knee is still outside in the hall until we find out what size to put in."
Miegel, the surgeon, is almost ready to start.
Once I'm asleep Miegel begins sawing, using a computerized device to help guide his cuts. He moves the patella, or knee cap, out of the way and chisels away, drilling holes and hammering in the new knee.
The whole procedure is over in less than two hours, and I have a new knee.
Post-Op Advances 
The next morning, physician's assistant Kelly Gram cuts the bandage away from my right knee. Dr. Miegel, who did my left leg seven weeks earlier, looks on.
"As the swelling gets down you'll appreciate that's it's not bow-legged any more, and not in pain and functions beautifully," Miegel says. "It's a wonderful thing."
Knee replacement patients, once hospitalized post-op for two weeks or more, are now out of bed the next day and typically home in three. If you're insured, the operation costs between $18,000 and $36,000 in the Boston area. The success rate is very high, but some patients report little or no improvement.
Miegel says success is due in equal measure to the surgeon's skill and the patient's post-op physical therapy.
"We can do the best knee replacement ever done, but if the patient doesn't do their exercises the result is terrible," he says.
Total knee replacement surgery can add life to your years.
Miegel says my new knees should be good for 20 years or more. But he still hasn't decided when he should get his knee surgery done.
"I'm going to keep going until I have to get it fixed," he says.
How does a person know when they have to get it fixed?
"When it intrudes on your lifestyle more than you're willing to put up with, and you're willing to take some risk and have some discomfort and make a commitment to getting a good result, that's when it's time to decide," he says.
Each person is different. Each knee is different. I decided to have the operation when I could no longer ride my bike. Now my legs are straight and strong, and I can ride off into the sunset on my bicycle for as long and far as my new knees will carry me.
Correction: An earlier version of this post contained an error in one of our photo captions — the one of Bruce's knees, post-operation. We mistakenly mislabeled the photos by mixing up our left from our right; we are now using our hands to double-check these challenging edits. We regret the error.
This article was originally published on June 06, 2016.
This segment aired on June 6, 2016.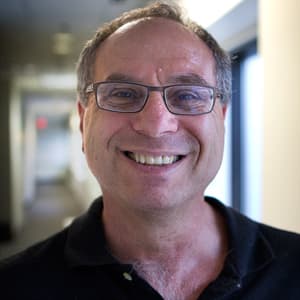 Bruce Gellerman Senior Reporter
Bruce Gellerman is an award-winning journalist and senior correspondent, frequently covering science, business, technology and the environment.