Harvard Square Redevelopment Proposal Could Displace Curious George Store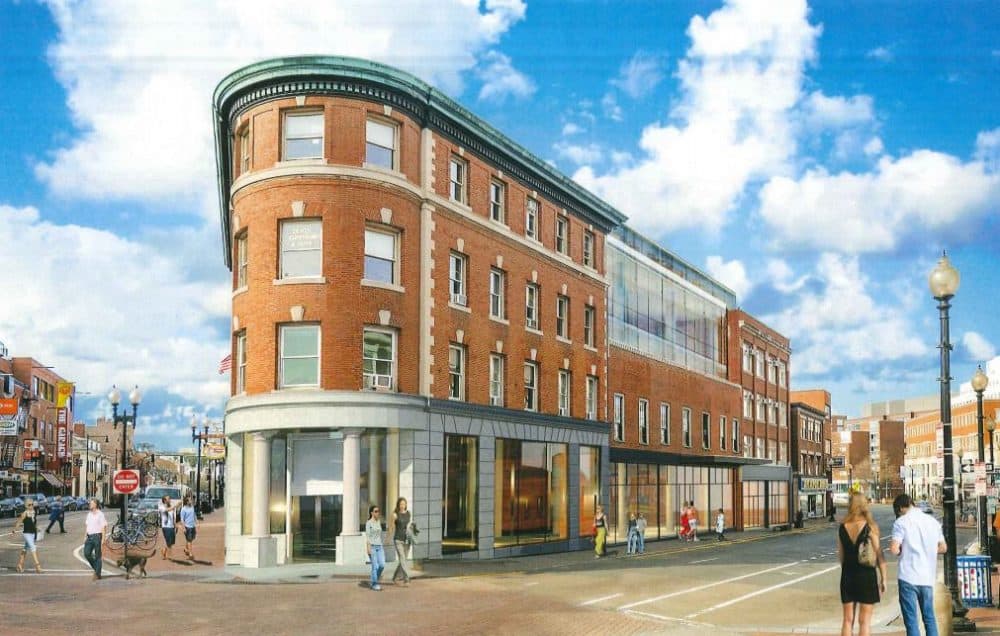 This article is more than 4 years old.
The owner of a three-building development in the heart of Harvard Square goes before the Cambridge Historical Commission Thursday night to discuss renovation plans that could displace a well-known children's store.
The developer, New York-based Equity One, is proposing to redevelop the property, located at the corner of Brattle and JFK streets, into a larger complex called Harvard Collection.
In its application to the commission, Equity One writes that its "proposed work includes a two-story addition at 9-11 JFK Street, a two-story addition at 18-20 Brattle Street and a rooftop pavilion covering all three structures."
While the complex's existing brick facades would remain, the interior renovations, according to the application, include the "demolition and reconstruction of four floor levels as contiguous retail and commercial floors."
Detailed plans further show a proposed elevator and stairwell at the front of the building, where The World's Only Curious George Store is currently located.
Store owner Adam Hirsch told WBUR's Newscast Unit he would need help if he's going to stay in Harvard Square.
"We would love to remain as a unique children's destination experience here," Hirsch said. "That's going to take the support of the larger community."
Indeed the store has been tweeting out a link to the historical commission's contact form, urging the store's followers to "make your voice count."
The complex includes several other establishments, including, above the Curious George store on the third floor, the "Dewey, Cheatham & Howe" headquarters of Car Talk.
A call to Equity One on Thursday was not returned to WBUR's Newscast Unit.
The historical commission's hearing on the proposal was first reported by Universal Hub.
The commission could approve or deny Equity One's request for a permit. According to Sarah Burks, the commission's preservation planner, it will determine if the exterior of the building is considered "historic" architecture.
The commission could decide Thursday night, or ask for more information and continue the case.
And as The Boston Herald noted in its report, the Harvard Collection proposal "comes as the future of the iconic Harvard Square newsstand Out Of Town News is also up in the air."