Mass. Unemployment Rate Falls To 3.3 Percent, But Monthly Job Losses Reported
This article is more than 4 years old.
The Massachusetts unemployment rate is down all the way to 3.3 percent, but the headline figure masks an uneven monthly state jobs report.
The Massachusetts economy lost 5,500 jobs in October, according to preliminary federal estimates, and the state's labor force — the amount of people working or actively seeking work — decreased by 2,300 over the month.
The unemployment rate can fall if more people find jobs, or if people drop out of the labor force — for whatever reason. The state labor force participation rate ticked down 0.1 of a percentage point over the month, to 64.9 percent; it has increased 0.3 percentage points since last year, though.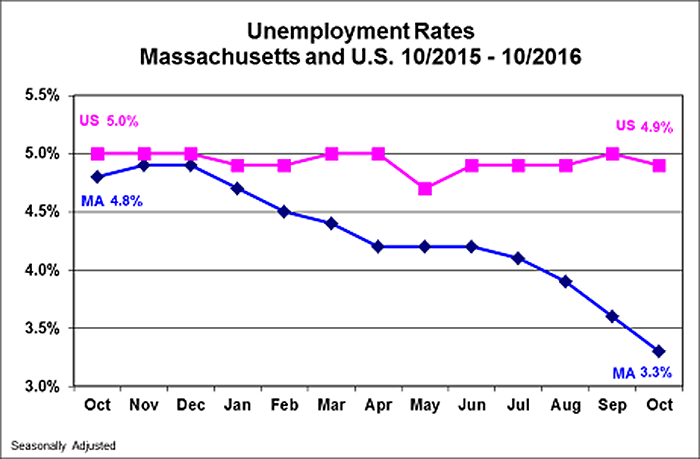 The last time the Massachusetts unemployment rate hit 3.3 percent was in April 2001, according to the state labor department. The jobless rate was 3.6 percent last month.
That's well below the national figure of 4.9 percent.
Thursday's monthly snapshot included positive revisions to the previous report, as Massachusetts added an estimated 8,100 jobs in September, up from an initially reported 5,100.
Year-to-date, according to the state labor department, Massachusetts has added an estimated 61,300 jobs.
Clearly, you should take the monthly snapshots with a grain of salt. The unemployment rate is based on a survey of households, while the jobs figures are based on a survey of employers — so they can show diverging trends. And both are subject to revision, sometimes significantly.
The national jobs report showed the United States added an estimated 161,000 jobs in October.