Gourmet Gruel? Boston Area's First Oatmeal Shop Wants To Challenge Perceptions Of Porridge
05:27
Play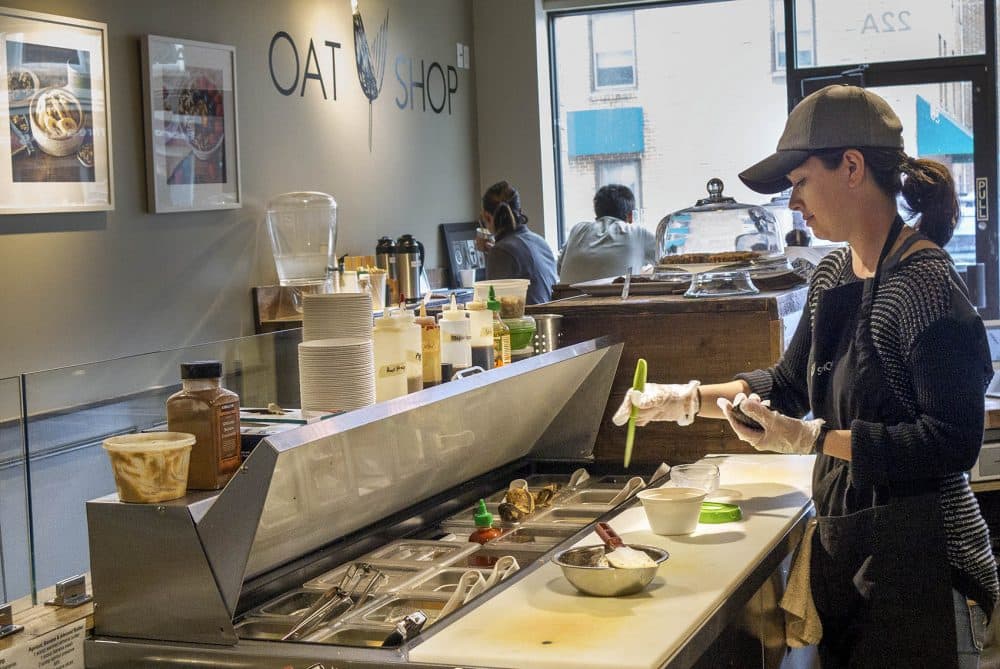 This article is more than 2 years old.
For some (present company included) oatmeal is a cheap, nutritious, yummy breakfast food. Others appreciate porridge as an age-old staple that's been credited with nourishing Neolithic civilization. Then there are those who equate oatmeal with the gruel you might find in mess halls or bleak orphanages like the one Charles Dickens fictionalized in the classic tale "Oliver Twist."
Love it or hate it, oatmeal can get a bad rap as a globby, bland breakfast food. Now the Boston area's first oatmeal cafe is joining a culinary wave to elevate and update porridge for the contemporary palette.
Alan Donovan, the owner of the recently opened Oat Shop in Somerville's Davis Square, has encountered some rather ho-hum responses to the base ingredient fueling his new business concept. The 26-year-old has heard words including "boring," "lame" and "mushy."
But Donovan is working to change perceptions of porridge. That said, he knows all too well that there are plenty of oatmeal haters. (I was surprised to find so many of them online.)
"They are out there," he said. "Our job is to convince them to try something."
Which isn't always easy. As the young entrepreneur was developing his business concept, he recalls being surprised by how polarizing this particular grain can be — compared to, say, rice.
"No one hates rice," he mused. "But when word started getting out that I was starting this business people would be like, 'Oh, my horse will like this,' in the internet comment boards. I didn't think this is so controversial. And people saw it as a sign of hipster — taking something so cheap and making it upscale."
But Donovan soldiered forward. "It's something that's so familiar. We've all had it before. This isn't some crazy out-there grain that you've never heard of. We're just doing a modern, new twist on it."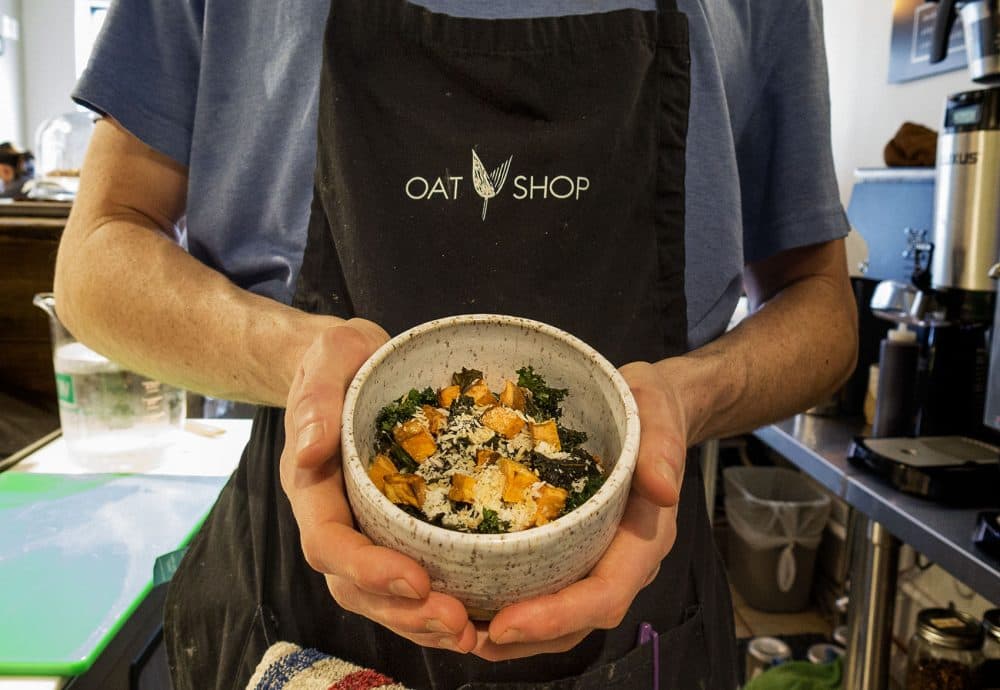 To start, Donovan uses steel cut oats rather than the rolled ones we commonly find in cardboard tubes or little pre-mixed paper packages.
"They're a little hardier, I would say, so there's some texture there," he said, lifting the lid on a wide, steaming grain cooker as he explained the difference. From there we headed to the toppings table.
There are two categories of oatmeal on the Oat Shop menu. The "sweet bowls" are made with oats cooked in coconut milk. Recipes include the Almond Joy, with toasted coconut, slivered almonds and chocolate sauce; the apple pie, with house-made applesauce, sauteed apples and maple syrup; and the banana peanut butter bowl.
That's a special one for Donovan. He says it fueled his oatmeal epiphany when he was working in finance in Washington, D.C. Donovan grew up in Westwood and returned to Massachusetts to chase his oatmeal dreams. He started by concocting recipes.
"I was making my friends eat oatmeal all the time — all sorts of crazy stuff," he recalled. "And eventually they were requesting it. That's when I knew, OK, we've got something here."
But Donovan says his "savory bowls" can really throw customers off. He cooks those in vegetable stock, then adds some unconventional ingredients, including sweet potatoes with curry paste. There's the sushi oatmeal bowl, and Donovan's best seller: the bacon and eggs bowl.
"We make a cheese sauce, and mix it in throughout, kind of like a mac and cheese sauce," he explained. "And then we topped it with bacon, cheddar and scallions on top of a fried egg."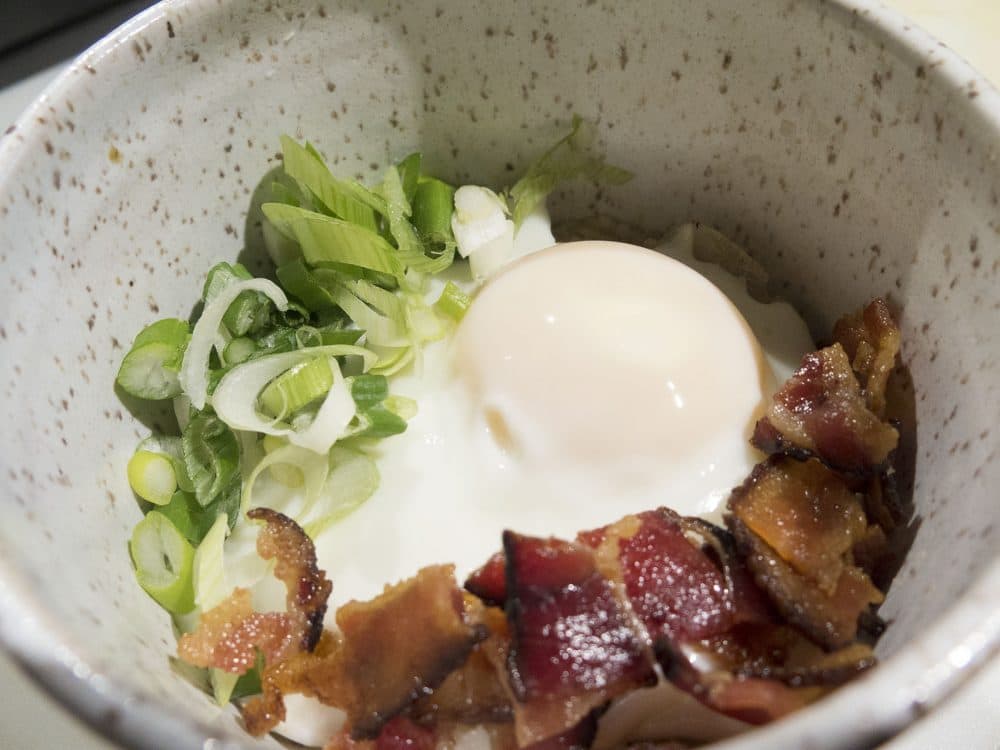 On the day I visited it didn't take long for two customers to step up to the counter and ask Donovan a question he hears often at the shop: "The savory oat bowls, are those with the oatmeal?" Rebecca Zoll inquired with a curious lilt in her voice. She and her mother Laura both live in Somerville and decided to come try the new Oat Shop.
The younger Zoll describes herself as an oatmeal lover, but says for her this is a first.
"It's never occurred to me to put savory stuff in it. Normally I'll do fruit or chocolate chips or whatever, but I think this is my first time trying something savory and I'm really excited."
After a taste the mother and daughter shared their thoughts on their new experience.
"It's a little strange for me, bacon and eggs in oatmeal, but I've only had one bite," Laura said.
Then Rebecca chimed in. "I'm getting used to it," she said with a laugh.
"I may be a slow convert to the mixture, but this is a good first try," Laura admitted.
The Oat Shop, though, is not a first. Other entrepreneurs are experimenting with porridge, including chefs at high-end restaurants and at other oatmeal shops in cities like London, New York and Copenhagen.
As Donovan was researching his concept he was encouraged to discover other places that have found an audience for creative takes on oatmeal.
"I was happy to see that this was something that was not completely unheard of," he said. "There are a couple of places in London, there's a place in Amsterdam. It's more of a European concept to do this upscale porridge, but it is also still unique enough there's nothing like it in Boston."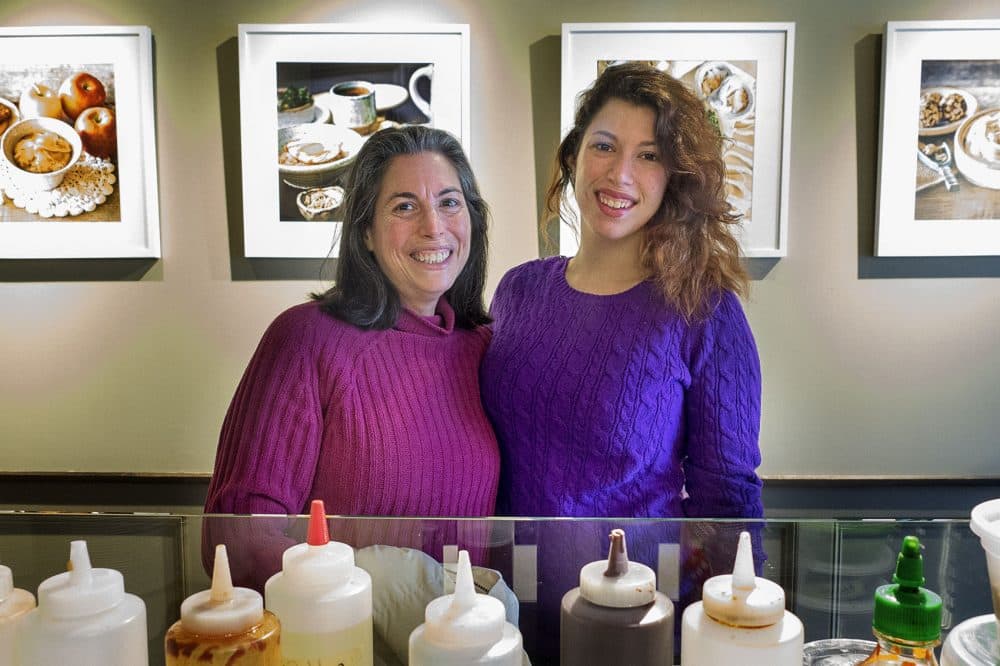 The savory twists Donovan is bringing to Davis Square aren't totally novel for another local oatmeal lover. Standing outside the Oat Shop looking over the menu, life-long Somerville resident Rick Mancina says he makes all sorts of oatmeal dishes.
"I've had bacon and scallions, I've chopped that up and thrown it in," he said, but added he's never tried oatmeal with a fried egg.
The 54-year-old used to cook professionally, and says these days he eats oatmeal at home six days a week. But when he was a kid he wouldn't touch it. He shared a theory why.
"If you're a kid and your mom says to you, or your dad, 'You have to eat this,' you're not going to like it."
Mancina says he hopes the Oat Shop succeeds in persuading some of the haters out there to give oatmeal chance.
This segment aired on April 13, 2017.