New State Policies — And A VW Settlement — Could Boost Electric Vehicles In Region
05:38
Play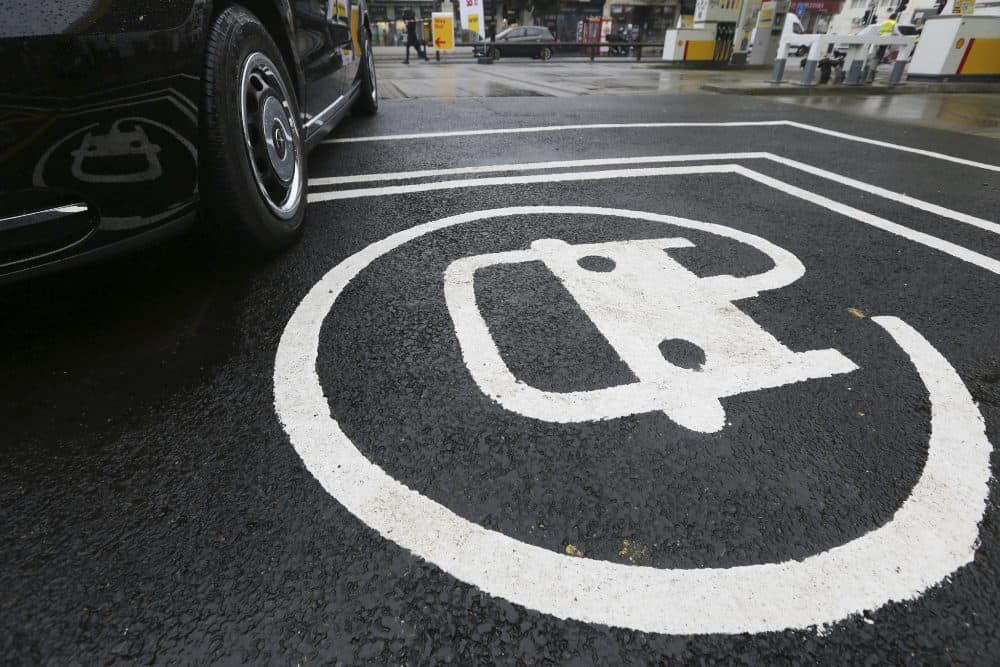 This article is more than 2 years old.
Environmentalists see the switch from combustion engine to electric cars as a powerful tool to reduce greenhouse gas emissions.
But Bill Hensley, who lives in central Maine, said he bought an all-electric Nissan Leaf this summer mostly because it's a cool technology.
"I guess it goes in that order: cool factor, savings and then saving the planet," he said, laughing.
Hensley weighed in at a recent Portland hearing on how Maine should spend its share of a Volkswagen settlement over the company's scheme to bypass emission regulations. New England states will receive more than $200 million to be dedicated to varying anti-pollution efforts, with the lion's share going to Massachusetts and Connecticut.
Hensley is focused on improving Maine's patchwork of charging stations. He says the electricity to fuel his car costs less than half of what he would pay for gas. But that's little help if his battery taps out while he's on the road. And he says that with cars that today at best get up to 200 miles per charge, so-called "range anxiety" is a real barrier for people considering all-electric plug-ins.
"If we are going to get people interested throughout the state, we need some of these places that traditionally don't even think of electric vehicles to start thinking electric, and that's going to get everybody on board," he said.
The states can spend up to 15 percent of their VW money directly on charging stations -- a total of $30 million in New England.
High-speed stations that can fill a battery in a half an hour can cost tens of thousands of dollars, so it's not clear exactly how many the New England states may be able to install. Slower charging units are much less expensive.
Mark Lebel, a lawyer at the Acadia Center, says states should tend first to the big travel corridors, including I-95.
"To make it so that somebody can get from Portland to Providence and have an easy place to charge along the way," he said.
The goal is shared by Matthew Beaton, the Massachusetts secretary of energy and environmental affairs, which has set a target of 300,000 new zero-emission vehicles in the state by 2025, the most aggressive policy that's been articulated in this region.
"This is going to come really quick, in my opinion," he said. "I think we'll see significant deployment if the right infrastructure is in place. That is why it's so important for us to be making those investments now."
Beaton says the state will soon issue its proposals for the VW funds, and that will include significant spending on EV efforts.
And while the states decide on the VW funds, the private sector is charging ahead.
In Vermont, two utilities last month announced cash incentives to help low-income residents buy or lease EVs. National Grid plans to spend $24 million on underground feeder lines for charging stations in Massachusetts.
And smaller-scale work abounds.
At Flight Deck Brewing, which opened in Brunswick, Maine, this summer, Barry Woods checks on the installation of four new charging units.
"Three of them are a Tesla connector version, and one of them is a universal charger," he said.
Woods directs EV work at ReVision Energy, which started out as a Portland-based solar installation company but which is now branching out to the EV world, with offices in Maine, New Hampshire and Massachusetts. He says installations at businesses such as Flight Deck can give them a leg up with the plug-in car crowd, who choose destinations, in part, on access to charging stations.
"For the host site, they get to be on a number of different websites that provide plug-in drivers the location of charging availability," he said. "So they get some cross-marketing bump."
Woods is bullish on the future of EVs in the region, where sales are rising by more than 30 percent a year. That could speed up come January, when an agreement that includes all the New England states, except New Hampshire, will require car makers to make a certain percentage of plug-ins available for sale. The target ramps up to more than a million sold in the Northeast within seven years.
There is a long road ahead. While some 25,000 all-electric vehicles have been sold to New England drivers since 2011, that's a minuscule portion of the 5 million cars on the region's streets.
Adam Lee, chairman at Maine's Lee Auto Malls and an active player in state environmental organizations, says while the technology should make sense for many New England drivers, he's so far been disappointed by sales.
"We sell 10,000 cars a year and we're the No. 1 Leaf dealer in the state. We sell 20 a year. We sell probably 50 used Leafs. Even at 50 out of 10,000 cars, it's a very, very small number," he said.
But Lee does agree with Woods and other EV evangelists that a tipping point may be at hand. They say as batteries become cheaper and more robust -- and as charging stations proliferate -- the advantages of going electric will become more compelling to thrifty Yankee car buyers.
This story comes via the New England News Collaborative, and was first published by Maine Public.
This segment aired on November 30, 2017.