Boston-Area Rent Hikes Moderate, But Affordability Challenges Persist
This article is more than 2 years old.
Rent increases moderated in the Boston metro area this year, but affordability challenges for renters persist here and elsewhere, a national report shows.
The biennial America's Rental Housing analysis was released Thursday by the Joint Center for Housing Studies of Harvard University.
The report found that increases in market rate rental prices grew slower in 2017 than in 2016 in the majority of U.S. metropolitan areas, including the Boston region.
In Greater Boston — an area that includes most of eastern Massachusetts and parts of southern New Hampshire — average rent grew 2.2 percent this year, after 3.5 percent growth in 2016.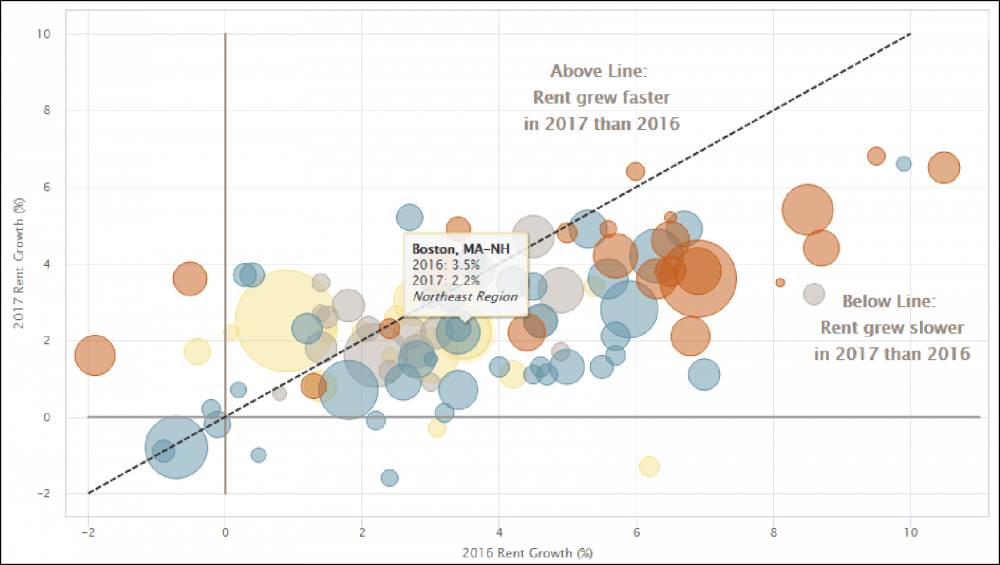 While rents moderated, the report found that in metros nationally, "[a]dditions to the rental stock are increasingly concentrated at the high end of the market."
The wide-ranging study also identified "persistent affordability challenges for working-class households" renting in markets across the country.
In Massachusetts and in the Boston metro area, nearly half of renters in 2016 were described as cost-burdened, which means they pay more than 30 percent of household income for housing and utilities.
A quarter of renters in the state and region are labeled "severely cost-burdened," which means they pay more than 50 percent of income for housing costs.
The report comes days after Gov. Charlie Baker proposed legislation and a housing production target for 2025, both with the aim of cooling off the state's high housing costs. Boston has its own housing goal: 53,000 new units by 2030.