The Future Of Main Street: Giving Customers A Reason To Leave The Computer
07:54
Play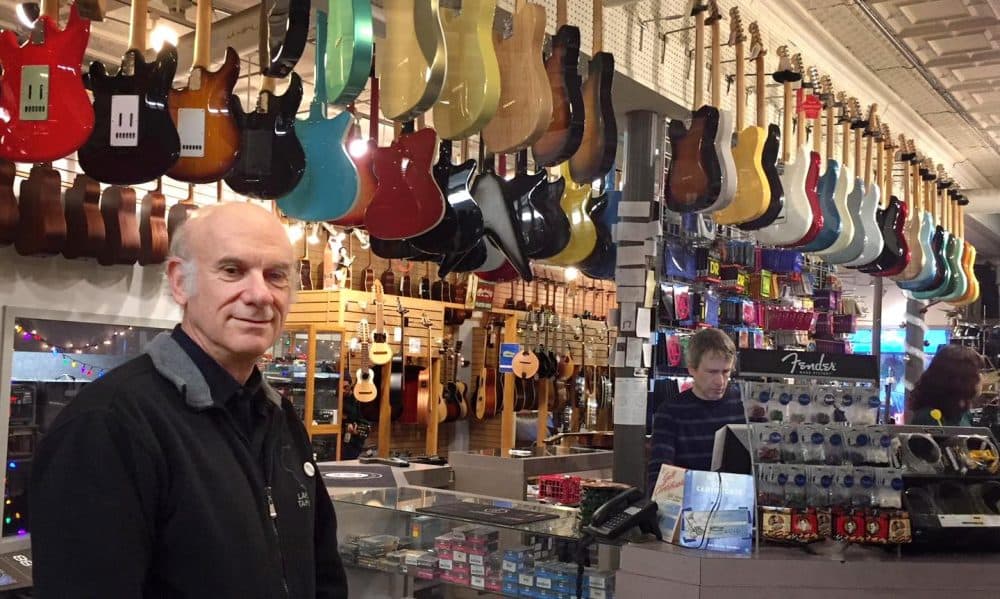 This article is more than 3 years old.
As the Christmas shopping season winds down, economists will be taking stock of the country's retail health.
A report by Credit Suisse projected that more than 8000 brick-and-mortar stores would close in 2017 – even more than during the 2008 financial crisis – with suburban malls taking the biggest hits.
But that's not necessarily a sign of how the quaint downtowns around New England are faring.
On a recent afternoon in Northampton, Massachusetts, at a music store called Downtown Sounds, a customer sat near the window, trying out a ukulele. A mother and her teenage son were buying clarinet reeds.
Owner Joe Blumenthal watched from his office in the back, behind dozens of guitars hanging from the ceiling and a wrap-around glass counter where employees chat with customers.
Blumenthal opened this store 40 years ago, back when Northampton was a depressed former factory town.
"I used to look out my front window and watch the drunks stumbling out of Sheehan's café," Blumenthal said. "We had a huge number of mental patients wandering the streets."
Blumenthal was part of the Northampton renaissance of the 1970s, when a small group of business owners helped turn the historic town into a thriving destination for boutiques, restaurants, bookstores and concert venues. Very few of the 200-some shops are national chains.
"We have a very well-educated population that appreciate quality things," he said. "So it's always been a place where, if you wanted to sell good stuff, you'd find people who were interested in buying it."
But the last several years have been tough for his store – mostly, he said, because of online retailers like Amazon.
"Let's say you're a guitar player and you need some strings and a new cord to go with your amp," Blumenthal said. "So you go ask yourself, 'Well, should I get in my car, drive to town, risk getting a parking ticket? Or should I swipe my finger across my phone three times and have that stuff here tomorrow for the same price-- or less?'"
"You're never closed. Your website is always up, your Twitter feed, your Pinterest boards. All of these things require a lot of maintenance and care."

Tess Poe
Now in his late 60s, Blumenthal wants his longtime employees to take over the store. They're counting on a strategy for attracting customers that underscores the hands-on service of brick-and-mortar shopping.
That means more emphasis on lessons and repair, Blumenthal said, "and also focus on trying to attract beginning players who need the advice about what to buy, and as well as maintaining ourselves as a place where people like to come and hang out and talk about music and gear."
That's exactly the approach many say will save Main Streets across the country.
"Retail is changing, and we are shedding jobs in lots of retail — but it's primarily in large, suburban kind of retail chain stores, big-box retailers," said Ed McMahon of the Urban Land Institute, which studies retail trends. "And nationwide, there is a resurgence of small, locally-owned retail, because people actually want to go to a place that they like to hang out, to have an interesting experience."
On the Saturday after Thanksgiving, an indoor mall on Northampton's Main Street was buzzing with shoppers – families trying to keep their children from touching all the toys, customers perusing the clothing sales racks.
Laurie Sinelli and her friends drove here from Boston for their annual girls trip. They stopped at the mall café to look in each other's small shopping bags.
"It's more the social part of shopping together," Sinelli said.
And less about buying things they need. Her friend Maria Moore admitted she does most of her shopping online.
"If you're working, it's just so much easier," she said.
So can a downtown thrive if consumers consider it a novelty trip?
Yes, if you make the novelty worthwhile, according to Tess Poe, who opened her dream business in Northampton five years ago: Beehive Sewing Studio and Workspace.
Poe's storefront is a twist on regular retail; it's known as a maker space, where people pay to use her machines to sew their own clothes.
"So the question for me was, 'Where can I situate this experiment where it can have impact on a downtown?'" Poe said. "'And how can we reactivate streetscapes and storefronts in a way that we haven't yet?'"
Poe has a background in city planning, and she considers downtown economies central to a community's health. Encouraging people to live downtown is also important, so she moved into a condo just off Main Street. But running a retail space has taken a lot out of her.
"A couple generations ago, it was enough to have your storefront, sweep the sidewalk, flip your sign to open and people would come in," Poe said. "Now, you're never closed. Your website is always up, your Twitter feed, your Pinterest boards. All of these things require a lot of maintenance and care."
Poe admitted that if she didn't have a well-employed husband, her retail experiment would not have been possible. The $3,000 she brings in a month is just enough to pay rent and bills.
Earlier this year, she scaled back her store hours so she could return part-time to an office job. Her lease ends in April, and she hasn't decided whether to renew it.
A few blocks from Beehive, Aimee Francaes and Jesse Hassinger -- a husband and wife — are in the beginning of their downtown dream, offering delicata squash and bok choy sides to their morning customers.
Last summer, they opened Belly of the Beast -- a casual restaurant that sells fresh meat and produce from local farms and ranchers.
"Comfort food, mindfully made," Francaes said.
Idealistic as they are, they did not take this on lightly. They chose Northampton for its tourist reputation, arts scene and the crowds from nearby Smith College. They worked on business projections and did some highly practical research.
"Sitting on a corner and counting how many people walk by in the course of a two-hour time span," Hassinger said.
So far, they said they're earning about what they expected, but it's hard; they work almost every day from 6:45 in the morning to 9 or 10 at night. They decided not to have children so they could focus on the business, and they only see friends who come in for a meal.
"We look back on ourselves a year ago with this wide-eyed naiveté," Hassinger said. "And that's not to say that you shouldn't follow your dreams and do everything you can to make that happen — because we did, and we couldn't be happier, but in the same breath, I have say we're also insane for making it happen."
Restaurants have one advantage over other kinds of retail: you can't eat out on the internet.
Some downtown shops have started to sell their own goods online, as a way to subsidize their storefronts.
But most say their survival will come down to foot traffic.
That's why the Downtown Northampton Association, part of the chamber of commerce, organizes events to bring people to Main Street.
For instance, at the annual holiday stroll, hundreds of people poured into a few downtown blocks closed to traffic, grilled marshmallows over bonfires, perused art galleries and window shopped.
Of course, you can't keep the party going all the time.
Last year ended with a 6.4 percent vacancy rate in downtown Northampton, including prominent spaces that have been empty for years.
But national analysts say, if communities focus on making a trip downtown more fun than sitting at a computer, places like Northampton should survive. In the city's last downtown survey, 11 stores had moved out of town, but 12 moved in.
This segment aired on December 25, 2017.