Solar Installers, Gov. Baker Criticize Trump's New Tariff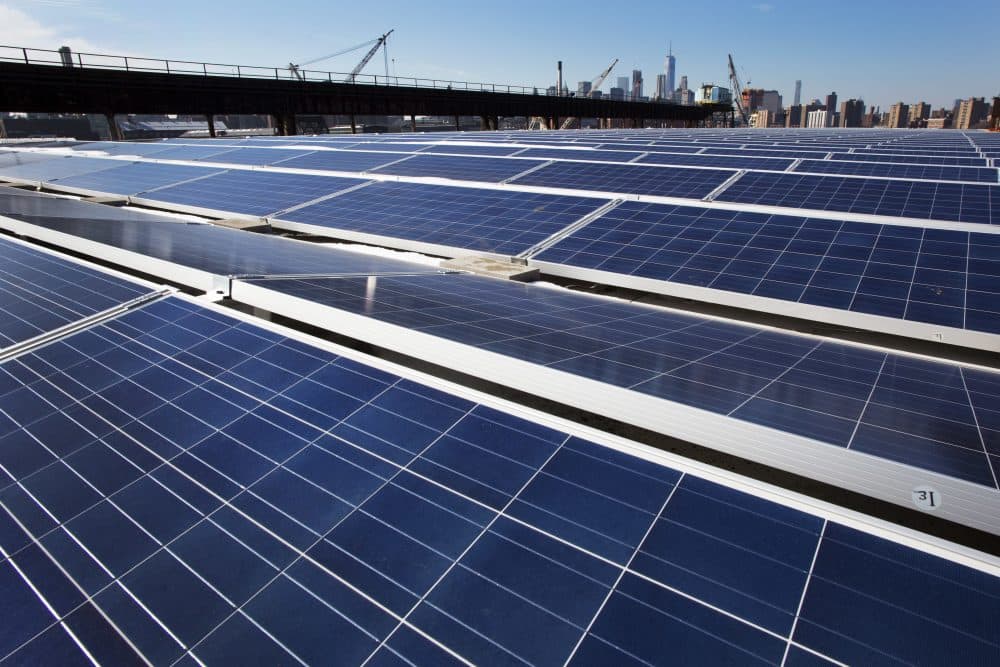 This article is more than 3 years old.
Solar installers in Massachusetts say a new tariff will likely depress growth in the industry.
The Trump administration on Monday imposed a tariff on imported solar panel components. The tariff is set at 30 percent, with the rate decreasing over four years.
In a statement, the office of President Trump's U.S. trade representative said "increased foreign imports of ... solar cells and modules are a substantial cause of serious injury to domestic manufacturers."
As NPR reports:
The move against imported solar components splits the solar panel industry, with manufacturers favoring the tariffs as a necessary step to save domestic subsidiary companies, while installers oppose them as job-killers.
Nick d'Arbeloff, with the Solar Energy Business Association of New England, says that because the majority of the modules are not made in the United States, installers here will likely see higher costs.
"You're really sort of shooting yourself in the foot by doing something for a very, very small manufacturing industry at the expense of the much, much larger installation and development industry," d'Arbeloff told WBUR.
According to the group the Solar Foundation, there were nearly 15,000 jobs in solar in Massachusetts in 2016 — second only to California in positions.
The solar tariff was also criticized by Massachusetts elected officials, including Democratic U.S. Sen. Ed Markey and Republican Gov. Charlie Baker.
Peter Lorenz, communications director for the state Office of Energy and Environmental Affairs, said in a statement that the Baker administration is "disappointed" by the decision, but "remains committed to supporting solar energy as an important component of the Commonwealth's diverse energy portfolio and source of clean energy jobs."
In September, Baker and three other governors — from Nevada, Colorado and North Carolina — sent a letter to the U.S. International Trade Commission, warning that the proposed tariff "could inflict a devastating blow on our states' solar industries and lead to unprecedented job loss, at steep cost to our states' economies."
Also Monday, the Trump administration imposed a tariff on large residential washing machines.
With reporting by WBUR's Benjamin Swasey and the Newscast Unit