State Senators Clash With Telecom Providers Over Net Neutrality Rules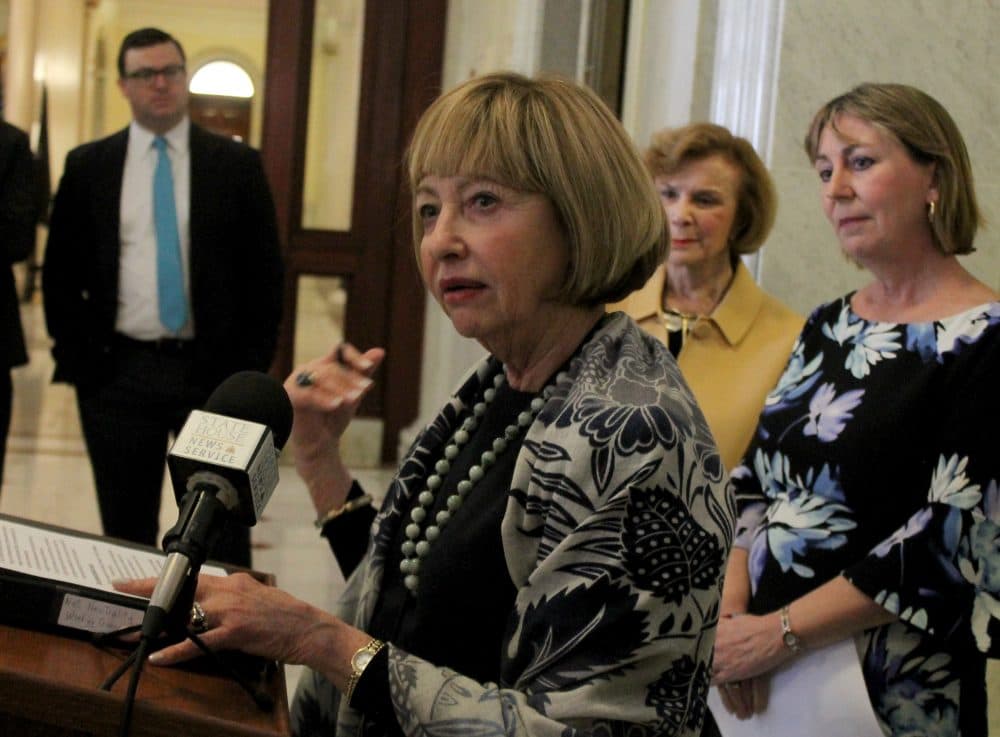 This article is more than 3 years old.
State senators put representatives of internet service providers on the hot seat Wednesday at a hearing on a Senate bill intended to promote fair internet practices known as net neutrality.
Internet service providers (ISPs) and their representatives have said they do not currently and do not intend to slow connection speeds for some users, block access to certain content or give preferential treatment to certain content. Nonetheless, they lined up in opposition to legislation (S 2376) that would make those practices illegal in Massachusetts.
"This proposal will harm investment, will harm Massachusetts' world-class tech economy because it proposes a heavy-handed regulatory overreach for a problem that frankly doesn't exist," Tim Wilkerson, vice president and general counsel to the New England Cable & Telecommunications Association, told the Special Senate Committee on Net Neutrality and Consumer Protection.
The committee's recommended legislation ban ISPs from blocking customers from accessing certain content, throttling down the speed at which a customer can connect to certain websites and accepting fees in exchange for faster connectivity. The bill would also prohibit ISPs from collecting, using or sharing a consumer's personal data without their consent.
In December, the FCC approved an order reversing its Obama-era net neutrality rules, which deemed internet service a public utility and required internet providers to treat all traffic equally.
Wilkerson said the ISPs that are members of NECTA "support and adhere to the principles of net neutrality every day while employing thousands of Massachusetts residents and investing over a billion dollars annually in the Commonwealth's economy." But, he said, the organization opposes the Senate's bill.
"Consumers deserve a single, durable federal law to enshrine both net neutrality and privacy principles, not contrasting state approaches to the most intrinsically interstate commerce, the internet," he said.
Gerard Keegan, assistant vice president of state legislative affairs for the wireless communications trade group CTIA, also told the committee that state-by-state regulation would be "untenable" for the wireless industry. He said the members of his organization support net neutrality ideals and would support federal legislation on the issue.
Wednesday's hearing included a few tense moments between opponents of the bill and the senators who crafted it. At the end of his testimony, Wilkerson told the committee that he "would ask you respectfully to direct all your questions to our [written] testimony" and began to get up from the witness table.
That didn't sit well with Sen. Cynthia Creem, who led the special commission that drafted the bill. She interjected with "Sir, don't leave" and then began to ask questions of Wilkerson, as is the standard practice at committee hearings.
After answering one of Creem's questions and listening to the second, Wilkerson said, "Senator, I'm going to say I've heard your questions before..."
"But you haven't answered them before," Creem shot back before he could finish his sentence. Wilkerson later said he is not the right person to answer Creem's questions.
Creem pressed both Wilkerson and Keegan about whether their organizations would sign a memorandum of understanding with the state to certify their claim that they will not violate the principles of net neutrality.
"Your people are not doing anything that we want to prevent, so it is a suggestion that they put that in some sort of a written order or something with the commonwealth of Massachusetts so my constituents and all of our constituents can say, 'We're going to hold you accountable,'" Creem said.
Both men said that they would have to bring the idea back to their organizations for consideration.
After the hearing, Wilkerson put out a statement in which he said Wednesday's special Senate committee hearing "exhibited unnecessary hostility to one segment of the internet ecosystem, internet service providers."
Senate Minority Leader Bruce Tarr, who served as the special committee's vice chair, said the ISPs have said they don't plan to use the tools the Senate bill would prohibit and that they "should welcome this kind of legislation because it ensures a level playing field so that if someone does try to set outside that boundary they will be penalized for it."
The American Civil Liberties Union of Massachusetts and consumer protection advocacy group MassPIRG both endorsed the Senate bill on Wednesday.
The special Senate committee bill would instruct the state Department of Telecommunications and Cable (DTC) to develop standards for what it means to be "net neutral" and develop regulations that will allow the agency to rank all ISPs doing business in Massachusetts based on their net neutral practices. The department would score each ISP and require that ISPs display that score to customers at the initial point of sale and at least annually thereafter.
Creem said the legislation would "use all possible means to reinstate net neutrality at the state level. It has a belt and suspenders."
The 26-employee DTC, which has a roughly $3 million annual budget funded by assessments on cable television, telephone and telegraph companies, would be given authority to "make an assessment against each internet service provider" in order to "cover the new costs associated with the Department's new role in the ISP sector," according to a bill summary provided by Creem's office.
Asked Wednesday whether the ISPs would pass the cost of the assessment on to internet customers, Creem said, "I don't envision the cost being passed on, but we are going to have to tax the ISPs."
She also said, "Of course, we would hope that doesn't get passed on to the consumer because that would not look like the internet providers were doing what they promised."
The provisions of the Senate's bill would take effect Jan. 1, 2019 if it is passed by both branches of the Legislature and signed by Gov. Charlie Baker.