Walsh's State Of The City Story About A Hotel Worker Was Touching — And Maybe A Bit Misleading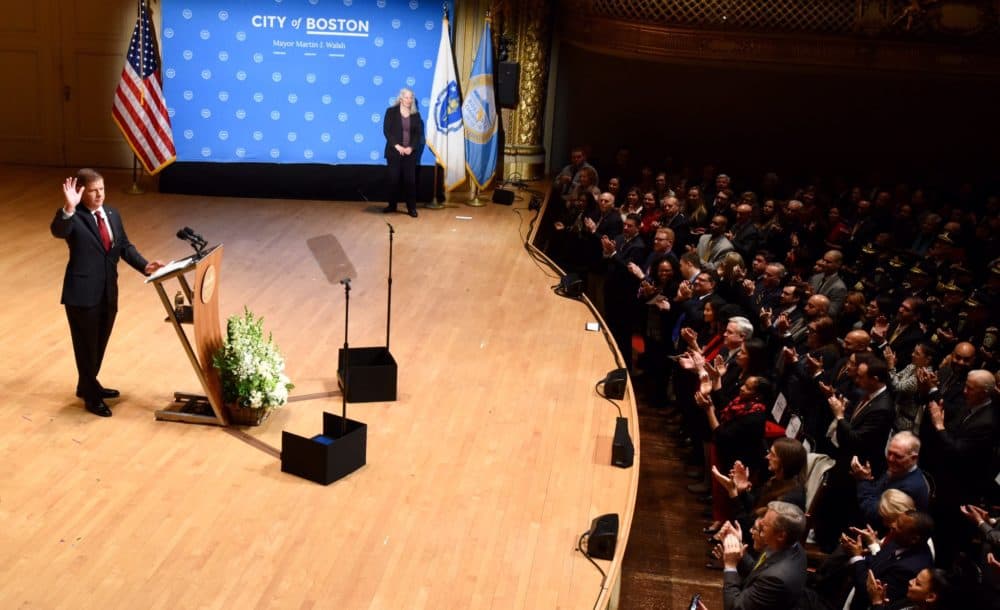 This article is more than 2 years old.
Boston Mayor Marty Walsh's State of the City address featured an anecdote he has told in public before. It's about a hotel worker named Leti Legesse who was so full of hope on the morning after Walsh's 2013 election that she hugged him, crying, and said, "We did it. We won. We are going to be mayor."
Walsh's latest retelling, in Tuesday's speech at Symphony Hall, included a new, happy ending. "Leti's union," Walsh told the crowd, "set new national standards for hotel workers" through a recent labor agreement, reached amid a strike that the mayor supported.
Though technically accurate, Walsh's story may have left listeners with the false impression that Legesse was among the striking hotel workers who won better wages and benefits. In reality, Legesse and her coworkers at the Boston Park Plaza Hotel did not strike and are not covered by the new contract.
UNITE HERE Local 26, "Leti's union," as the mayor called it, includes hospitality workers at more than 50 locations in Greater Boston, including the Park Plaza. But only employees of seven Marriott hotels went on strike and negotiated more favorable terms.
Park Plaza workers are in the midst of separate negotiations with a different company, according to the union.
In a statement Wednesday, the mayor's office clarified that Legesse was not a direct beneficiary of the strike but contended that she might benefit indirectly, in the future.
"While Leti's union, Local 26, settled a contract that is specific to workers at Marriott properties in Boston, what they did was set a new standard for a massive hotel chain and its competitors across the globe, and that's how we will be successful in increasing expectations for all workers," a city spokeswoman said.
A spokeswoman for Local 26 said, "The standard set from the Marriott strike will ultimately impact all Local 26 hotel workers in Boston because that is what we expect from other employers. But the contract itself is Marriott employees."
Legesse could not be reached Wednesday. Colleagues told a reporter who visited the Park Plaza Hotel that she had the day off.
Legesse attended the mayor's speech Tuesday and applauded when he shared her story. Walsh, spying her in the balcony, blew her a kiss.
These were his full remarks about Legesse and the hotel strike:
It was the morning after my election in 2013. I was in a hotel room and opened the door for the worker to deliver breakfast. Her name was Leti. She emigrated from Africa to follow her dreams here in Boston. She came around the cart and gave me a big hug. She was crying. She said, "We did it. We won. We are going to be mayor."

Leti's here somewhere. Thank you, Leti. It hit home, right at that moment, what this job means. It means opening doors for more Bostonians to walk through — people of every race, creed, and class, changing a city, changing a nation. That's what Leti's union did, when they set new national standards for hotel workers.

Congratulations to Local 26.
This article was originally published on January 16, 2019.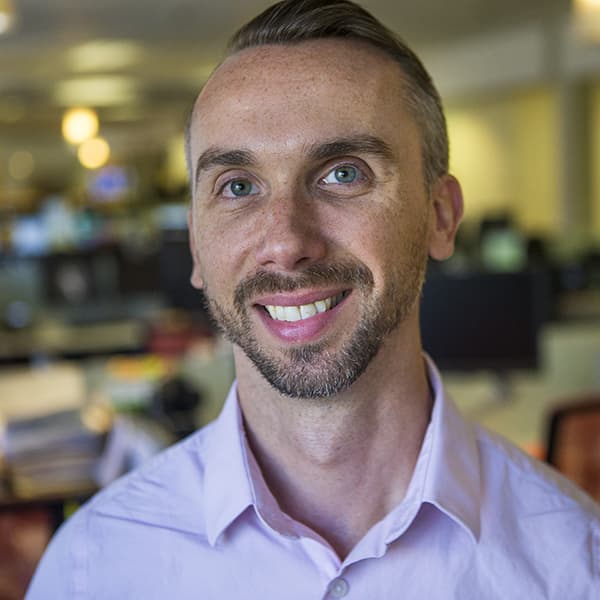 Callum Borchers Reporter
Callum covers the Greater Boston business community for Bostonomix.