Report: Tech Is A Boon For Boston, But Not For Everyone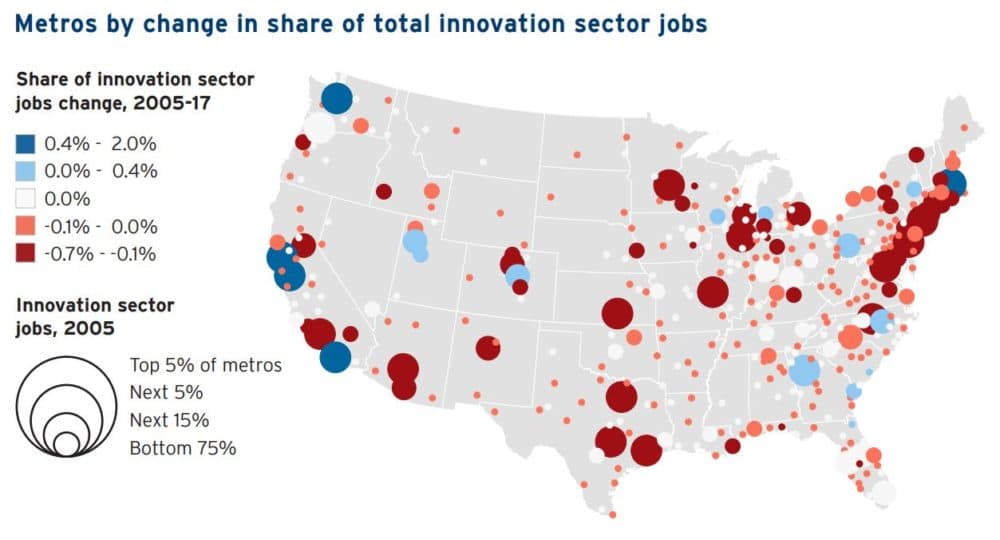 This article is more than 1 year old.
Boston and a handful of other cities are sucking up a disproportionate share of jobs in the nation's "innovation industries," and that trend is not good for the country, according to the authors of a new report.
The Brookings Institution report defines innovation industries as those with an intense focus on research and development, and a significant need for science, technology, math and engineering talent. The report's authors estimate that between 2005 to 2017, over 90% of new innovation industry jobs came from just five "superstar metro areas": San Francisco, San Jose, Seattle, San Diego and Boston.
While this may sound like good news for the Boston area, the authors of the study argue that the hyper-concentration of these prosperity-sparking industries in a few big coastal metropolitan areas has come at the detriment of mid-sized cities and smaller "heartland" towns that benefited from manufacturing sectors during the 20th century.
By the 2010s, "innovation hubs such as Boston, San Francisco, and Seattle—along with smaller hubs including Austin, Denver, Raleigh-Durham and San Diego, as well as financial and content-oriented megamarkets such as New York and Los Angeles— have pulled away and secured themselves as America's core domain of advanced industry activity," the report states.
As these metro areas exert a gravitational pull on talent and capital, they also draw key employees and business activity away from other places.
"So many Americans reside far from the opportunities associated with the nation's innovation centers, undercutting economic inclusion and raising social justice issues," the authors write.
They also argue that the diverging fortunes of these regions contributed to the political backlash that helped elect President Trump, and that the effects continue to be felt in the form of an increasingly polarized electorate.
However, the negative effects of hyper-concentrated innovation jobs are not only borne by the cities where such jobs are few and far between. As Bostonians likely already know, the tech firms that draw waves of highly-paid workers to the area can cause another set of issues: spiking rents, gentrification, and snarling traffic.
To break this "negative cycle," the authors propose "a national growth center initiative," essentially a package of federal programs aimed at speeding up the growth of innovation sectors in "up-and-coming" cities that are not near current tech hubs. Such catalyzing investments might include tax benefits for new firms that locate in smaller metro areas, and funding for research, workforce development and innovation infrastructure.
While this would not represent a total solution, the authors write, it would be "a major break with past inaction and demonstrate that federal action can not only bring technology based opportunity to more parts of the nation, but also spur more innovation and increased U.S. economic competitiveness."