Poll: Financial Crunch Of Coronavirus Hitting Mass. Young People Especially Hard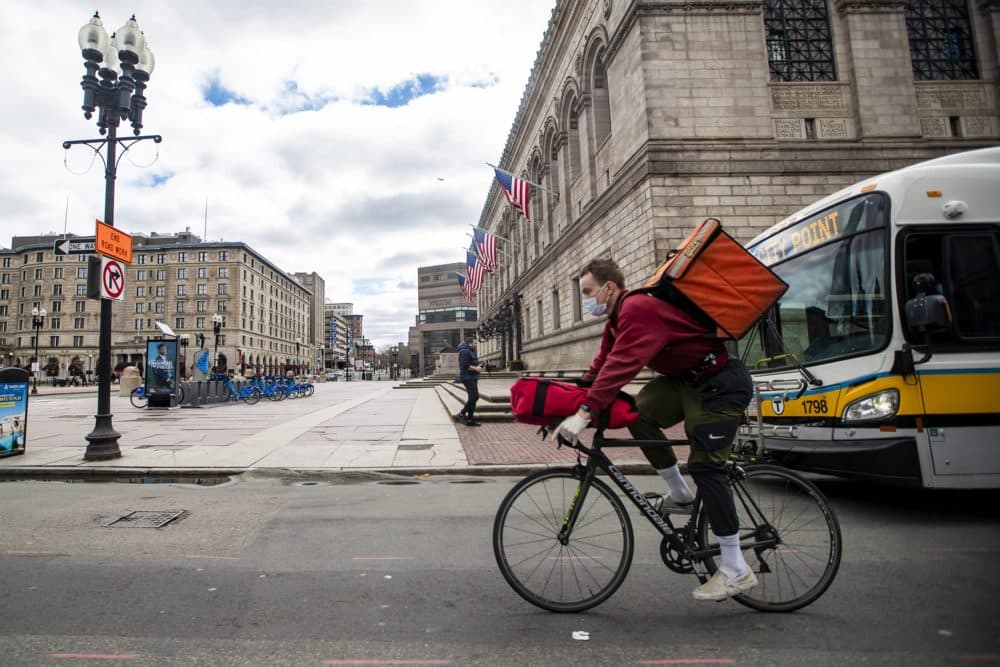 This article is more than 1 year old.
Scan the headlines lately about the coronavirus outbreak and you're bound to read at least a few about young people who have shirked social distancing guidelines in favor of spring break on the beach, parties and seeing their friends.
But new data from the MassINC/Blue Cross Blue Shield of Massachusetts coronavirus tracking poll paints a very different picture of the under-30 set — at least in Massachusetts.
These younger residents are practicing preventive behaviors and taking the threat of coronavirus seriously, even if they are less worried about the risk to their own health. And they are taking all these steps despite being a cohort that is most likely to bear the economic brunt of the pandemic.
Roughly a quarter of the 18-to-29 set (23%) say they have lost a job they had before the outbreak began, and 39% of those still employed have lost at least some portion of their paycheck. These figures are notably higher than for older residents. Among the factors behind this:
Younger residents are disproportionately employed in part-time positions and paid by the hour, both of which put them in more precarious positions in the current crisis.
They have also had less time to amass savings, and many are saddled with massive student debt.
All these circumstances may make them less economically secure than older workers and the oldest residents, many of whom are retired.
Nearly half of those ages 18 to 29 (48%) say they can only sustain their current situation for less than 2 months before facing significant financial hardship. That includes 30% who could only last a month or less.
Among the oldest residents, only 29% would face financial struggles within 2 months. The majority (60%) could last 2 months or beyond, including nearly half (49%) who could sustain themselves for 4 months or longer.
For the oldest among the 18-to-29 cohort, and even those up to age 44, the coronavirus will be the second massive economic shock of their working lives. The lingering economic effects of coronavirus will leave these residents little in the way of savings for down payments, mortgages or capital to start businesses. As it was after the Great Recession, economic challenges could lead the coronavirus generation to delay milestones like moving into their own homes, getting married or having children.
Taking Precautions Seriously
Amid stay-at-home advisories and other recommendations to limit time with others, young people are just as likely as their elders to be taking a range of personal precautions.
Over half (56%) are not seeing or visiting anyone.
70% are only going to stores if it is essential.
Over 80% have cancelled social plans, wash their hands regularly, avoid handshakes or personal contact and clean common surfaces more than usual.
These figures all align with the proportion of older adults taking these steps. Overall, 81% of those ages 18 to 29 — along with 89% of those 60 and older — say they understand "very well" what they personally are supposed to do to slow the spread of the virus.
Young adults' opinions about coronavirus are in many respects indistinguishable from those of the oldest residents. In the latest wave of the survey, 69% of those ages 18 to 29 call the threat to the state "very serious," nearly identical to the 70% of those ages 60 and older who say the same.
Older residents were initially more concerned, but in the past three weeks, younger residents have caught up. In the first wave (March 16-19), only about half (49%) of the 18-to-29 set considered coronavirus a "very serious" threat to the state. And despite the initial gap on concern levels, young people were just as likely at the outset to report taking action to help slow the spread.
The cautions displayed by young people seem to be more related to concern for others than for themselves. Current reports suggest the coronavirus is far more dangerous to older people, a fact which seems to be reflected in the polling data.
While 60% of those ages 60 and older say the threat to themselves personally is "very serious," only 36% of those ages 18 to 29 say the same. At the same time, concern for older adults among young people is nearly universal: 95% say the threat facing elderly people is "very serious."
Simply put, the bad apples on the beaches in Florida don't tell the whole story. The vast majority of young people, at least in Massachusetts, are sacrificing their current and future economic well-being for the health of their elders.