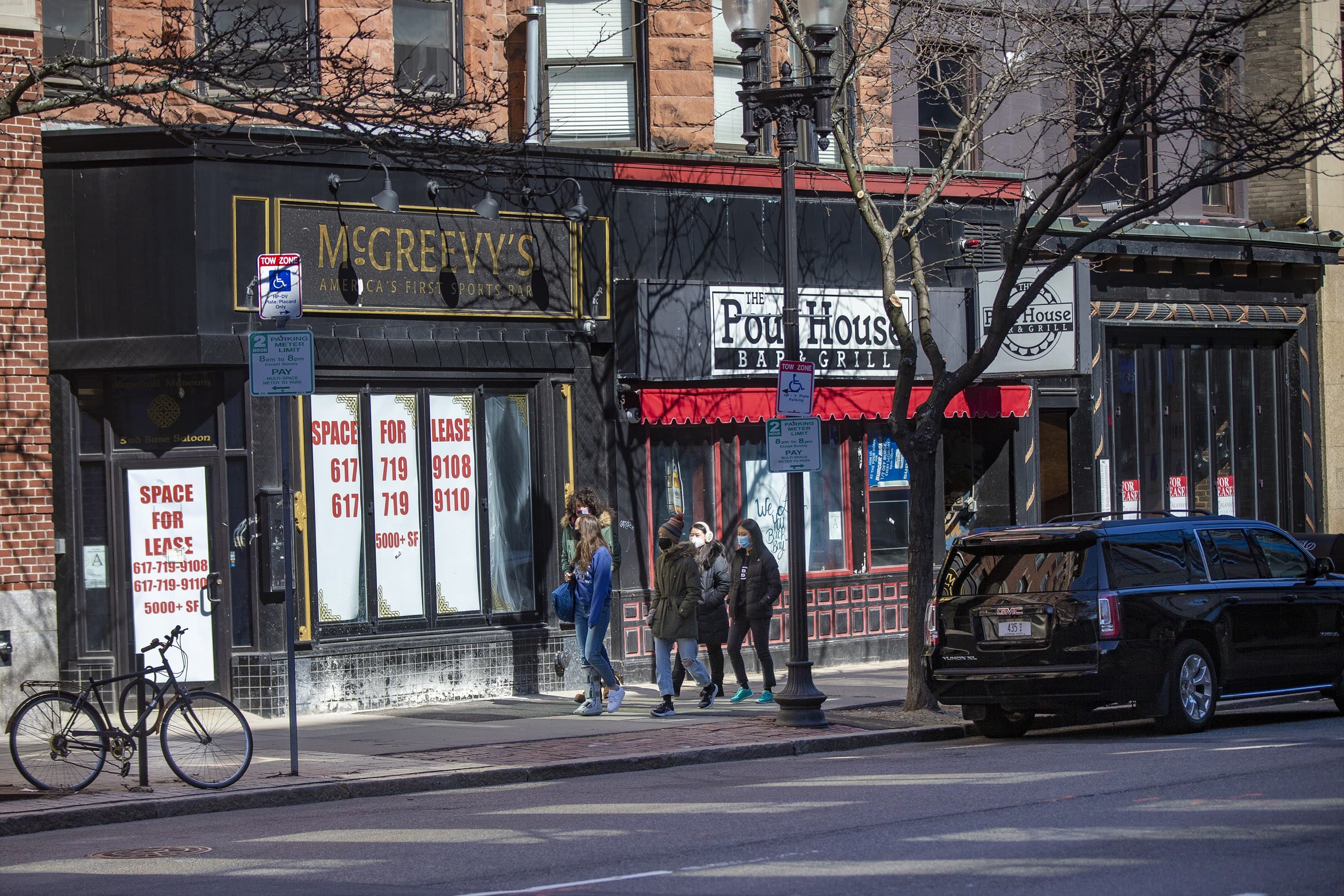 'It Anchored Our Community': What's Lost When A Restaurant Or Bar Closes
---
In the pandemic, we lost an important part of our social network: acquaintances. The woman you chatted with on the bus about your dogs. The cashier at your favorite thrift shop. The man at the coffee shop who would talk about the books you've both been reading lately.
These are not necessarily people you'd friend on social media or invite to your home. But they were a part of your community – a part of what made your neighborhood special.
Many found this type of community at a restaurant or bar, a Cheers-esque place where, as they say, everybody knew your name – or at least your regular order. But survival after coronavirus has been a real challenge for restaurants and bars.
Bob Luz, president of the Massachusetts Restaurant Association, estimates that about 3,400 restaurants — out of a total of about 16,000 in the state — likely have closed permanently.
What's lost when those spaces are gone? Below are answers from several interviews, as well as social media, to the question of what now-shuttered eateries and bars in Greater Boston will you miss the most? And why?
We decided to name some of the much-loved spots that just kept coming up again and again in your responses, but you can find even more responses in this Twitter thread.
Eastern Standard
We found out last month that Eastern Standard and Island Creek Oyster Bar were closed permanently. A lot of Bostonians mourned the loss of the Kenmore Square institution, including Boston University alumna and Congresswoman Alexandria Ocasio-Cortez.
---
Lir, Pour House and McGreevy's
Late last summer, the three Boylston Street bars announced they were closing for good within a few days of each other.
Lynn resident Mitch Gayns was a regular at Lir, and said the bar is not something that's easily replaced.
"I had this whole family of people," Gayns said in an interview.
"All of those places ... that I see as part of my family, if you will, are now gone. And so that's where I feel like I've lost people during the pandemic," he said.
Lir is where Gayns not only made friends but got connections for freelancing. It's a place where he felt like he belonged – where anyone was welcome.
"It really was just like a home for everyone," he said.
On Twitter, a few people lamented the loss of McGreevy's and Pour House, a part of their own traditions.
"I loved all the baseball memorabilia [at McGreevy's], and it was just an awesome place to hang out at. The Friday before Christmas I would finish up my Christmas shopping at the Prudential and Newbury, and then go to McGreevy's for late lunch and some drinks. I'm going to really miss it!"

Sara Flynn, Waltham
---
Deep Ellum
The bar and restaurant, which called Allston home for 13 years, announced its closing in early June 2020. Deep Ellum's owners plans to expand its sister restaurant Lone Star Taco Bar into the vacant space.
---
Border Cafe
Border Cafe closed after a fire in December 2019, and confirmed the closure would be permanent last month.
---
Bella Luna & the Milky Way
The Jamaica Plain restaurant and lounge announced it was closing for good in June 2020.
Margaret Willison grew up in JP and was a regular at Bella Luna. It was the place where she and her friends, post-college, would go to sing karaoke, grab a bite or drink.
Bella Luna was for everyone, said Willison in an interview.
"It was like a space where you could be young, but still feel very much like part of a bigger community," she said. "I was no more a key patron for that place than the 47-year-old guy who got up every single week [at karaoke] to sing 'I'm Just A Girl' by No Doubt. We were equally part of that community and equally at home there."
Julia Ryan, also of Jamaica Plain, said in an Instagram message that's why she'll miss Bella Luna, too.
"Bella Luna brought people together, joyfully, openly, for decades," Ryan said. "It was unselfconsciously JP – colorful, quirky, fun and diverse. When I say I'm sad to miss it, the first thing I think about isn't the food (although I enjoyed it), it's how it anchored our community."
For Willison, it's hard not to worry it's irreplaceable.
"[Bella Luna] is just a very particular kind of place that has that sense of being so distinct and yet so immediately appealing to such a wide array of people. It's hard to find those. I think it's terrible that this one's gone. And I hope that it is my lack of imagination that leads me to worry it won't get replaced."

Margaret Willison
---
True Bistro
The Somerville vegetarian and vegan eatery announced Sept. 6, 2020, was its last service "until final notice."
Via an Instagram message, Becca Cohen of Arlington explained why she'll miss it:
"While there are more and more vegan friendly options in the Greater Boston lately ... there are few of this quality. Such special and creative food. True Bistro is where I've spent my birthday each year, or where I've gone to celebrate other life accomplishments. I already miss it!"
---
Cuchi Cuchi
The flamboyant, Mardi Gras-inspired restaurant in Cambridge was an early casualty of the pandemic, closing its doors in May 2020.
---
People's Republik
The Soviet-themed bar with tongue-in-check decor announced its closure after 23 years last month, marking another loss for Central Square.
For August Schlubach, the bar became his home away from home after a move from Los Angeles to Watertown. He'd regularly take a bus into Cambridge to play darts at People's Republik.
"I don't want to say it felt like Cheers because that's so predictable and trite, but it was a wonderful third place for a person looking to get a foothold in a new city. There was a community," he wrote in an email.
One day, Schlubach met the captain of the darts team: Jennifer. Today, they've been married for 14 years, and while they stopped going to People's after their son was born in 2013, it still made Schlubach smile every time he drove past it.
"I don't know how to feel about it now. People will continue to drink, to fall in love, but this local institution is gone, likely to be developed into luxury condos or biotech lab space. It feels too soon to be history."

August Schlubach
With its closure, People's Republik became the latest of several other major Central Square institutions to shut down, including Cantab Lounge and The Field Pub, both of which closed last July.
---
Mystic Coffee Roaster, Border Cafe And Some North Shore Mentions
Are we missing your favorite restaurant? Let us know in the comments below.