This episode is part of our 2023 series recorded live with musicians from the Boston Symphony Orchestra plus a star-studded cast at Tanglewood in Lenox, Massachusetts. Photos of the event are courtesy of Hilary Scott.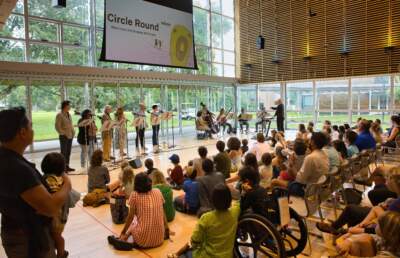 There's an old saying that goes: "A painful truth is better than a pleasant lie."
In other words, even if it's uncomfortable to be honest about something, it's better than being dishonest. And as we'll hear in today's story, dishonesty is definitely not the best policy!
Our story is called "The Bitter Truth."  Versions of this tale were originally told among the Ashanti people of West Africa.
Some really great people came together to bring you this story — at a really special place!
We recorded this episode live at Tanglewood, the summer home of the Boston Symphony Orchestra, with musical accompaniment by a quintet of BSO musicians: Rachel Childers on horn, Clint Foreman on flute, Catherine French on violin, Ben Levy on double bass, and Suzanne Nelsen on bassoon.
Our cast included: Lauren Ambrose, MaConnia Chesser, Scott Cohen, Josh Gondelman, and Peter Riegert.
Lauren Ambrose is an Emmy, Tony, and Grammy nominee from the award-winning Showtime series, "Yellowjackets." She's also starred in "Servant" on Apple TV+ and "Six Feet Under" on HBO.
MaConnia Chesser is a company member at the esteemed Shakespeare & Company, where she's starred in numerous plays. She's appeared at the Kennedy Center in Washington, D.C., and on the HBO series "The Wire."
Scott Cohen has starred in such television hits as "The Marvelous Mrs. Maisel," "Gilmore Girls," "Billions," "Necessary Roughness," "Allegiance," and "The 10th Kingdom," as well as the romantic comedy, "Kissing Jessica Stein."
Josh Gondelman is a regular panelist on Wait, Wait… Don't Tell Me, the weekly NPR news quiz. He's also a standup comedian and Emmy-Award-winning television writer.
Peter Riegert is an actor and director with nearly 100 TV and film credits including "Unbreakable Kimmy Schmidt" and "Disjointed"on Netflix, plus "Animal House," "Crossing Delancey," and "Local Hero." He also hosts the podcast, Peter Riegert's Vocal Heroes.
This episode was adapted for Circle Round by Rebecca Sheir. It was edited by Sofie Kodner. Original music and sound design is by Eric Shimelonis. Our artist is Sabina Hahn.
Special thanks to everyone at the Boston Symphony Orchestra and Tanglewood for their assistance, including Anthony Fogg, Amy Aldrich, David Chandler Winn, Emily W. Siders, Becca Mansfield, Relyn Myrthil, Steven Palacio, James Campbell, Ricardo Mora, Paul Ginocchio, Mark Rulison, and Leah Sagan-Dworsky.
This article was originally published on August 22, 2023.