Heavy Meddle: How Do I Keep Special Diets From Ruining My Dinner Party?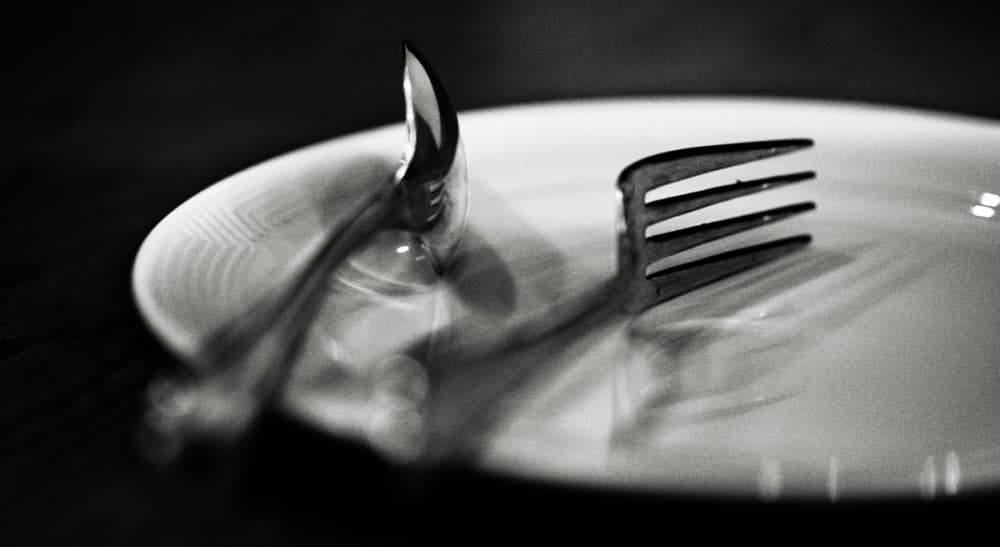 This article is more than 6 years old.
Welcome Meddleheads, to the column where your crazy meets my crazy! Please send your questions to advice@wbur.org. Right now. Not only will you immediately feel much better, you'll also get some advice.
Hugs,
Steve
…
Dear Steve,
With so many people on special diets these days, what is the PC but also realistic protocol when inviting a group for dinner?
Signed,
The Concerned Cook
…
Dear CC,
You are seeking the advice of someone who nearly poisoned a good friend of his by serving him a sauce with vinegar — to which he is violently allergic. In my defense: I didn't know Tom was allergic to vinegar, because he is polite to a fault. I also have an uncle whose throat will swell shut if he eats shellfish, a neighbor whose daughter has Type 1 diabetes, and a whole slew of friends who have trouble with wheat. And I myself, upon reaching the advanced age of 40, have become lactose intolerant.
So my point is what?
I take this issue seriously. Also: do not serve me fondue.
Still, all these special conditions can make your role as host/cook feel pretty onerous, which sort of defeats the purpose — or at least the spirit — of throwing a dinner party. That is: to unwind while pigging out.
You do have a few options.
Option 1: Send out a note asking your guests if they have any food allergies or dietary restrictions. Make it clear that you're not canvassing for preferences. Plan the menu based on what comes back. If you're dealing with lots of concerns, build in some flexibility by offering a number of smaller dishes.
your guests should be willing to work with you. A great dinner party, after all, isn't a performance. It's a collaboration.
Option 2: Tweak the menu — within reason. If three of 10 people are vegetarians, you might consider going with pasta rather than chicken. If you've got a lactose intolerant friend, you can sub out butter for a non-dairy substitute. And believe it or not, there are ways to make a pie crust, for instance, with non-wheat flour and no butter. (Not saying they're going to taste as good as the real thing, but hey…) But as the host you ultimately have to decide what your priorities are, and how much tweaking you're willing to do. Spending an afternoon shopping for specialty items so as to prepare a special vegan variation of the main course may be more than you're willing to do. So make a big yummy salad and serve it with a good loaf of bread.
Option 3: If someone is dealing with serious allergies, or a condition such as celiac, consider asking that person if they would feel more comfortable bringing a dish of their own. As far as I'm concerned, this isn't you being lazy. This is you attempting to prevent one of your guests from getting ill. Many people with restrictive diets will even offer to bring their own dish. (This is particularly true, I've found, in the case of vegans.)
Option 4: Just turn the whole dern thing into a potluck. If you truly want to cook for your guests then obviously you should do that. But to my way of thinking, the point of a dinner party isn't who makes the grub. It's gathering a bunch of interesting people around a table and getting some wine in them and hoping nobody starts talking politics.
The fundamental thing to remember, CC, is that the dinner party is a leisure-time activity. It shouldn't feel like work. Part of being a good host is making sure your guests feel comfortable, and satiated after the meal. Particularly in the case of folks with medical food issues, it's vital that their needs be met. Nothing kills the buzz at a dinner party like a guest going into anaphylactic shock. But I'd avoid doing so much specialty cooking that you wind up stressed or resentful. The key is communicating with your guests up front and designing a menu that's flexible enough to accommodate everyone. And your guests should be willing to work with you. A great dinner party, after all, isn't a performance. It's a collaboration.
I'm curious to hear from readers on this one, as well, particularly those who have a medical or ethical dietary restriction and might have a horror story or two to share, so check out the comments below for more feedback.
Happy cooking, CC.
Steve
♥
Okay folks, now it's your turn. Did I get it right, or muck it up? Let me know in the comments section. And please do send your own question along, the more detailed the better. Even if I don't have a helpful response, chances are someone in the comments section will. Send your dilemmas via email.