Buffers Struck Down, Renewed Focus On Women's Access To Reproductive Health Care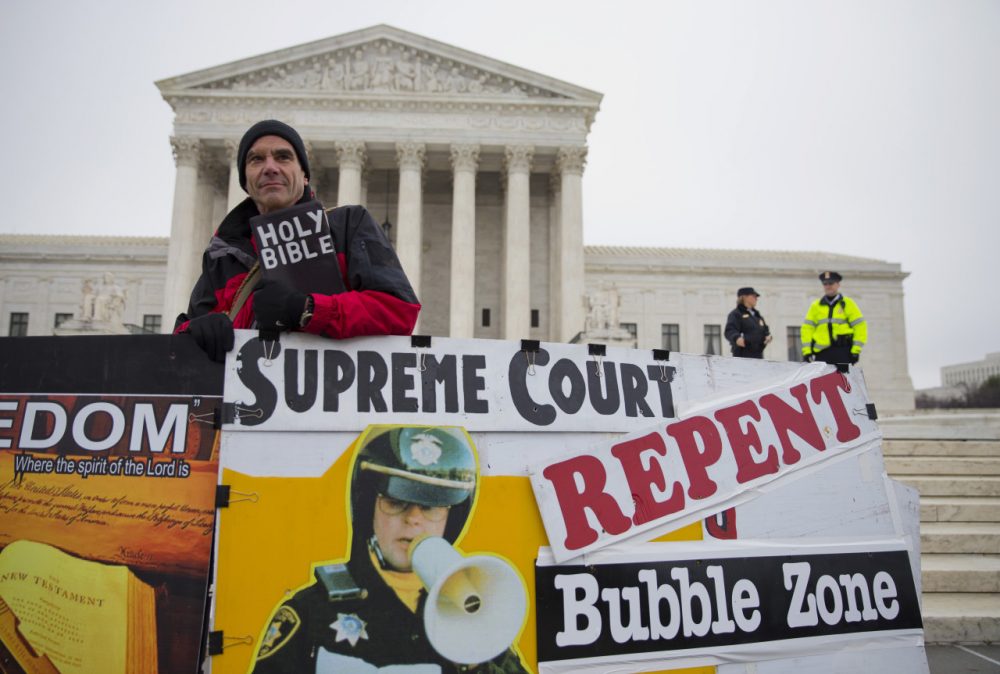 This article is more than 6 years old.
Love it or hate it, the McCullen buffer zone decision by the U.S. Supreme Court leaves unchanged the fact that women have a constitutional right to obtain reproductive health care — including abortion — free from harassment, violence and other interference.
The case raised competing constitutional rights: the right of women to seek legal abortions free from intimidation, harassment and violence; and the right of others to engage in peaceful speech or protest about abortion on the public streets outside abortion clinics.
The Court's decision to strike down the Massachusetts law creating buffer zones outside clinics puts renewed onus on law enforcement to help protect this fundamental constitutional right. In its reasoning, the Court invoked the existence of tools other than buffer zones to guarantee women's access to their health care providers. That decision makes it more critical than ever that all of us understand and use those means to protect fundamental rights for women.
...the <i>McCullen</i> buffer zone decision by the U.S. Supreme Court leaves unchanged the fact that women have a constitutional right to obtain reproductive health care—including abortion—free from harassment, violence and other interference.
The Freedom of Access to Clinic Entrances Act (FACE), for example, makes it a federal crime to use force or the threat of force to obstruct, intimidate or interfere with anyone seeking or providing reproductive health services. The law provides for fines and imprisonment, and also allows someone to bring a civil suit for interference with his or her access to or provision of reproductive health care. The attorney general of the United States and state attorneys general also are authorized to bring suit against anyone interfering with women's rights by blocking or otherwise preventing access to clinics or other health care facilities.
Massachusetts law, Chapter 266, Section 120E, also prohibits people from obstructing access to and from medical facilities and, like FACE, provides civil and criminal penalties. Our state civil rights act also prohibits interference with rights by means of threats, intimidation or coercion. It, too, can be used to protect women and health care providers. And police officers certainly are familiar with the laws against trespassing and assault. Those must be enforced, as well.
These laws may be harder to enforce than the buffer zone law. But that should not allow the police to turn a blind eye and force women to run a gauntlet of harassment to see their doctors. The plaintiffs in McCullen, who seek to counsel, pray and beseech women outside the clinics to continue a pregnancy and give birth to a child, emphasized in their court papers that they are peaceful. Time will tell if that will be true of others who protest or counsel at abortion clinics. While all of us have a right to speak and try to persuade others to our point of view, no one has a right to harass, threaten women and providers entering or leaving clinics, blockade the doors, driveways and sidewalks adjacent to the buildings, or engage in violence. Just as U. S. Marshals were called out to protect black school children when they sought to enter previously all-white schools, so, too, must law enforcement take seriously its obligation to protect the right of women to obtain reproductive health care free from threats and harassment.
One final odd note: Just days before the Supreme Court struck down the small number of buffer zones protecting a constitutional right at medical clinics, the U.S. Court of Appeals in Boston upheld countless 20-foot buffer zones in the City of Worcester, created by an anti-begging law aimed at protecting the feelings of people who don't wish to see or hear anyone asking for spare change.
That First Circuit decision cannot stand. Surely it cannot be more important to insulate rich people from being asked to spare a dime than to protect the constitutional rights of women seeking legal medical care where there has been a documented history of violence and harassment. If it were, we would seem to have two First Amendments: one for opponents of abortion, and one for the poor. That may be the law at this moment in history. But it's not even close to being just.
---
This piece was co-authored by Sarah Wunsch, a staff attorney with the ACLU of Massachusetts.
---
Related: