'Black Mass' Misses The Point, And For Victims Adds Insult To Injury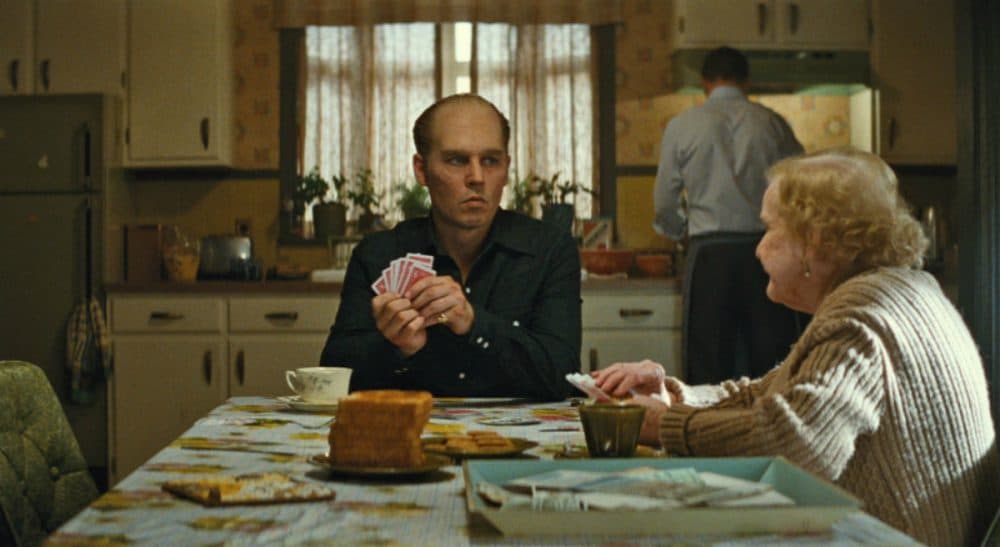 This article is more than 5 years old.
Editor's note: A movie about convicted Boston mobster James "Whitey" Bulger's violent reign opens Friday. Earlier this week, Johnny Depp, who plays Bulger in "Black Mass," greeted hundreds of fans and members of the media as they arrived to attend the U.S. premiere of the film at the Coolidge Corner Theatre in Brookline. WBUR's David Boeri, who has covered Bulger for some three decades and attended an earlier screening of the film in Venice, was there. He offers this review.
BROOKLINE, Mass. — Seeing an unsatisfying movie twice has its advantages, especially if the first time is in Venice. Back from the film festival there and seeing the movie in Coolidge Corner allowed me to reconsider my earlier disappointment and to discover faults I hadn't seen the first time.
Midway into the second screening, for instance, I felt like I was being smothered by the adagio of a positively lugubrious soundtrack. It never seems to go away. It's used for foreboding and after-boding, so to speak. Both its volume and ubiquity seem intended to inject substance and emotion into a story that is missing both.
Having witnessed years of hearings and trials and the disinterment of bones from rude graves, I have seen and listened to more than my share of accounts of the damage and the evil done by the FBI's two favorite gangsters, Bulger and his partner Stephen "The Rifleman" Flemmi.
The story is told here through a series of grisly murders. The victims come and then go as if they are props, with little to no character development or reason for us to care about them. In contrast, the movie presents Bulger as someone who loves his mother and his son and treats old women well — as if that makes him complicated. The families of his victims, who the Department of Justice has already treated so shabbily, will take little comfort in the brief and unconvincing moments designed to show Bulger's lapses into humanity.
Given that the story line is of one graphic murder after another, with Bulger no different at the end of 20 years — not even in appearance — than he was at the beginning, one might hope that the emergence of a clear moral truth would redeem the whole effort.
No such luck.
That, too, is lost by the movie's focus on the character of FBI agent John Connolly, who is given far too much blame for the deal that unleashed Bulger. In fact, there was already an established precedent for such toxic deals: Flemmi had been turned into a protected secret informant by Connolly's predecessors some 10 years earlier. The screenwriters also invented another FBI character, played by Kevin Bacon, who battles Connolly for the soul of the bureau and eventually prevails with the help of a federal prosecutor.
That never happened.
One might hope that the emergence of a clear moral truth would redeem the whole effort. No such luck.
There was no one in the FBI who ever took on Connolly in such a battle. Just the opposite. Bulger would never have succeeded if Connolly's fellow agents and supervisors hadn't aided or abetted, empowered or enabled him, or looked the other way. In the end, it was institutional corruption, and not the act of one or two bad agents, that turned "the devil's deal" into a "black mass."
Ignoring that and focusing on the culpability of an individual ignores the much more alarming moral truth of lawlessness by our government.
That's why the families of Bulger's victims often rooted for his own defense attorneys at Bulger's trial in 2013. It was the government in which they had lost trust.
That is what is lost most of all in this movie.
"Snap out of it," my sister admonishes me. "It's a Hollywood movie. Of course it's not accurate."
She's right, I suppose. What did I expect to see? "Frontline"? "The Wire"?
Much is made of the make-up that makes Johnny Depp appear almost reptilian. It is in the service of making him a monster, which is fitting. From "Jaws," to "Alien" and "Godzilla," Hollywood loves movies about monsters. It's too bad we don't get a closer look at all those who unleashed the beast of Jim Bulger and then fed him.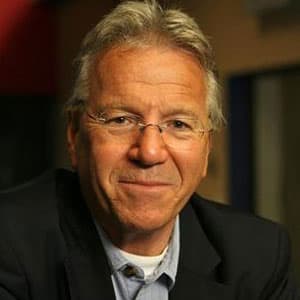 David Boeri Senior Reporter
Now retired, David Boeri was a senior reporter at WBUR.