A Playbook For Addressing College Football's Rape Culture
Jessica Luther begins "Unsportsmanlike Conduct: College Football and the Politics of Rape" by saying "I used to be a really good FSU fan."
She is referring specifically to football at Florida State University, where the team has been very good, and numbers of the players have been criminals.
The book has two great strengths. The first is Luther's identification of two ways in which people are likely to prejudge a charge of sexual assault or harassment when the alleged perpetrator is a black athlete. The second is a series of suggestions for changing the culture of the schools at which football is most important and the culture of the organizations charged with overseeing the enormous business that the sport has become.
Luther argues convincingly that two suppositions inform most people's understanding whenever a black athlete is charged with a crime in which a woman is the victim. The first is the assumption that young black men are inherently dangerous and inclined toward criminal behavior, especially harassment and assault of women, with a particular emphasis on white women. The second is that women who claim they have been harassed, sexually assaulted, or raped are likely to be lying.
Jessica Luther's take on the landscape of major college sports is clear and convincing.
In "Unsportsmanlike Conduct," Luther demonstrates that the former assumption is bigoted and distorted, especially as it fails to recognize the extent to which the system itself helps to create and fuel the criminal behavior. She writes that by profiting from and defending a system where the players are not compensated, even though they generate enormous profits for the universities and the NCAA itself, "they (the NCAA and the universities) are teaching these players about exploitation and how to use other people's bodies to their own ends." More precisely, the "programs that are teaching these men about exploiting people also teach them that women exist for their pleasure."
Luther also demonstrates that women are extremely unlikely to lie about being the victims of harassment, sexual assault, and rape. In fact, they are much more likely to fail to report those crimes, having been conditioned or convinced to believe either that whatever happened was their fault, or that bringing charges against  prominent athletes will make the women victims all over again when they are blamed, harassed, and threatened for making trouble for men lots of people regard as heroes.
As a result of the two erroneous assumptions she has identified, Luther concludes that the public is likely to be comfortable accepting "the black football player as perpetrator and the woman as liar." For this reason, people are less likely to move beyond those assumptions to recognize who is responsible for the system in which the violence takes place: "the white male head coaches, athletic directors, university presidents, members of the sports media, fans, NCAA employees, etc."
What distinguishes "Unsportsmanlike Conduct" from any number of books, articles, and documentaries about the subject is Luther's emphasis through the latter half of her book on what could be done to promote change.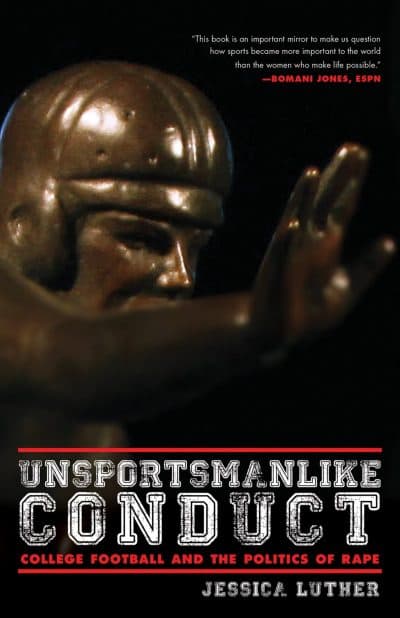 Education is critical. She'd like to see a genuine commitment on the part of men's athletic programs to teach their young unpaid employees what consent means. She points out that "we, as a society, have allowed the idea of consent to be murky for so long now that for people who want to violate it, they can excuse away in their minds any evidence that what is happening is nonconsensual." This is perhaps especially true with regard to young male athletes who have been celebrated for their achievements on the field or the court since they were children, and who have been taught to regard themselves as so grand and desirable that the idea that a woman might say no to them is unthinkable.
But education is not sufficient. Luther would like to see universities stop using female students as "hostesses" when coveted high school athletes are visiting the campus, trying to decide where to play. The message in that tactic is obvious: Come here and these women will be all over you. Luther quotes Melissa McEwan, who has written about sexual assault and prevention for the Atlantic: "Any solution to (the problem of sexual assault) starts with identifying how women are dehumanized within the culture of male collegiate sports, then taking steps to challenge that dehumanization."
Luther also asserts, logically enough, that everyone in the world of the revenue sports would take sexual assault and rape more seriously if the coaches and athletic directors in charge of the programs in which players commit the crimes were fired. Addressing those in charge of the programs, she asks: "How many players have to be accused, arrested, or convicted before your job is jeopardized?"
Luther is especially concerned with the hypocrisy of the NCAA. The organization's alleged mandate is to serve and protect "student-athletes." It "protects" the revenue athletes by making sure they don't share in the revenue, which is as transparently fraudulent as it sounds. It does not seem to see the protection of females assaulted by football players as the association's responsibility, whether or not those females are student-athletes.
What distinguishes "Unsportsmanlike Conduct" from any number of books ... is Luther's emphasis on what could be done to promote change.
Luther writes, "the (NCAA) should also spend its resources actually enforcing rules and levying sanctions on programs where players continue this harmful behavior and where other players, staff members, or coaches cover it up."
"Unsportsmanlike Conduct" contains recommendations for various other changes. More women should be appointed to positions of power within the world of the revenue sports; more sports writers and commentators should be paying attention to the irresponsible conduct of coaches, athletic directors, and the NCAA rather than allowing each win, loss, or temporary suspension of a player to distract them from that concern; fans need to "calm down," by which she means, at least in part, that they need to stop thinking of athletes as paragons to be celebrated no matter what they have done.
Jessica Luther's take on the landscape of major college sports is clear and convincing. Her recommendations for addressing the issues of sexual harassment, assault, and rape within the context of the industry of those sports are sensible, and they won't seem especially radical to anyone who can step back from the sis, the boom, and the bah that have distracted so many fans from the shabby and shameful business-as-usual of the college game.