An Insider's View Of The Women's March: The Power Of Peaceful Protest
This article is more than 6 years old.
COMMENTARY
As soon as I boarded the Silver Line at South Station, I knew something was different. People were talking to each other. A woman wearing a pussy hat -- it resembled raspberry ripple ice cream -- asked another woman if she was going on the march. The second woman was and so were two or three other people, including me. The woman in the hat showed us her sign. What did we think? "Renounce Bigotry," said one side. "Defend Dignity," said the other. We told her we liked it. None of us mentioned the inauguration, which was happening in a few hours.
That brief moment of community was an eloquent foreshadowing of what the next day in D.C. would be like. I traveled there with a dear friend, and when we arrived at Union Station at 11 a.m., the giant building was a hive of purpose and goodwill. The men's toilets had been divided in two. A cheerful policeman told us whatever side we wanted to use was fine with him. The woman ahead of us, who had come with her daughter from Virginia, urged some men to use the discreetly screened urinals on our side. The woman behind us, from Ithaca, seconded the invitation, and several men accepted. People held each other's signs.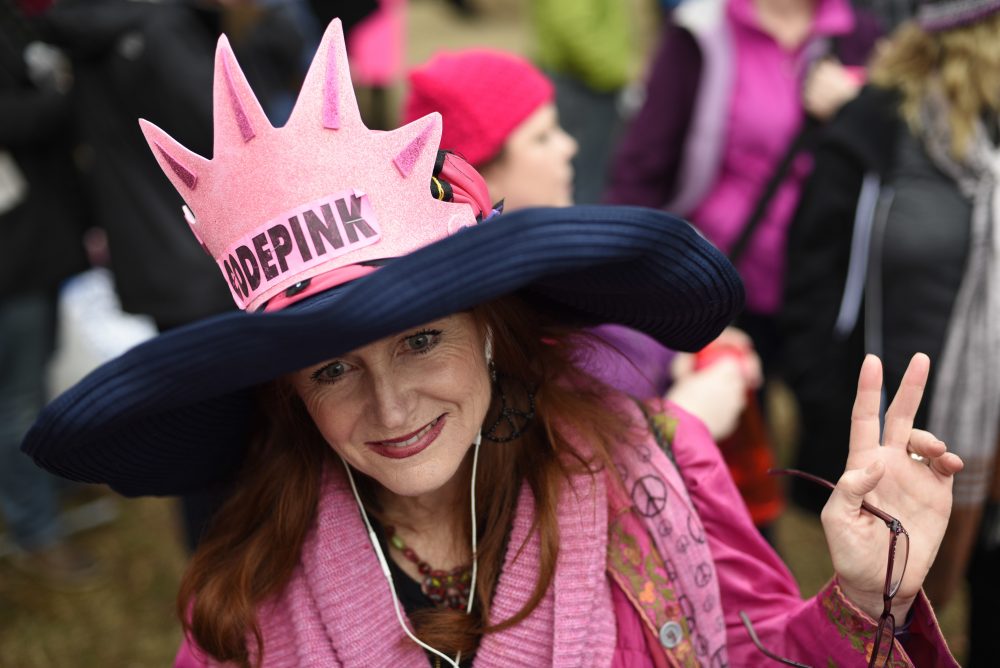 We had a map and directions, but when we stepped out of the station, we simply surrendered to the crowds. People filled the streets, heading towards the Capitol. No one seemed to know exactly what was happening or where to go. But we eventually found a place, near the National Museum of the American Indian, where we could glimpse the stage, and see one of the giant video screens. We missed Gloria Steinem but were in time to hear Scarlett Johansson argue for Planned Parenthood's essential role in women's health care. She was followed by a woman speaking on behalf of Muslim Americans, and then a woman speaking on behalf of Hispanic Americans. For the next three hours we listened to speeches and, when they weren't entirely audible, looked at signs and talked to our fellow marchers, some of whom had been there since 7 a.m. "Why didn't these people vote?" Trump tweeted with his usual insight. Of course non-voters were present. They were under 18, visitors or non-citizens.
Pussy hats were everywhere and so were signs: political, witty, irreverent, serious. Trump's opinions, his hair -- "We shall overcomb" -- his connections with Russia -- "Nyet Trumpski" -- and his little hands were satirized. People carried signs in support of women's rights, immigrants' rights, LBGT rights, science, gun control. Dozens of people were carrying Angela Davis's famous quotation: "I am no longer accepting the things I cannot change. I am changing the things I cannot accept." When the iconic Davis took the stage she reminded us that the history of the United States is a history of immigration and enslavement. "No human being is illegal," she said. "The struggle to save the planet, to stop climate change, to guarantee the accessibility of water from the lands of Standing Rock Sioux, to Flint, Michigan, to the West Bank and Gaza. The struggle to save our flora and fauna, to save the air -- this is ground zero of the struggle for social justice."
She was followed by other speakers, Indigo Girls, Madonna and Janelle Monae, who movingly included mothers of African-Americans who have been unjustly killed in her call and response anthem "Hell You Talmbout." Eric Garner's mother was there; so was Trayvon Martin's.
As we walked down Constitution Avenue, a lone Trump protester appeared, a white man of around 30, holding a large American flag.
At last the march began. As we walked down Constitution Avenue, a lone Trump protester appeared, a white man of around 30, holding a large American flag. The crowd parted around him without comment. A young man holding a sign -- "Never underestimate the power of a faggot with a tambourine"-- waved his tambourine.
The march was organized as a demonstration, a protest, but it was also a demonstration in another sense. The mere fact of so many marchers, younger and older, people of color and white, of many faiths and all possible sexual orientations, joining together peacefully, to express what they stood for and what they were opposed to, demonstrated the possibilities and power of inclusion and diversity. In a crowd of 500,000, not a single arrest was made. "Dear every human being," one sign read. "Namaste."