'Nevertheless, She Persisted': Elizabeth Warren, And A Galvanizing Moment For American Women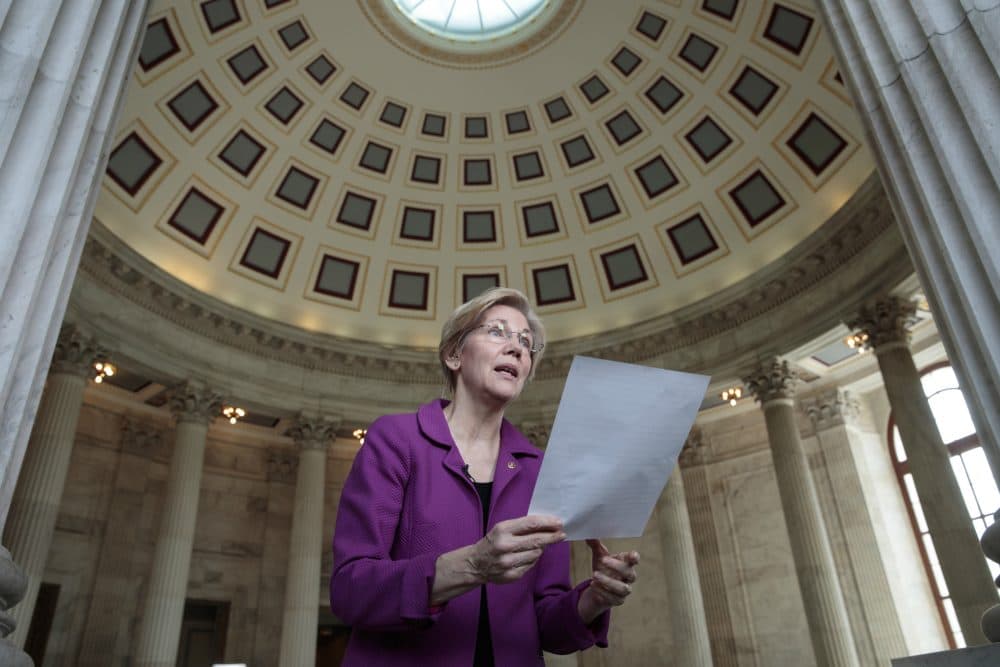 This article is more than 5 years old.
COMMENTARY
Sen. Elizabeth Warren has provided a critical answer to the question that followed the massive women's marches held around the country on Jan. 21: What next? Described as the largest demonstration event in U.S. history, the marches left participants energized and motivated but wondering how to transform the energy they experienced into a movement for change.
The answer can be found in the events that have transpired since the Massachusetts senator was silenced on the floor of the Senate by Majority Leader Mitch McConnell. Warren was speaking in opposition to the nomination of Sen. Jeff Sessions to become attorney general. During her remarks, Warren read excerpts from a letter Coretta Scott King wrote in 1986, opposing the then nomination of Sessions to become a federal court judge due to his overall civil rights record, including his role in suppressing the voting rights of elderly black voters in Alabama.
"She was warned. She was given an explanation. Nevertheless, she persisted."

Senate Majority Leader Mitch McConnell
Even though Warren was discussing the qualifications of a nominee to be the highest law enforcement officer in the land, the majority leader chided her and then invoked an arcane rule that is meant to keep senators from speaking ill of sitting colleagues. The result was a party-line vote that effectively banned Warren from further participation in Sessions's confirmation process.
McConnell unwittingly provided the galvanizing moment, when he gave his reasons for asking the Senate to silence its colleague: "She was warned. She was given an explanation. Nevertheless, she persisted." You could practically hear the collective gasp of women around the country who have themselves been silenced countless times. And in most instances, their experiences came without an official warning about the heavy price they would pay for the persistence of their voice.
The rebuke also demonstrated how the powerful repeatedly silence or marginalize persons of other races or gender, justifying their actions by explanations that do not apply to their fellow colleagues who have displayed similar behavior with impunity. In 2015, Sen. Ted Cruz called out McConnell on the floor of the Senate for lying. No warning or rebuke. Sen. Tom Cotton described Sen. Harry Reid's leadership when he served as majority leader as "cancerous." Again, no warning or response. Following Warren's silencing, other male senators read from Scott King's letter and even entered it into the record of the confirmation proceedings. None was warned, rebuked or silenced.
The effort to publicly silence Warren, who was reading the words of a renowned civil rights icon, has provoked an extraordinary nationwide response. McConnell's chiding words trended throughout social media and have served as a focal point for a renewed activism. Warren's speech likely would have received little national attention, yet her posting on Facebook has been viewed more than 11 million times as of this writing. Paraphernalia bearing the phrase "Nevertheless, she persisted" have provided a merchandising boon to fundraisers and retailers alike, and organizations have rallied to express their anger at the attempted silencing of the senator.
You could practically hear the collective gasp of women around the country who have themselves been silenced countless times.
In 2012, Victoria Brescoll, a Yale University associate professor, studied the relationship between speaking and power, using data from the Senate as the focus of her research. She analyzed years of speaking time on the floor of the Senate, comparing male and female senators. The results showed that male senators in more powerful roles spoke more frequently — a correlation that did not exist with their female counterparts. Brescoll also researched responses to the talking time of corporate leaders and found that female executives experienced a negative backlash when seen to be speaking too much, compared to talkative male leaders who were rated as more competent.
This research provides an analytical framework for what happened to Warren on the floor of the Senate. McConnell used an obscure rule as the pretext for a cynical attempt to protect a member of the club. In actuality, he was not protecting the club of the U.S. Senate, but the club of power. As a result, millions of women who have felt voiceless for too long have found the club of their own collective power. They may soon be bringing about massive changes at election booths and in the workplace.