The Week That Was: A Big Win, A Big Storm, A Big To Do In The Senate And More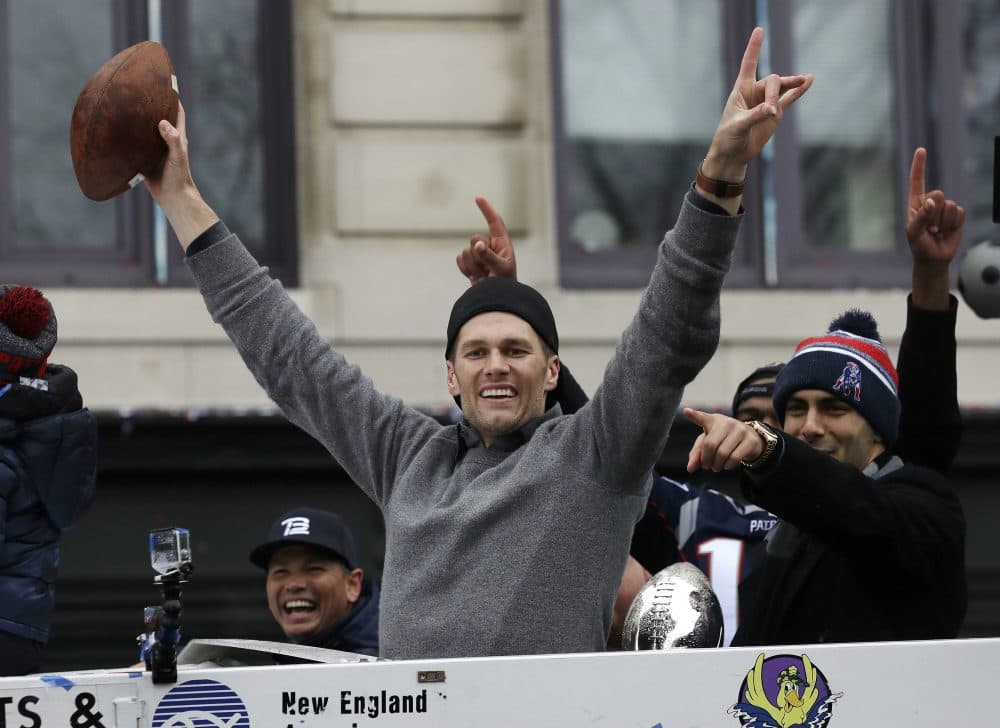 This article is more than 3 years old.
Editor's Note: Every Friday, Tom Keane offers up assorted observations, conundra and miscellanea about the week that was. Here's his round-up for the week ending February 10, 2017.
---
COMMENTARY
It was a week when New England rejoiced, the rest of the country mourned, and suddenly, governing was about more than just issuing executive orders.
Tripped up. Donald Trump discovered the difference between CEOs and presidents. CEOs can fire those who aren't with the program. Presidents, on the other hand, can't fire the courts and Congress. The framers of the Constitution, once near demi-gods but more recently portrayed as just ordinary men, are starting to look like geniuses once again.
Off the reservation. Speaking of fired, what does Trump do with Neil Gorsuch? The nominee for the Supreme Court just called the president's attacks on the judiciary "demoralizing and disheartening." Does Trump just roll with this punch, or does he fight back, picking someone new? For those anticipating the eventual collapse of the Trump White House, Gorsuch's seeming disloyalty makes for an intriguing crack. Or -- as conspiratorial Democrats wonder -- perhaps Gorsuch's comment was just a clever way to assert his independence and thereby smooth the path to Senate approval.
Off his game. The White House spent the week battling litigation over the immigration ban and the de-funding of "sanctuary" cities, sniping at retailers dropping Ivanka's fashion line, and making absurd declarations that any negative polls are "fake news." Meanwhile, legislation on major issues such as Obamacare and taxes languishes. One basic rule in politics is that focus matters: You can't do everything at once. Trump's attention is on the margins.
"Brady and Belichick are about to win bigly for Trump, the #AltRight, and White America!"

Richard Spencer, on Twitter
Yech. With the Patriots' Super Bowl win, the alt-right decided to make the team their own – witness white nationalist Richard Spencer tweeting during overtime, "Brady and Belichick are about to win bigly for Trump, the #AltRight, and White America!" I get it. Everything that now happens is political. But as Sigmund Freud might have said, sometimes a game is just a game.
Roar. Ah, the irony: By silencing her during the debate over the nomination of Jeff Sessions to be attorney general, Senate Republicans made Elizabeth Warren's voice louder than ever. Campaign 2020, here she comes!
Exceptions. In truth, the requirement that senators can't insult one another (Rule 19) makes a great deal of sense. But it shouldn't have applied when the discussion was whether someone should be confirmed as a cabinet appointee. Sitting senators or not, those nominees need to be subjected to robust debate.
Choosing sides. Net neutrality — the Obama-era policy much beloved by companies such as Netflix and hated by providers such as Comcast — is heading for the graveyard, if Ajit Pai, the new head of the FCC, has his way. There are complicated arguments by both sides as to how being pro- or anti-neutrality is a matter of principle. But in reality, it's just a battle of moneyed special interests.
Blown opportunity. Someday, Bostonians are going to look back and wonder how it was possible that, in a city stuffed with brilliant architects, designers and urban planners, we managed to end up with the Seaport District. Ten years ago, it was a large swath of land ripe for development into a beautiful urban centerpiece. Now we are saddled with clunky high-rises, rich-only housing, unwalkable streets and far too little open space. As our president might say: SAD!
But it can't buy you love. Politicians often are critiqued for kowtowing to special interests and doing too little to promote the fortunes of ordinary people. It was thus gratifying to see the Massachusetts Legislature lead by example, overriding Baker's veto of pay increases for judges, court officials and…oh yeah…themselves. With their compensation rising by up to 45 percent, state pols made sure they are now firmly in the middle class — perhaps even upper-middle. Bully for them. Now, how about legislation granting the same pay increases to the rest of us?
Trump defended Putin by saying, "You think our country's so innocent?"
Look in the mirror. Trump defended Putin by saying, "You think our country's so innocent?" — a remark that prompted pious objections from left and right and nods of agreement from Native Americans, victims of black ops such as COINTELPRO, much of Latin America, and many others. Maybe, in fact, the president had a point.
It happens every year, folks. The winter that almost wasn't finally relented on Thursday, coughing up a nor'easter that dumped over a foot of snow across much of the Bay State. Everyone, from forecasters to government officials, thrilled to the prospect of finally being able to show off their weather chops. Politicians donned sweaters, emergency personnel manned crisis bunkers, TV news activated Storm Centrals, and anti-Trump demonstrators finally got a well-deserved one-day rest.