The Week That Was: Trump's Russia Ties, Flynn Out, Playboy Nudes In And More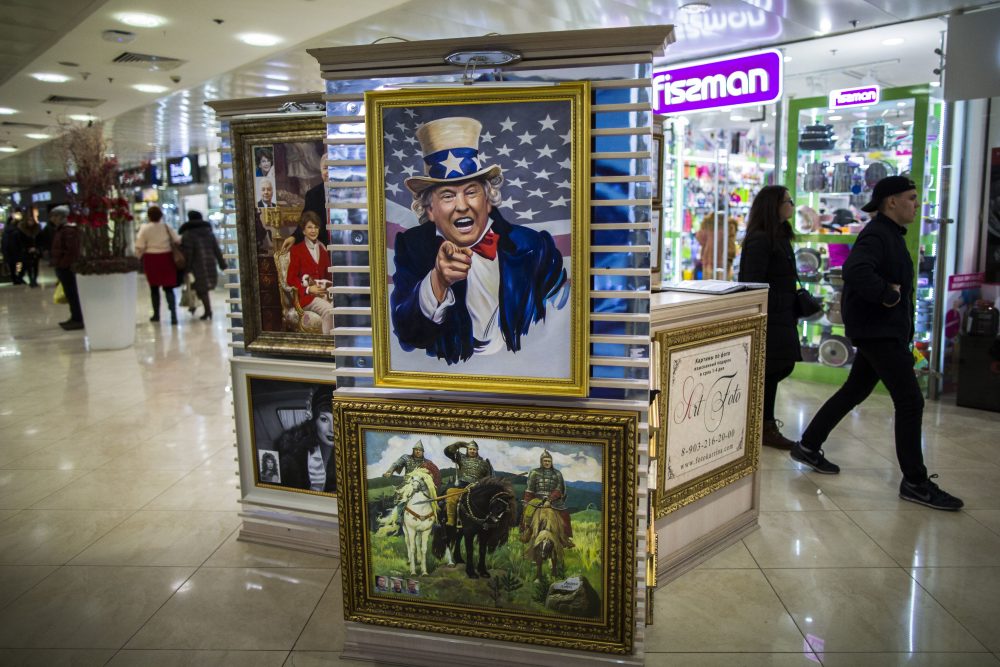 This article is more than 3 years old.
Editor's Note: Every Friday, Tom Keane offers up assorted observations, conundra and miscellanea about the week that was. Here's his round-up for the week ending February 17, 2017.
---
COMMENTARY
A week of chaos bred a week of questioning clichés. How much did the president know and when did he know it? How far down the rabbit hole does this go? Is this the beginning of the end? And is Nordstrom offering discounts on Ivanka merchandise?
Plan B. It was not a good week at 1600 Pennsylvania. With White House staff in disarray, new intrigues involving Russia, adverse court rulings, Michael Flynn's resignation, Andrew Puzder's withdrawal and mounting demands for investigations, almost everyone connected to the administration looked bad. The exception? The incredibly well-coiffed Mike Pence, who stood imperturbably above the fray, making clear that, should the need arise, he's ready to take the reins.
Not so fast (local edition). State Republicans rejoiced at WBUR's poll showing only 44 percent of Massachusetts voters think Sen. Elizabeth Warren "deserves re-election." Don't pop the champagne too soon, guys. A generic poll doesn't tell you much — campaigns are about one real person versus another. And the GOP's list of potential real candidates doesn't thrill. Curt Schilling has the name recognition, but he also has a bad case of Trumpian derangement (which won't play well in the Bay State). Others, such as state Rep. Geoff Diehl or businessman Rick Green, don't have the incumbent's star power. Bottom line: Warren may not be liked, but she'll likely win.
Not so fast (national edition). On the other hand, national Democrats celebrating a new Politico poll showing Trump loses to a generic opponent face the same problem. When it comes to real candidates, the incumbent fares better. Witness a Trump-Warren matchup in the same poll: Trump wins, 42-36.
Celibate no more. After a one-year abstinence, Playboy said it was bringing back nudity to the magazine's pages. Great. Umm, what's a magazine? And where are they sold? Certainly not in Harvard Square, where the last two remaining newsstands look set to close.
Come on down! Everyone's jumping on Kellyanne Conway for hawking Ivanka's wares on Fox & Friends. Enough already. Yes, Conway was wrong, but it was obviously a ham-handed joke — a stab at pushing back against the political boycotts aimed at all things Trump. She shouldn't lose her job for a rookie mistake.
Better places to be. A growing number of Patriots players are saying they won't make the traditional Super-Bowl-victor's visit to the White House. This isn't a first. In 2015, for instance, Tom Brady refused to go in what was a thinly-disguised snub of President Obama. But Brady was wrong then, and this year's dissidents are wrong now. The reason is simple. The president wears two hats. He's a political leader but he's also head of state. By all means, feel free to reject his politics. But it's in the latter capacity that the invitation was extended. By refusing to attend, the players are not dissing the president. They're dissing the nation.
Stop it. Really, I mean it. In a deliberately confrontational move, North Korea launched a ballistic missile towards Japan. Back when he was president, the right trashed Barack Obama for responding to such displays with "all talk, no action." And Trump? He issued a mild statement urging "North Korea to abandon its nuclear and ballistic missile programs and not to take any further provocative actions." Plus ça change, plus c'est la même chose.
Fratricide. Speaking of North Korea: Two of the hermit kingdom's secret agents apparently assassinated the estranged half-brother of dictator Kim Jong Un, poisoning him while at an airport in Malaysia. No question, family can be tough. But wouldn't it have been easier to just un-friend him?
A little help for my friends. Boston housing advocates are trying to gain control over funds generated by the Community Preservation Act. The newly passed property tax increase earmarks roughly $20 million for housing and other community improvements. Earmarks are always a mistake. Suppose that the extra money could have been better spent on public safety or education? Too bad. Even worse, the funds are largely outside of conventional political control, with spending decisions to be made by a supposedly "independent" committee. Allies will be rewarded. Enemies will be shafted. Scandals will ensue.
It's mine, my own, my precious. Every winter sees fresh controversy over space savers — the household miscellanea shovelers place in streets to save a recently cleared parking spot. This year's battles have a new rule added by Boston Mayor Marty Walsh: "Respect each other," he urged residents staking out their claims. Threatening notes, he says, are no longer allowed. So when you find your tires slashed, know that it was done with a little bit of love.
Man bites dog. If news is supposed to be about the exceptions — no one sees, "Sun rises today" — why do we have stories during snowstorms about "Commuter rail delays." Of course there are delays. There are always commuter rail delays when it snows. When the system actually runs smoothly during a weather event? Now that'll be a story!