A Prayer For Our City: Boston Mayoral Candidates Must Address Race And Poverty
As the Boston mayoral election approaches in November, the twin ghosts of race and poverty will surely emerge. Will the candidates urgently address them under the rubric of moral responsibility? Or will they shunt them — once again — under the guise that they have been "managed" long ago?
Most of us in Boston are slow to confess it, but the devils of racial animus and economic inequity dwell beside our city's greatness. They predict our housing patterns, mapping out Boston's impoverished neighborhoods as well as pointing out the precincts of the rich. They influence the location of the city's murders. They dictate media coverage. They create archipelagos of extreme poverty that plague children of color, often miring them in academic failure.
Sadly, the contradictions that these election-year ghosts raise depend on whether we address our persistent municipal problems or wish them away — imagining them civic phantasmagoria, faint spirits that dissolve in time. The two major declared candidates for mayor in November are incumbent Mayor Marty Walsh and Boston City Councilor Tito Jackson. So far, both men are overlooking these ills.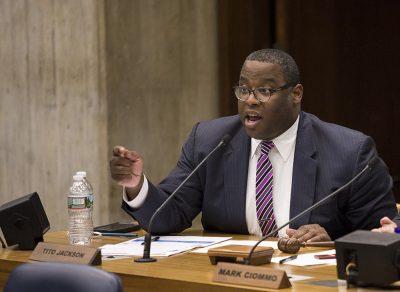 But solemn facts are witnesses of what is at stake for November's election. Consider the following:
The murder rate in Boston rose by 15 percent in 2016; a majority of the murdered were men who lived in the city's poor and black neighborhoods.
The city remains sharply segregated by race based on neighborhoods — blacks pack Mattapan; whites dominate the Back Bay and Beacon Hill.
Boston illegally stands in opposition to a federal consent decree that requires at least 25 percent of public school teachers to be African-Americans.
These facts are even more devastating in light of two new studies that ushered in this election year: According to the Boston-based Metropolitan Area Planning Council report last month: "Disparities in low birth weight are shrinking. Five years ago MAPC found that a college-educated Black mother was more likely to have a low birth weight baby than a White mother without a high school diploma. That is no longer the case, though significant disparities remain."
Last month Boston Magazine reported on a study that articulated the vast differences of income in the city, "noting [for instance] how the median household income in Jamaica Plain is $169,291, while on the other side of the Arnold Arboretum in Forest Hills, the median household income of $34,366."
Against the backdrop of the current mayoral election, it would be unfair to expect either Mayor Walsh or Councilor Jackson to readily possess a panacea to these problems. But we do expect each candidate to take these issues with an abundance of gravity. However, the race for mayor has slipped into a state of banality, empty rhetoric and policy pronouncements that hardly addresses our crisis.
"I think that the issue of race in the mayor's election is not high enough on the pecking order of issues that need to raised ... " said Darnell Williams, CEO and executive director of the Urban League of Eastern Massachusetts. "In terms of income [disparity], it's one thing to count the number of homeless on the streets and give them a blanket. It's another thing to deal with their problems through policy."
Most of us in Boston are slow to confess it, but the devils of racial animus and economic inequity blight our city's greatness.
If the candidates attended to these issues sincerely, the unforgiving metrics of race and economic injustice in Boston would stand out in high relief within their respective policy platforms. They would speak loquaciously about the deep complexities of ethnicity and poverty. The candidates would be aggressively forging innovative social policies that ameliorate the status of injustice. Disappointingly, no such evidence of these efforts exists.
Of course, Walsh and Jackson did not create the city's racial and income inequities. These realities reflect a long legacy of wrong in Boston, about which each candidate seems scarcely aware. Yet, each candidate is its victim, as are their constituents.
Currently, hundreds of well-meaning Bostonians find themselves immersed in an exercise called Imagine Boston 2030, which seeks to create a better Boston by its 400th anniversary. Yet, we must wonder if any of those visionaries have dared confront the moral malaise of our city, which requires historical exploration, forms of moral repentance and a will toward economic reparation. These are the imaginative acts required to readjust the material and civic nature of Boston. And we must wonder if any of the well-meaning visionaries — priests or professors, lawyers or youth leaders — are rightly focusing on exorcising the presence of racial and economic demons who crush the hope of the next generation of Bostonians.
As it stands now, Walsh and Jackson, remain, along with all of us, victims of a woefully undersized city — a city where daily, as the writer James Baldwin describes, "the devil finds his work."