On Syria, Trump Administration At Last Finds Its Voice. Will Words Translate Into Action?
---
In the 11th week of its existence, the Trump administration found its voice, speaking with compassion and cohesion to the world about a massive act of cruelty allegedly committed by the Syrian government against its own people, the gassing of civilians in the rebel-held town of Khan Sheikhoun.
"That attack on children had a big impact on me it was a horrible, horrible thing," said President Trump during a press conference Wednesday, a day after the chemical assault. "My attitude toward Syria and [President Bashar] Assad has changed very much."
Secretary of State Rex Tillerson denounced the attack, saying, "...the Russians really need to think carefully about their continued support of the Assad regime."
"That attack on children had a big impact on me it was a horrible, horrible thing."

President Trump, April 5, 2017
At the United Nations, U.S. Ambassador Nikki Haley questioned the effectiveness of the Security Council in being unable to enforce previous resolutions condemning the use of chemical weapons in Syria. She warned that states may be compelled to take their own actions.
For the first time, members of the administration were speaking together to the world, using their different channels of communication to express concern for the suffering of innocents, warning Russia to rein in its ally, and berating other world powers for being ineffective. Their coordination left the Syrians and Russians on the defensive, denying and distracting from the accusation. A Syrian envoy said his government had never used chemical weapons, a laughable claim after several uses of Sarin and chlorine gas have been documented over the past six years. The Russian envoy said the toxic gas that killed more than 70 people had formed by itself after the Syrian air force had bombed a terrorist warehouse nearby that contained chemicals used to make the gas. Technical analysts thought the explanation unlikely.
Why did the administration suddenly cohere? It could have been that the president was simply moved by the pictures of children with symptoms of Sarin poisoning; pinpoint pupils and lungs unable to breathe without respirators. Trump likes kids. Few things in life seem to please him more than his own children and grandchildren. Perhaps it would follow, then, that no event would have more impact on him than seeing an image such as the Syrian father cradling his two beautiful twin infants long after their lives had been extinguished by poisoned gas.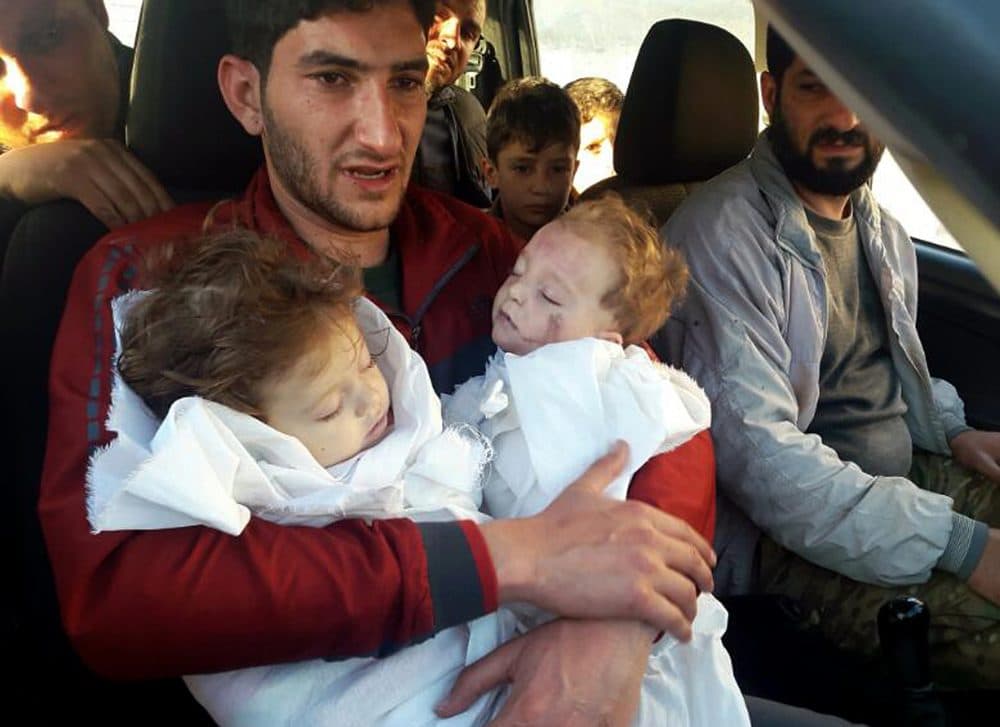 But something else was different this week at the White House that could have played a role. His favorite child, daughter Ivanka Trump, was at her new job as her dad's special assistant, tweeting the words "Heartbroken and outraged by the images coming out of Syria following the atrocious chemical attack" hours before her father denounced Syria on Wednesday.
While she does seem to soften her father's hard edges, the question remains: Why were the wheels of the administration suddenly in motion, turning together, instead of stalled or spinning apart as they have so frequently done before? It's not like death and destruction are new in Syria. An estimated 400,000 people have been killed in the conflict. The Syrian military has routinely violated the rules of war in the Geneva Convention. Just this week, The Washington Post featured a gruesome report about the starvation and torture of prisoners, but the administration did not comment on it.
So, why did the administration speak out against the chemical weapons and turn sharply against Assad? In an effort to get rid of Islamic State in Syria, Trump has nearly doubled the number of American troops on the ground to roughly 900, more than ever. As they plan the endgame, training the multiethnic, multi-religious Syrian Democratic Forces to assault the IS headquarters in Raqqa, they are vulnerable to Assad's forces.
[President Trump] is beginning to understand the dangerous complexity of that war as he questions whom he can trust.
The conventional thinking about chemical warfare is that it must be denounced as soon as possible so leaders don't think they can get away with it. Chemical weapons are pernicious, sometimes silent killers. With some agents, such as Sarin, you can't tell you've been attacked until it surrounds you, you begin choking and lose control of your bodily functions. The U.S. military issues protective suits, but they can be bulky and extremely uncomfortable in a warm climate.
While it was moving to see Trump express deep sympathy for the murder of Muslim children, his administration became galvanized for mainly one reason: to warn the Syrians and Russians to stand by their military obligations when there are now more Americans in Syria. He is beginning to understand the dangerous complexity of that war as he questions whom he can trust.