When Words Mean Nothing: Trump's Comey Tweets And A Presidency In Crisis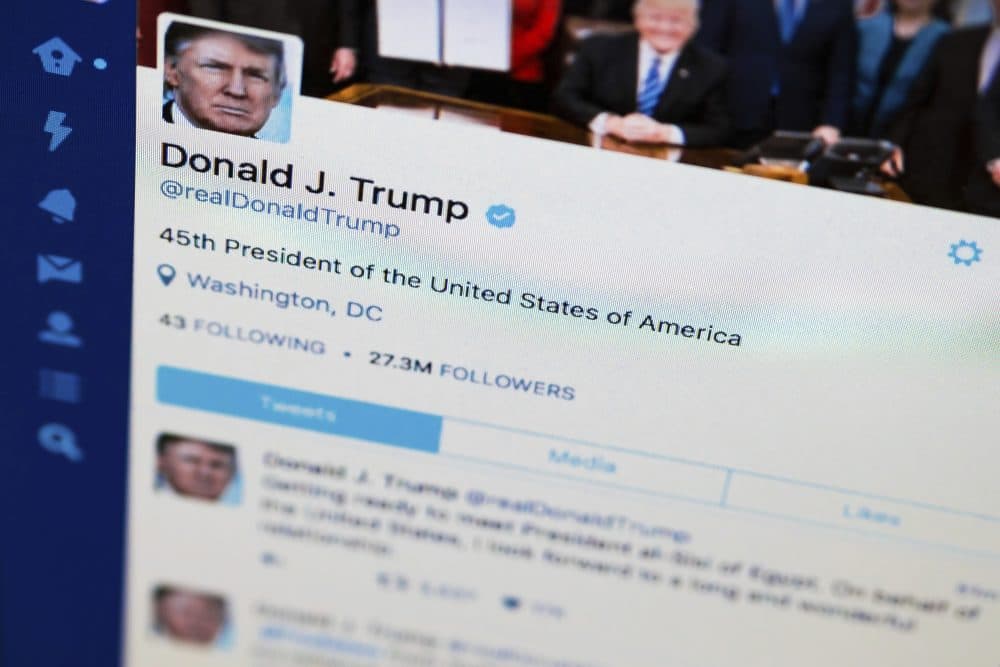 This article is more than 5 years old.
They kept the president off of Twitter during James Comey's testimony. And so his son served as his father's proxy. Donald Trump Jr. live tweeted the event dutifully, with neither typos nor wit, but by 6:10 a.m. this morning, his father was back in the saddle, having restrained himself for less than 24 hours. And within 40 minutes of that, the major media outlets had posted news stories about Trump's predictably mendacious declaration.
In some respects, that's a problem. Much news of the world has been neglected — at least on our airways — in favor of the enormous attention being paid to what's being spouted by our petulant, attention-starved Tweeter-in-Chief. By focusing so much on the timing, spelling, and veracity of his digital grenades, the press sometimes plays into his hands, letting him distract the public from the appalling implications of his policies. Indeed, to my horror, I recently found myself agreeing with Kellyanne Conway, who spoke on "The Today Show" about the media's tendency to cover "everything [Trump] says on Twitter and very of little what he does as president…"
But I was wrong. It's a fascinating and desperately important dance being played out by Trump and his White House staff, a group trick in which competing magicians are exhorting the public to "Look over here!" Like Conway, earlier this week Trump aid Sebastian Gorka urged us to ignore his boss's tweets and attacked the press for covering them, saying in a recent interview with CNN's Chris Cuomo, "They are not policy. It's not policy. It's social media, Chris. It's social media. You know the difference, right?"
That's why it was so perversely predictable that the next day, his master's voice appeared on Twitter blustering that "The FAKE MSM [mainstream media] is working so hard trying to get me not to use Social Media. They hate that I can get the honest and unfiltered message out."
The "message," yes. Just not the facts.
While certainly unfiltered, many of Trump's tweets are demonstrably lies, including Friday morning's summation of Comey's testimony this way: "Despite so many false statements and lies, total and complete vindication…"
But that selective inclusion of some facts and denials or distortions of others is also typical of his off-the-cuff comments at press conferences, and the contents of his speeches. So why let him and his aides determine which of his words should and shouldn't be taken seriously? Why not subject his Tweets to the same scrutiny as assertions made via other channels?
But deriving meaning from the president's words — at least on Twitter — is not the point of them. No, as befits a would-be dictator, the underlying mission of Trump's tweets is to exercise power and degrade meaning. As Russian émigré, Masha Gessen explained in her remarkable essay, "The Autocrat's Language":
Vladimir Putin declared a "dictatorship of the law." His main ideologue advanced the idea of "managed democracy." Temporary President Dmitry Medvedev said, "Freedom is better than unfreedom." Now words did not mean their opposite anymore. They just meant nothing. The phrase "dictatorship of the law" is so incoherent as to render both "dictatorship" and "law" meaningless.
That's why as Trump does indeed bypass the filters and alleged biases of the mainstream media to speak directly to the American people, it's all the more critical that we judge him on the basis of those direct declarations.
It was in that spirit that a programmer and political activist, Russel Neiss, developed a bot called @RealPressSecBot that automatically takes President Trump's tweets, reformats them to appear on White House letterhead as official presidential statements, and retweets them.
Unlike the tens of thousands of political bots that exist to amplify a specific point of view, artificially inflating that perspective as a proportion of all social media posts, this bot is doing something different. "All it's doing is it's taking the president's Twitter feed and giving that feed the proper honor befitting the highest office of the land," Neiss explains. "And the reason it is jarring to some folks is this incongruity of the content of the tweet and the format."
So what is it about a tweet that's so jarring when placed in the format of a White House press release? The brevity, for starters; it's hard to convey much information in 140 characters, and harder still to communicate any nuance or complexity. And then there's the tone — spontaneous, unmeasured, single-faceted. Put those attributes together and it's no wonder that his aides will never pry Trump's mobile device and Twitter account from his jabbing fingers for very long.
No, as befits a would-be dictator, the underlying mission of Trump's tweets is to exercise power and degrade meaning.
Over-simplification and raw emotion epitomize the man and galvanize his base. They are the staples of rabble-rousers and would-be dictators who rely on stoking aggrievement to fuel their popularity. "Don't listen to them," has been the president's consistent message, "Listen to me." Or rather, "Don't listen to me. Just love me and hate my enemies."
That message works really well in a tweet. But it's unsettling when we realize it is indeed the unfiltered, uncensored exhortation from someone who is arguably the most powerful person in the world.
James Comey revealed how Trump's desperate, grabbing need for unquestioning loyalty has been manifested in private, and in public, we will continue to see 140-character displays of those same qualities. Given what's at stake, they'll warrant all the scrutiny they get.