The Week That Was: Sessions Testifies, Tall Ships Arrive, Mass. Marijuana Bill Debated And More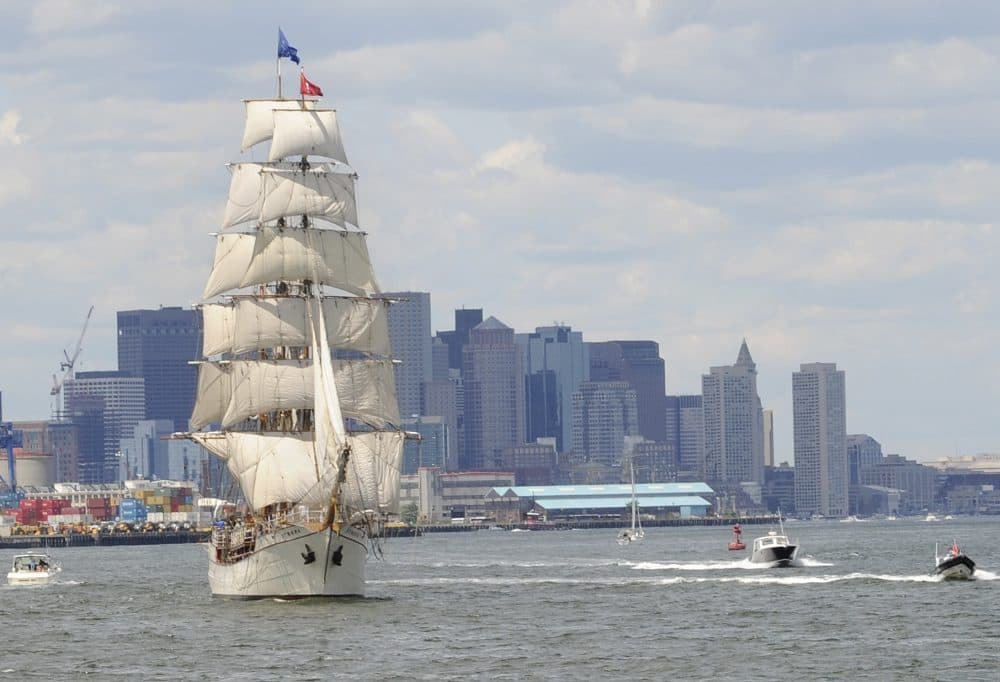 This article is more than 4 years old.
Editor's Note: Every Friday, Tom Keane offers up assorted observations, conundra and miscellanea about the week that was. Here's his round-up for the week ending June 16, 2017.
---
It was the week when Washington, D.C., reeled as months of pent-up angry rhetoric turned into a morning of real-life violence, prompting calls for a new era of moderation, goodwill and cooperation. Hmm. Does it really require a shooting to get people to be kind to each other? And more to the point: How long does this new era last?
Beltway paralysis. Russia-gate plowed onward. Attorney General Jeff Sessions refused to answer hard questions before the Senate Intelligence Committee and word leaked that special counsel Robert Mueller is now investigating the president for possible obstruction of justice. The upshot? The president's agenda takes a back seat. Courts have put the kibosh on the travel ban. The repeal of the health care law seems stuck in the Senate. Tax reform is moldering. And the infrastructure plan is going nowhere. Perhaps you think all of this is good, but having driven a bit lately, it wouldn't bother me if someone would actually start fixing our bridges.
Panic attack. Tall ships arrive in Boston on Saturday but I don't know if I'll go. Officials worry the event may be a terrorist target, so I'm thinking maybe I'll just play softball instead — except that doesn't feel safe anymore, with the shootings in Alexandria, Virginia. Forget it. I'll just spend the weekend in my apartment except, what about that horrific fire in London? Is no place safe?
Vive la France. Remember when we mocked the French for being cowardly, corrupt and elitist? Wouldn't you like to be French now? Just-elected President Emmanuel Macron is the epitome of cool and what he represents — the much-sought-after third way that steers a centrist path between the extremes of left and right — looks set to take control of the government. Be careful America: France is back.
Unintended consequences. The state of Connecticut sank further into the financial abyss, with Hartford on the brink of filing for bankruptcy. The cause? Businesses and the wealthy are fleeing the state's onerous regulations, anti-business attitude and high taxes. Meanwhile, Massachusetts politicians this week approved putting on the 2018 ballot a so-called "millionaire's tax." Polling suggests it will pass easily. But voters' glee may be short-lived. Our borders are porous and the wealthy can easily move. Massachusetts might become the next Connecticut. So then does New Hampshire become the next Massachusetts?
Electoral logic. One of the three major credit rating agencies downgraded the Bay State's credit to AA (the third highest ranking), largely because the state has failed to replenish its rainy-day fund. Yeah, I know we're supposed to keep the fund full. But think of this from the point of view of your typical state representative or senator. They win re-election by trumpeting the goodies they got for their districts. Saving money means not spending money — but I bet none of them won many votes by doing that.
"Lord of the Flies" in Silicon Valley. Kudos to Uber for liberating us from the monopolistic claws of the taxicab industry. But now that it's done that, would anyone be sad to see it go away? The company that founder Travis Kalanick called "Boob-er" is now better known for scandal and incompetence: company sex parties, employee sexual harassment, conspiracies to "get" journalists, secret software to thwart regulation, stealing intellectual property, abuse of its drivers and a steady stream of senior management exits. Indeed, even as its board attempted to respond to the bullying, chauvinistic culture, one male board member mocked the arrival of a new woman director. Lyft — the earnest but unsuccessful also-ran — is now poised to pull ahead.
Black and white. Bostonians were infuriated when "Saturday Night Live's" Michael Che in early February said Boston was "the most racist city I've ever been to." Many dismissed it as hyperbole, a reflection of the city's ugly past but certainly not its present. Then in May some Fenway fans taunted an on-field player with racist epithets and it seemed maybe Che had a point. And this week saw the release of a video featured an (apparently real) white cop vowing that, "Black people have met their match." Ugh. It's easy to say incidents like these are rare exceptions, but Boston remains strikingly segregated: Look around the next time you dine out or go to church. Notice how everyone else looks like you?
High time for high taxes. And finally, the Massachusetts House floated a revision of the voter-passed marijuana law that would more than double taxes on recreational pot from 12 to 28 percent. Medical marijuana, however, would remain untaxed. If the House's proposal becomes law, my guess is a lot of folks are going to suddenly conclude they've got glaucoma.