'A Bridge To A Not-So-Distant Past': An Appreciation Of John McCain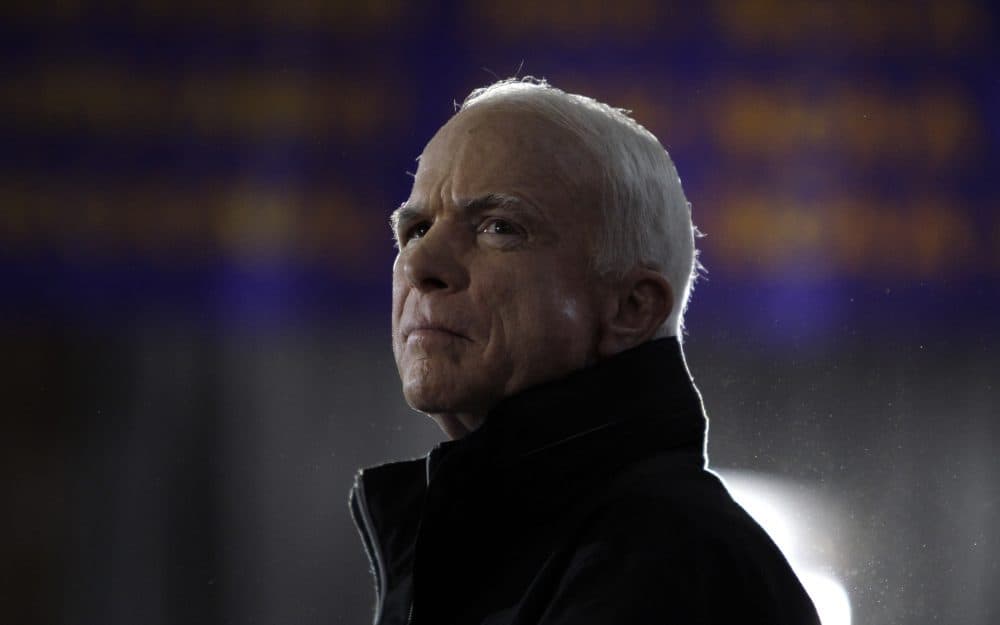 This article is more than 5 years old.
"He's not a war hero. He was a war hero because he was captured. I like people who weren't captured."
When the man who spoke these words about a decorated Navy Veteran who spent five-and-a-half years being tortured as a prisoner of war in Vietnam, followed by over 30 years of public service in Congress, was chosen by the people of this country as their next chief executive, it marked a new era in political discourse. An inviolable line for decades for anyone seeking elected office — the requirement that one display a modicum of respect for those who have served in the armed forces — was crossed (repeatedly) without consequence.
Ever the stoic, in the face of this slander Sen. John McCain refused to take public umbrage. Invoking President Theodore Roosevelt he said, "I'm in the arena, as T.R. used to say," displaying a thickness of skin in striking contrast to his critic, the recipient of five draft deferments from the war that left McCain unable to comb his own hair.
On Wednesday, it was announced that Senator McCain had been diagnosed with brain cancer. While the public cannot know precisely what his prognosis is, it is important that we reflect on what he represents in American politics.
Like a mastodon roaming among melting glaciers, McCain feels like a relic of a fading epoch in Washington. At a time of intense polarization and increasingly venomous mainstream politics, it should be remembered that McCain has fought a vigorous rearguard on behalf of decency and norms. Famously he stood up for then-candidate — as well as his opponent — Sen. Barack Obama during a town hall on the campaign trail when a woman accused Obama of being "an Arab." McCain spoke eloquently of his friend and legislative rival Sen. Ted Kennedy at his funeral after the Democratic elder statesman succumbed to brain cancer. Perhaps his signature legislative achievement, the McCain Feingold Act, was passed with a level of bipartisan cooperation virtually unthinkable in today's Congress.
Like a mastodon roaming among melting glaciers, McCain feels like a relic of a fading epoch in Washington.
Senator McCain is a representative of yet another endangered species. According to numbers compiled by the House Armed Services Committee and the American Legion, in 1976, 77 percent of senators and representatives had served in the military. Today, just around 20 percent of lawmakers in Congress are veterans. While the presidency is held by a billionaire real estate developer who has never before held public office and is widely accused of using the station to further his business interests, McCain, who spent over 20 years in the Navy before beginning his political career, embodies a distinctly anti-Trumpian model of a Republican politician.
Perhaps I am naïve to be wistful for more John McCains in today's Senate. I disagree vehemently with him on a multitude of issues, not least of which is his hawkish foreign policy record. He played no small part in involving this country in our ill-fated Iraq adventure and has been a consistent advocate for a more muscular policy in the Middle East. On a day that our current president is vigorously criticizing an independent investigation into whether or not his campaign colluded with an adversarial foreign power in order to put him in office, however, Senator McCain serves as a bridge to a not-so-distant past when such absurdity would have been unthinkable.
I am, and all Americans should be, grateful for Senator McCain's lifetime of service to this country. We should all, for his sake and for the United States, hold him and his family in our thoughts and prayers today.