The Way Forward In Iraq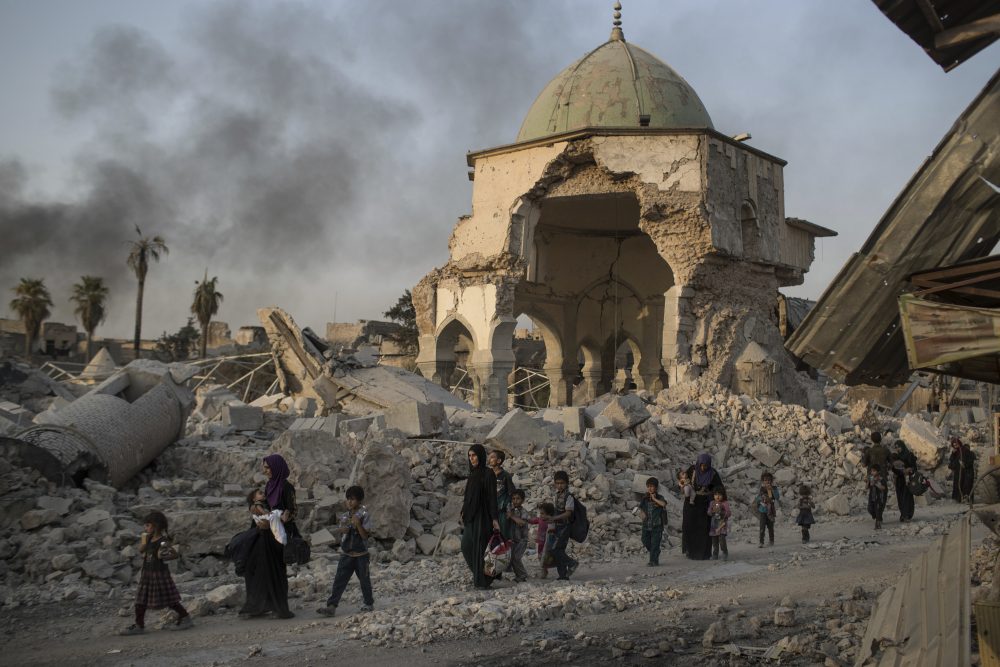 This article is more than 5 years old.
After two and half years of brutal occupation by Islamic State, or ISIS, the people of Mosul are free again. Under this new sun, their oppressors can be seen for what they were, not an Islamic utopia, but an Islamic inquisition in which thousands of Muslims were killed because they were deemed to be the "wrong" kind of Muslim. They were Muslims who didn't want to join ISIS, Muslims who wouldn't knuckle under, Muslims who wanted to protect their families and children from the rule of the gun and the sword.
ISIS murdered Yazidis, Jews and Christians, as well members of many nationalities. However, Muslims bore the brunt of the Islamic State's cruelty. Its rise represents a profound shift in terrorism from 9/11 when al-Qaida targeted the so called corrupt and largely Christian West, to a decade later when the Islamic State mainly attacked other Muslims.
This inquisition threatens the very heart of Islam as it seeks to influence the religious lives of more than 1.6 billion Muslims worldwide, while searching for a foothold in their communities. Like the Spanish Inquisition, a monarchical effort to keep together, and Catholic, a newly unified country by rooting out different believers, the Islamic State persecutes those who were believed to threaten the power of the state. Fortunately, ISIS has neither the land nor the power that Spain had, which enabled that Inquisition to last for 200 years. The Islamic State is itinerant. After it is kicked out of Iraq, it will move somewhere else.
President Trump called upon 50 Muslim countries to combat terrorism last spring. It's time to develop a blueprint for how to do this. The plan must go beyond militarism, and encourage countries to cultivate religious and ethnic tolerance by building up local capabilities.
Iraq, which defines itself as a democratic Muslim state, has the potential to become a model of integration of different Muslim sects, religions and ethnicities.
ISIS did not rise up the minute U.S. troops withdrew from Iraq in 2011. It had been long fermenting in weakly governed communities marked by sectarian strife where Sunnis were routinely persecuted under the leadership of Iraq's former Prime Minister Nouri Maliki.
The country's current prime minister, Haider al-Abadi, has made progress in cultivating a more integrated society, starting with the military. The Obama administration urged Abadi to develop more inclusive security forces under the command of the central government. In fact, Kurdish forces worked alongside Iraq's army in liberating Mosul. This kind of cooperation must continue so that former ISIS-occupied areas don't devolve into fratricidal cesspools when survivors seek to quench their thirst for revenge.
As Congress tied Iraq military aid to integration, it should tie development aid to the establishment of diverse, cooperative community groups that will rebuild and govern these delicate, violence-prone areas. Prime Minister Abadi has talked about decentralizing control of Iraq, but this should only occur if minorities will have a voice in government.
Iraq, which defines itself as a democratic Muslim state, has the potential to become a model of integration of different Muslim sects, religions and ethnicities. While it faces many obstacles —  such as corruption, a weak judiciary and significant influence from Shia Iran — making progress on integration would help stabilize it while providing a protocol for other countries struggling with internal strife.
Most importantly, it is critical to document and publicize the crimes ISIS and others committed, creating a foundation for justice and for the reconciliation that needs to begin.
As Iraq changes, so must the rhetoric coming from the White House. Instead of portraying the struggle against terrorism as an East-West divide, it is important to express compassion for all those who have suffered in what has become essentially an intra-faith conflict, as ISIS and its tens of thousands of foreign fighters try to hijack the land of Islam.